What is the Swab Test?
COVID-19 is an infectious disease caused by a newly discovered coronavirus. The virus is passed from person to person, mainly through saliva or discharge from the nose of a carrier. It is advised for everyone in the UK (and around the world) to remain at home, avoid workplaces and limit indoor activities as much as possible.
If you test positive for coronavirus, or believe you are exhibiting symptoms, then you should self-isolate for a minimum of 7 days. However, if someone in your household is symptomatic or tests positive, you should self-isolate for 14 days.
A Swab Test will allow you to determine whether or not you are positive for the virus, and alleviate any concerns you or your household may have.
Please note, you can only purchase a Swab Test if you are currently showing symptoms.
You should complete your Swab Test within 1-5 days of first presenting with symptoms of COVID-19.
How does the Swab Test work?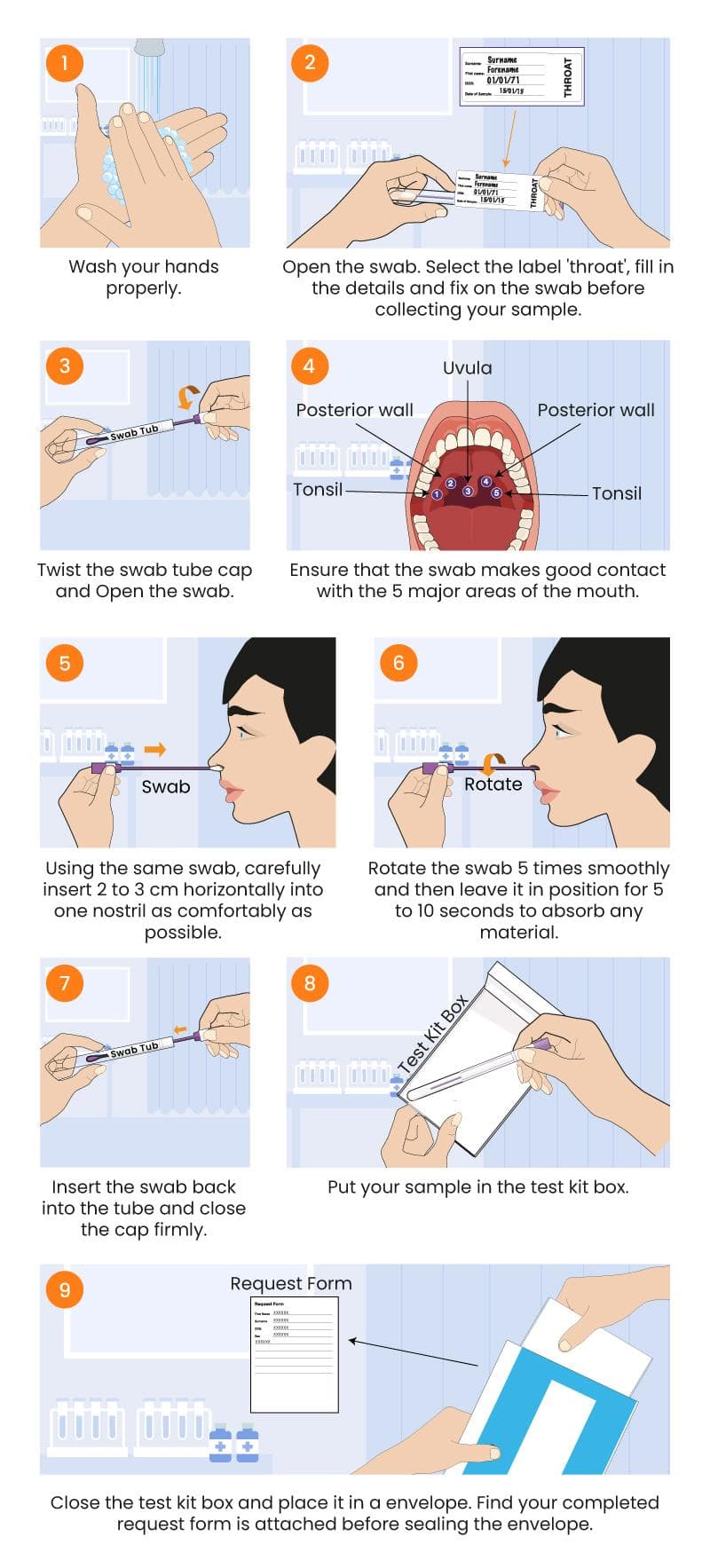 A test kit will be dispatched from our lab the same day you order (if received by 1 pm). You should expect your kit delivered the next working day with Royal Mail.
A swab test is to determine whether or not you have the coronavirus infection currently. For this test to work, you must be showing symptoms.
Once you have received your kit, it is straightforward to use.
You should ALWAYS refer to the instructions included with the package.
You should complete your test within 1-5 days of first presenting symptoms. It is most effective on day 3. After 5 days it may no longer work, due to the virus being no longer active in the nose and throat. In this case, you should self-isolate and wait 2 weeks to complete an Antibody Test.
The Swab Test is a swab of the throat and nose.
After a sample has been taken, the kit will only produce valid test results for approximately 6 days. You should bear this in mind when returning your package - the sooner, the better. If possible, you should try to use Royal Mail priority postboxes, as these guarantee the fastest collection.
When will I receive results?
Once our lab receives the sample, it takes us approximately 3-5 working days to process your results.
Once your results are confirmed, they will be updated in your Member Area on your account. You will also receive an email when they are ready to view.
You should make sure to check your emails regularly. This will allow you to access results as soon as they are available.
What should I do with my test results?
Always consult the NHS website for up-to-date information.
By law, our laboratory will inform Public Health England of your results. You do not need to do this.
Swab Test
If you test negative, you should continue to social distance. It is still possible for you to catch the virus.
If you test positive, you should immediately self-isolate for a minimum of 7 days. If symptoms persist after this period, continue to self-isolate. Anyone in your household should also self-isolate for 14 days, even if they do not have symptoms.
If your symptoms grow serious (for example, difficulty breathing), you should contact emergency services. DO NOT visit your doctor. If you need any advice, call NHS 111.
What are the symptoms of COVID-19?
COVID-19 typically presents with flu-like symptoms. These include (but are not limited to):
fever
a persistent cough
fatigue
shortness of breath
a loss of sense of smell and/or taste
aches and pains
sore throat
diarrhoea
conjunctivitis
headache
rash
Please note, the list of symptoms is ever-changing, so you should consult the NHS and WHO sites to ensure you have a current understanding of symptoms.
Many individuals may also be asymptomatic carriers of the infection, meaning they can test positive for, and pass on the disease, without showing any signs of the infection. If someone in your household has tested positive, there is a very good chance that you have it too.