What is Crestor?
Crestor is an effective high cholesterol medication that is clinically proven to help to lower cholesterol and the branded version of the generic medication and active ingredient rosuvastatin. This medication is part of a group of medicines known as statins, which work to reduce cholesterol by blocking a particular enzyme. Crestor is highly tolerable and available in a range of doses meaning it can be prescribed to patients with high cholesterol who are at risk of heart attack and stroke.
Crestor can start to reduce cholesterol in as little as 2-4 weeks, and when combined with healthy dietary changes, can lower LDL cholesterol by up to 55%.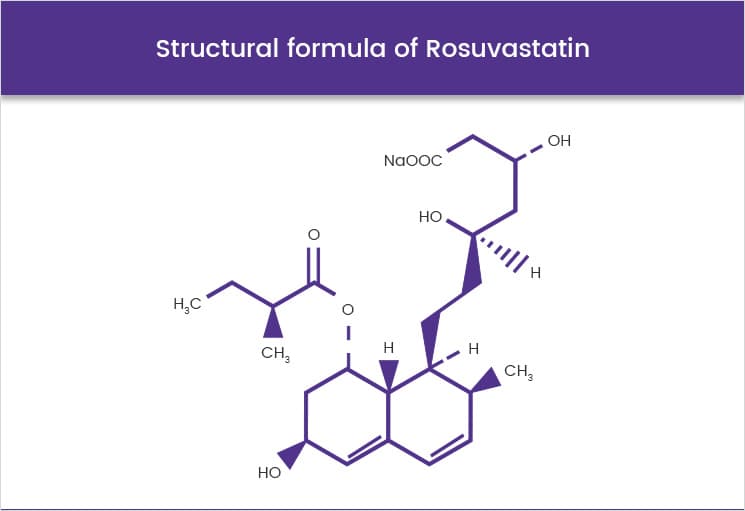 How does Crestor work?
The active ingredient, rosuvastatin calcium, works to reduce levels of cholesterol that are produced by the liver. You may have heard of cholesterol being divided into two types: "bad" (low density lipoprotein or LDL) and "good" (high density lipoprotein or HDL) cholesterol.
LDL is "bad" because it can clog up and narrow the arteries, increasing the risk of cardiovascular problems like heart attacks, which HDL protects against this. Crestor works in fours separate ways to reduce the bad cholesterol and blocking the enzyme called HMG-CoA reductase, which is responsible for producing LDL.
Lowering LDL 'bad' cholesterol
Increasing HDL 'good' cholesterol
Reduces the buildup of fatty deposits in blood vessels
Lowering the level of fat in your blood (triglycerides)
Crestor is clinically proven medication in the UK and particularly effective if you have found altering your diet and doing more exercise has not provided the desired effect .
| Category | Total-C (mg/dL) | LDL-C (mg/dL) |
| --- | --- | --- |
| Acceptable | <170 | <110 |
| Borderline | 170-199 | 110-129 |
| High | ≥ 200 | ≥ 130 |
What are the benefits of Crestor?
The most obvious benefit of this medication is its ability to lower cholesterol, however there are many other advantages linked to this multitalented statin...
It can lower triglyceride levels, meaning you will be less at risk of serious cardiovascular problems that are caused by high cholesterol.
Sufferers of high cholesterol who have developed the condition as a result of genetic, diet or lifestyle factors can take Crestor.
The risk of atherosclerosis, coronary heart disease and angina is reduced.
Can lower cholesterol within a month (20mg dosage)
Slows the plaque buildup in the blood vessels as well as the fatty deposits
How do you take Crestor?
Crestor tablets are extremely easy to take making statins so popular in the UK. People who are taking this medication for the first time will be prescribed either the 5mg or 10mg dose, depending on factors such as their cholesterol level and sensitivity to side effects. Only a doctor will be able to determine whether a higher dosage is required.
One tablet should be swallowed whole, with or without food, depending on your preference.
You should take one tablet each day at around the same time.
It is advisable to have your cholesterol checked regularly while taking this medication.
What dosages are available for Crestor?
The dose options for Crestor widely vary and will be recommended by your doctor. Because of this, when buying Crestor tablets online, you must have already been prescribed a statin by a medical professional. At HealthExpress, we offer 5mg and 10mg (the most common and usually the dosages offered when first beginning the medication) and 20mg and 40mg if you're finding the lower dosages to be ineffective.
What are the side effects of Crestor?
As with any prescription medication, side effects are a possibility with cholesterol statins. Mild side effects may include:
Headaches
Joint pain
Nausea
Constipation
Insomnia
Indigestion
Less common side effects include:
Fever
Jaundice
Changes
Normal urination
Muscle pain
Loss of appetite
You should speak to your doctor if you experience any of these effects. Though it is very rare, some people may experience an allergic reaction, which will require urgent medical care.
What precautions should be taken when using Crestor?
Crestor is available for adults who have been diagnosed with high cholesterol, and require an effective method of reducing this in order to lessen the chance of future health complications. There are certain precautions that need to be considered though before ordering this medication. This treatment may not be suitable for:
Men or women that are allergic to the active ingredients in Crestor (rosuvastatin calcium)
Those who have or have suffered from liver failure or disease
Women who are pregnant or breastfeeding
Those with myopathy
The highest dosage (40mg) is deemed not suitable for those with hypothyroidism, renal impairments, alcohol problems or muscular disorders. It is also important to avoid grapefruit and grapefruit juice while taking any kind of statin, as consuming this fruit while taking statins can cause potentially serious side effects.
How can I buy Crestor online safely?
At HealthExpress, you are able to buy Crestor 5mg, 10mg, 20mg or 40mg high cholesterol tablets safely and efficiently using our completely secure ordering process. We offer free next day delivery on all orders to ensure you receive the medication you need as quickly as possible.
If you have been prescribed or recommended Crestor as a high cholesterol treatment by a doctor, you can order the medication here. All you need to do is complete our brief online consultation to begin. It is then checked by one of our doctors who ensures you are safe to use the treatment. If you are approved, then you can order the tablets and have it delivered anywhere you are in the UK securely from our pharmacy using our free courier next day delivery service.