What is diabetes?
Diabetes is a lifelong condition where an individual's blood sugar levels remain too high for a prolonged period of time and can be categorised into two types, these being; type 1 and type 2. The differences between these two forms of diabetes can be seen in the section below.
According to recent statistics, there are currently around 3.9 million people in the UK living with diabetes (more than one in sixteen people). There are even more people with blood sugar levels higher than the normal range, but their blood sugar levels aren't quite high enough for them to be diagnosed as diabetic. This is referred to as pre diabetes, where the risk of developing type 1 or type 2 diabetes is significantly increased. Therefore, it is essential that treatment for diabetes be taken as soon as possible. While there isn't an actual cure for diabetes, it can be effectively managed throughout life, significantly decreasing the likelihood of any serious health risks occurring.
Diagnosing type 2 diabetes
Diagnosing type 2 diabetes can take some time as symptoms develop gradually. They can also be confused with other conditions. If the symptoms you are experiencing are prolonged and you are in any way concerned, it's important to visit your doctor for diagnosis. To find out more about the symptoms of type 2 diabetes, you can read below.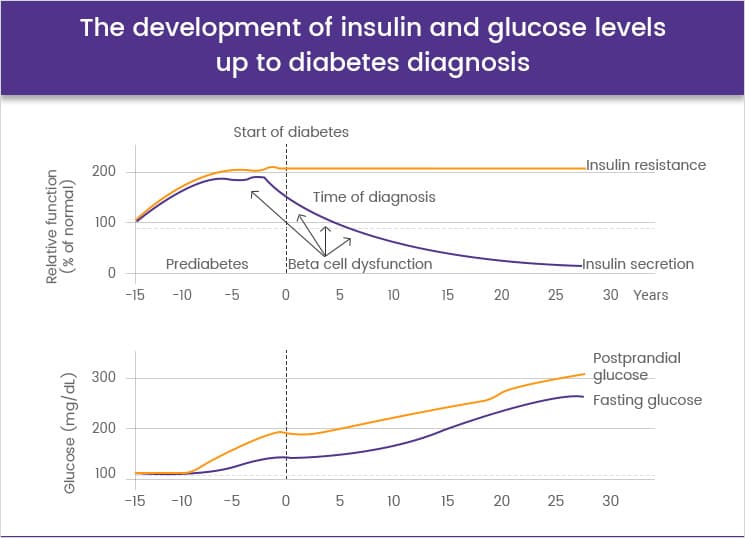 What are some UK and global diabetes figures?
Diabetes UK has revealed that the number of people in the UK who have diabetes has reached 4 million. This includes 3.5 million who have been diagnosed with the condition, as well as an estimated half a million who are living with the condition but don't know it.
The vast majority - about 90% - of people with diabetes have Type 2, and it is this kind of diabetes that is far more common in adults. While Type 1 diabetes is not avoidable, Type 2 often occurs as a result of lifestyle factors such as an unhealthy diet, lack of exercise and being overweight or obese. That is why it is often seen as preventable, or even 'curable'. It is also mainly Type 2 that is increasing at such an alarming rate.
What do the figures say?
A report published by the World Health Organisation (WHO) states that the global figure for diabetes is 422 million people. Like the UK based statistics, this correlates to quadruple a number of diabetics than reported in the 1980s (the figure was around 108 million worldwide in 1980). During this time, the rates of obesity have steadily risen, which experts believe to be a significant, if not primary, cause of Type 2 diabetes.
Despite the diabetes treatment options available to manage glucose levels, and the wide scale nature of the condition, diabetes has been responsible for approximately 1.5 million deaths in the world since 2012.
Diabetes related deaths is obviously the biggest risk related to the condition, however, it is important to remember that diabetics must monitor their lifestyle and possibly seek treatment to help control diabetes on a continual basis. Without managing diabetes correctly, other complications such as heart attacks, kidney failure, nerve damage and even amputation (particularly leg amputation) may occur.
Other studies show the effect of diabetes on pregnant women including foetal death, and a study from the University of Cambridge states that mothers who develop diabetes during their pregnancy are more likely to have abnormally large babies, putting the mother's health at risk during childbirth.
Diabetes figures in the UK
As mentioned, the UK has approximately 4 million diabetics, and the majority of these have been diagnosed with Type 2 and therefore more likely to have developed their condition as an adult through lifestyle factors such as a lack of exercise and a poor diet resulting in being overweight. This accounts for one in 16 adults, with a fresh diagnosis occurring on average every two minutes.
In 1996, 1.4 million people in the UK had diabetes. Numbers are expected to reach 5 million by 2025, and with a 65% rise in cases in the last decade; it looks like we are hurtling towards this prediction. So why is this happening? And what does it mean for health in the UK?
Why Is This So Troubling?
Diabetes is a condition many of us know about to some degree. We know it's to do with the blood sugar levels, we know that lifestyle factors can often cause Type 2 diabetes and we know Type 1 diabetics need injections to manage their condition, quite often since childhood. For a condition that is increasing in cases on a daily basis, and the ability to manage symptoms with treatments and lifestyle changes, we forget the toll it can have.
Diabetes and obesity
Type 2 diabetes is strongly associated with being overweight, and obesity rates in the UK have also increased dramatically, almost quadrupling in the last 25 years. This correlates closely with the recent diabetes figures, and with expert analysis, offers proof that our lifestyles need to adapt to avoid the chronic condition.
"Over 60% of UK citizens are now classed as overweight and around 1 in 4 are obese, with a BMI of 30 or higher. More obesity results in related health conditions including heart disease and cancers, as well as diabetes, which are becoming prevalent across the UK." According to figures from Public Health England
When combined with an aging population, it is clear that the NHS and other health services will come under increasing pressure as more people require care and treatment for long term health conditions such as diabetes.
Type 2 diabetes in children
Type 2 diabetes is common in older people and that may partly explain the rise in cases in terms of the link to personal choices, but medical professionals also report that they are now diagnosing children with Type 2 diabetes, something unheard of in previous decades.
Currently 98% of children with diabetes have Type 1, but this is beginning to change. In 2000, the first cases of Type 2 diabetes in children appeared, and this is increasing with children as young as seven being diagnosed in more recent years. One study found that 95% of children with Type 2 diabetes are overweight, indicating a strong correlation with the rise in obesity rates.
So What Can We Do?
Diabetes UK has called for better care for people with both kinds of diabetes, but if Type 2 is preventable, we should also be looking at our modern lifestyle and making changes if we want to maintain a healthy population. With growing awareness of the causes of obesity, rates among children appear to have stabilised although they are not yet falling. There is also increasing pressure on the government from various organisations, often backed by the general population, to restrict the amount of sugar in our food and drinks. Even companies such as Coca-Cola, who resisted making changes for a long time, have finally taken steps to appear more health conscious, producing 'Coca-Cola Life'; a lower calorie, lower sugar content version of traditional Coke.
Whilst adjusting our lifestyles to help combat or manage diabetes, and these companies producing healthier foods and drinks by alter their ingredients or offering alternatives is a push in the right direction, there also needs to be a focus on education. Whilst in schools in the UK we take cookery classes, there is little focus on nutrition and the ability to make basic healthy meals. With the rise in diabetes affects families of all incomes - in particular, those classed under the category of "middle-class incomes" - obesity is an epidemic that we haven't yet seen the result of, and cannot solely be associated with those families beyond the average wage. By educating families on the importance of healthy meals, as well as how nutritious they can be, we can begin to combat the obesity issue on a national scale.
| | |
| --- | --- |
| Countries Within The UK | Number of People With Diabetes |
| England | 2,913,538 |
| Northern Ireland | 84,836 |
| Scotland | 271,312 |
| Wales | 183,348 |
These figures have been obtained from www.diabetes.org.uk
For those with Type 1 diabetes, due to the often-hereditary causes of this strain of the condition, diabetics are required to injection insulin into their system and a medical professional in person should issue this. For Type 2 diabetics, a healthy lifestyle of exercise and diet is a must, however there are also diabetes treatments available to insist you with improving and monitoring the chronic condition. Metformin and other treatments are available on prescription in the UK.
For those categorised as obese, treatments and even surgery can help you lose weight and avoid the health risks associated with the condition. Whilst surgery is classed as the last method when lifestyle factors haven't proved effective, prescription medications such as Xenical can be used in conjunction with exercise and dietary habits to help reduce your weight.
Many people across the UK are at risk of developing Type 2 diabetes, becoming another number in these statistics. If you would like to check whether you are at risk of developing diabetes, take a look at our information page to find out more about the risk factors, symptoms and how the condition can be prevented and treated.
What is the difference between type 1 and type 2 diabetes?
Type 1 diabetes is an autoimmune disease that is diagnosed when the body is not producing enough insulin at all. There is no way of preventing or reversing type 1 diabetes and any individual diagnosed with this condition will need to receive insulin, for example by injecting it themselves, throughout their lifetime.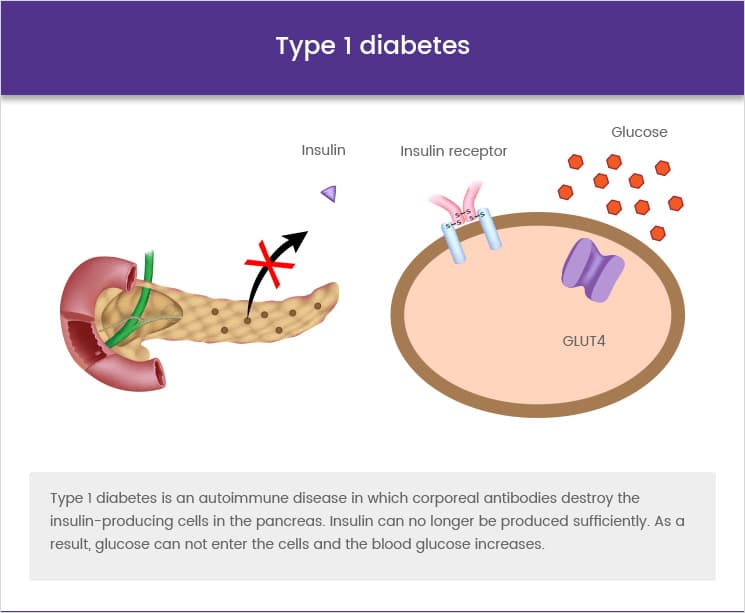 In contrast, type 2 diabetes occurs when the cells in the body are not able to respond in the right way to insulin that is produced, or if the body is not producing enough insulin. This form of the condition can be controlled if a healthy diet is maintained and the blood sugar level is carefully monitored. However, it may be necessary at some stage to take medication, as type 2 is progressive. The development of type 2 has been linked with obesity in many cases. Type 2 diabetes is far more common that type 1, affecting 90% of those diagnosed with the condition.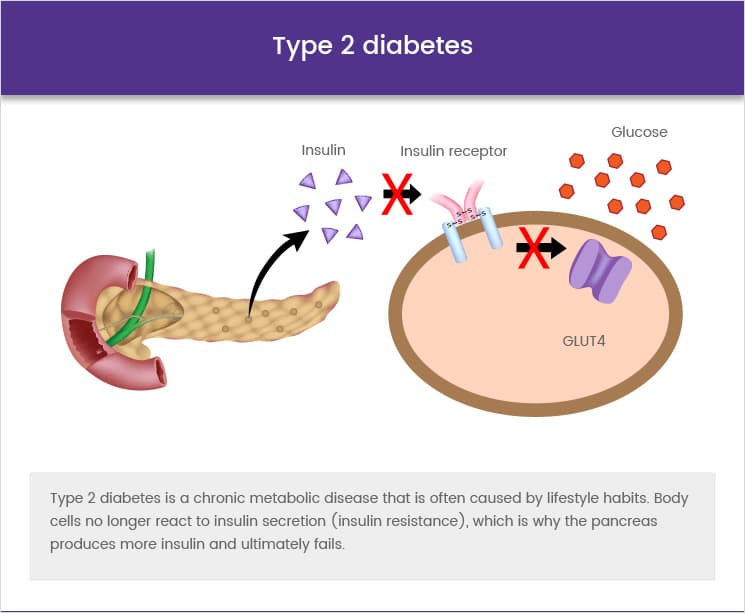 What is the cause of type 2 diabetes?
Although there isn't a pinpoint cause for type 2 diabetes, there are several factors that can contribute to the overall risk and development of this condition, they include: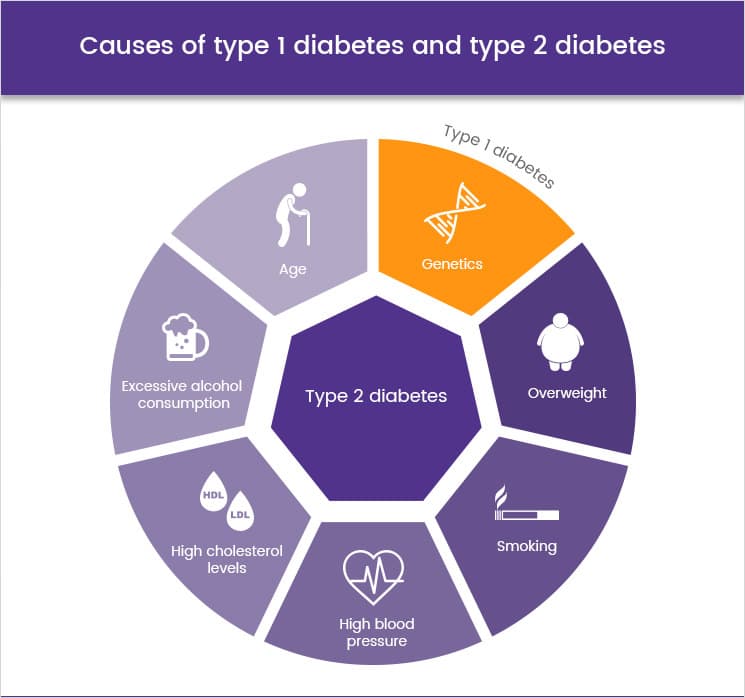 Genetics - This is considered to be the major contributing factor/ There is a 1 in 3 chance that a child of parents with type 2 diabetes will develop the condition at some point in their lifetime.
Age - Type 2 diabetes is more likely to occur in adults over the age of 40 years. This could be due to prolonged lifestyle choices.
Physical Inactivity - A lack of exercise and activity can cause a imbalance connected to calorie intake. This can lead to obesity and cause insulin resistance.
Obesity - Individuals who are overweight or obese do not respond to insulin as effectively as others.
Ethnicity - Studies suggest that type 2 diabetes is up to 6 times more likely to occur in people of South Asian descent, and 3 times more likely in people of African/Caribbean descent in comparison to caucasian descent.
Pregnancy - The body is required to make additional insulin when pregnant. If not enough is being created, symptoms of type 2 diabetes may occur. This is known as gestational diabetes.
It is also possible, though rare, that some medications can contribute to the development of type 2 diabetes. In most cases of this type, diabetics will be advised to make dietary changes and maintain a healthy diet. This will be sufficient to control the condition for some individuals.
What are the symptoms of type 2 diabetes?
When attempting to spot early signs of diabetes, it is essential that you understand the differences, as well as similarities, between the symptoms for type 1 diabetes and type 2 diabetes.
Similarities
The diabetes symptoms for both type 1 and type 2 tend to be quite similar, and is most times used when first diagnosing the condition. They include:
Increased thirst

Weight loss

Extreme fatigue
Slow healing infections

Genital itching

Diabetic foot
This applies to both men and women with diabetes. It is also possible in some cases to experience cramps, vision changes and constipations. These are usually signs that the condition has been ongoing for a while without adequate treatment.
What is the difference between the two types?
Symptoms of type 1 are likely to develop very quickly and are usually far more severe if left untreated. In contrast, symptoms of type 2 are slower to develop. This can mean that type 2 diabetes can go unnoticed for some time, potentially even years.
What are some additional benefits of managing type 2 diabetes?
There are a variety of benefits that can be experienced if you successfully treat your type 2 diabetes. These benefits can include the following:
Reduced blood sugar levels

any lasting damage to your organs and tissues can be avoided by managing the condition in time

Healthier lifestyle

controlling your blood sugar can also lead to lower cholesterol and blood pressure levels
Lowered risk of cardiovascular problems

issues such as potential stroke or angina can be avoided with correct managementstained

Avoid potential diseases

such as eye problems, kidney disease or diabeteic foot
Patients using medication in the long-term to manage their diabetes have seen significant improvement to the health of their heart, brain, and legs. This long-delayed effect, as a result of tight glucose control, is referred to as the 'legacy effect'
What are the risks associated with type 2 diabetes?
Serious complications can arise with type 2 diabetes, such as kidney disease, erectile dysfunction, infections, and heart disease to name but a few. Keep these complications at bay with your lifestyle choices and the actions below.
If left untreated and the signs of diabetes are ignored, then the condition can potentially cause a number of serious health complications. The high sugar levels associated with this condition can cause damage to blood vessels, nerves and organs, which can lead to health issues such as:
Heart disease and stroke
Retinopathy
Kidney disease
Nerve damage
Foot problems
Sexual Dysfunction
Miscarriage and stillbirth
Over time you may find that, no matter how strict you are with diet, exercise, and medication, your diabetes becomes worse. This is because diabetes is a progressive condition. A good diet and regular exercise may help to prevent worsening symptoms for longer.
Monitor blood sugar levels. Being aware of your blood sugar will help you to manage diabetes.
If you are planning a holiday, take your diabetes into account. Blood sugar can be affected by weather, alcohol and different foods.
If you are ill, your blood sugar may behave differently. Medicines may also affect your levels. Keep a close eye on yourself and speak to your doctor.
Eat before you exercise so your body has enough blood sugar to avoid hypoglycaemia. Make it a slow release food such as basmati rice or nuts.
Type 2 diabetes is a serious condition, but, with proper management and medical care, you can still make the most of your life.
Treating your type 2 diabetes, and managing it over time, using effective and clinically proven prescription medication can help you to successfully avoid all of these possible risks.

What treatment options exist for type 2 diabetes?
When looking to treat your type 2 diabetes, it is important to consider all forms of treatment available, before committing to the best one.
Lifestyle changes
When you are diagnosed with type 2 diabetes, you will have to closely monitor your health for the rest of your life. This primarily includes dieting, losing a sufficient amount of weight, and increasing your level of physical activity by exercising regularly. This can help to keep your blood sugar level at a safer and healthier level.
However, for many people with type 2 diabetes, lifestyle changes will not be enough to help control the condition in the long-term. In these cases, medication will be required, usually in the form of tablets.
Insulin
Insulin injections are another form of treatment for diabetes. This therapy is an important part of diabetes treatment and is diagnosed by doctors. Insulin injections are used in the form of a syringe or an insulin pen. These injections are taken 2 to 4 times a day.
Prescription medication
A group of medications called biguanides are commonly prescribed for type 2 diabetes, of which metformin is one. Other medications include sulphonylureas, glitazones, prandial glucose regulators, DPP-4 inhibitors and alpha-glucosidase inhibitors. Varieties of these are available to buy at HealthExpress.
Various clinical studies have proven the effectiveness of these forms of medication when used to treat individuals with type 2 diabetes. These medications come with little to no side effects, and can decrease the risk of certain health problems (e.g. heart disease and nerve damage) occurring in the future.
In order to effectively manage your diabetes in the long run, it is advised that you use prescription medication, as prescribed by a doctor. However, it is also essential to maintain a healthier lifestyle, resulting in a far safer and healthier blood sugar level. By using a combination of prescription medication and lifestyle changes, the risks associated with type 2 diabetes are far less likely to develop.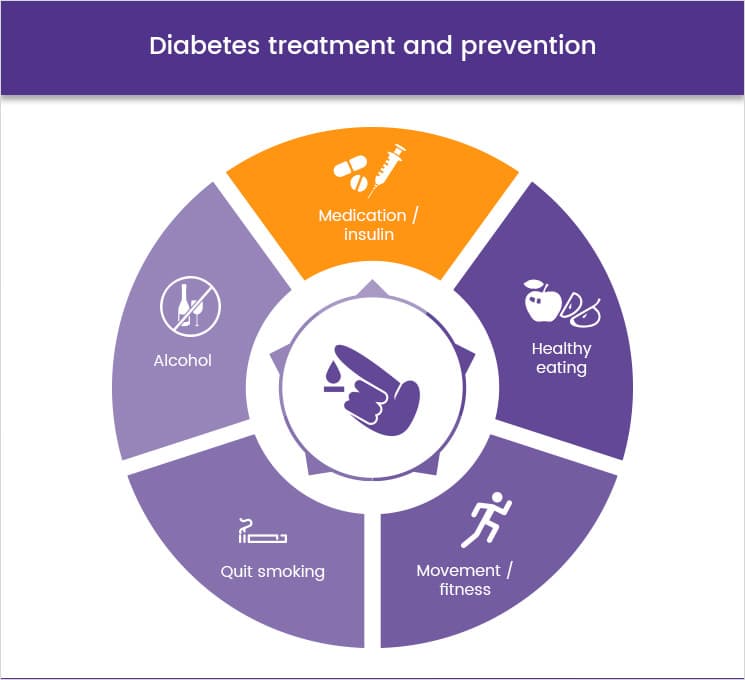 How can type 2 diabetes be prevented?
Type 2 diabetes can be prevented by following the below methods:
Following a healthy and balanced diet plan, including food that is higher in fibre, but lower in fat and calories
Losing weight (if you are overweight or dealing with obesity) or maintaining a healthy weight
Decreasing your alcohol intake, or even avoiding alcohol altogether can also significantly help
Following an effective exercise regime. Doing at least 30 minutes a day of moderate physical activity can truly make a difference
If you are a smoker, it can help to stop smoking
It can also help to check your blood sugar levels at least once a year, to ensure that you haven't developed type 2 diabetes
What treatment options does HealthExpress offer for diabetes?
Managing type 2 diabetes is essential to prevent long-term damage to your health. Diabetes can be effectively managed by using one of our available treatments, which are all approved by UK qualified doctors and are clinically proven to effectively treat type 2 diabetes. Treatments such as Metformin, Competact and Januvia help the body to control sugar levels in the blood and can also lower cholesterol levels. Metformin is thought to be the most commonly prescribed medication to combat type 2 diabetes in the world, and has been safely and effectively treating type 2 diabetes for over 60 years. You can order any of these treatments quickly and safely online by completing our free, quick, and simple online consultation.