What is Elleste Solo MX?
Elleste Solo MX is a variation of the Elleste brand and is a patch that supplies hormones via the skin directly to the body. Elleste Solo MX patches are available in two different doses and contain estradiol. Estradiol acts in the same way as natural oestrogen in the body, and can therefore make up for the drop in oestrogen levels that happens as a result of menopause. Using patch treatments, such as Elleste Solo MX can provide relief from a number of menopause symptoms, including hot flushes, vaginal dryness, vaginal itching and headaches. It can also reduce a patient's risk of developing osteoporosis.
How do Elleste Solo MX patches work?
Elleste Solo MX patches work by replacing oestrogen lost as a result of menopause. Oestrogen plays an incredibly important role in the female body and using oestrogen-only HRT patches, such as these, means that you supply the body with artificial oestrogen that acts in a similar way to natural oestrogen.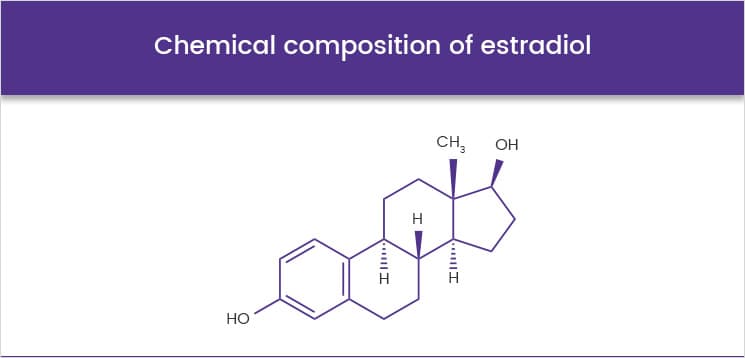 There are all sorts of different HRT treatments, and oestrogen-only HRT patches are a good option for women who have already had their womb surgically removed (hysterectomy). They can be used alongside clinical progestogen in women who have not had the procedure if it is recommended by a doctor, although a combined HRT treatment, such as Elleste Duet, may be a better option in these cases.
What are the benefits of Elleste Solo MX patches?
Elleste Solo MX patches can be used to relieve symptoms such as hot flushes, night sweats, vaginal dryness, vaginal itching and loss of bone mass, all of which are associated with menopause. Elleste Solo MX patches only contain oestrogen, but can be taken with a progestogen supplement, if you have not had a hysterectomy. This is because women who still have a womb require additional progestogen to maintain womb health and reduce the risk of cancer.
Another benefit of Estelle Solo MX patches is that they can be used to combat osteoporosis. As oestrogen levels drop after the menopause, a woman's bones become thinner and thus more prone to breaks. Oestrogen supplements, such as Estelle Solo MX, can assist in preventing bone fractures that can occur in the years post-menopause.
How do I use Elleste Solo MX patches?
Elleste Solo MX is available in a 40mcg and 80mcg dose, which means that it releases 40 or 80 micrograms of estradiol via the skin every 24 hours. The Elleste Solo MX patches should be applied twice a week on a clean, dry area of skin, below the waist. When applying the patch, it's important not to touch the adhesive bit and to make sure that the entire surface of the patch sticks to the skin.
The patches should not be placed in direct sunlight contact, nor should they be applied to the breast or under waistbands.
Elleste Solo MX patches are a 28-day treatment sold in three-month courses.
Patches should be placed in the area below the waist, ideally the thigh or bottom and never on the arm or near the breasts.
Patches shouldn't be applied to places where they can rub off like the waistband, or to or around the breasts.
Make sure the chosen area is clean and dry. Do not apply to broken skin as it may irritate.
Keep the area free of products such as creams, lotions and powders before applying.
Patches should be changed twice a week and there should normally not be a break between patches, unless your doctor has advised otherwise.
Fresh patches should be applied to a different area to avoid further irritation of the area, especially if you have sensitive skin.
Patches are waterproof, so can be worn whilst exercising, bathing or swimming.
HRT patch
Protective liner
HRT patch
Protective liner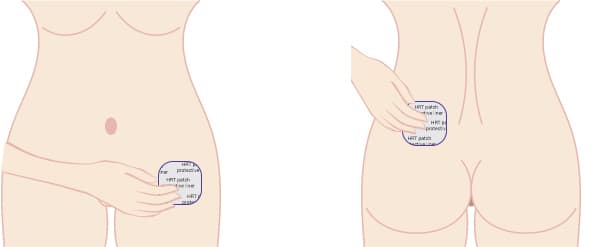 What dosages are available for Elleste Solo MX patches?
The Elleste Solo MX patches come in both 40mcg and 80mcg doses. The medication quantities have been formulated by the manufacturer, Meda, to maximise effectiveness whilst also attempting to minimise potential side effects from occurring.
You should not increase your dose without first discussing it with your doctor.
What are the side effects of Elleste Solo MX?
As with any prescription medication, Elleste Solo MX carries some risks of adverse effects. It's also important to note that a doctor will also make sure that anyone using HRT is monitored. Some of the most common side effects of HRT may include:
Nausea
Headaches
Indigestion
Acne
Fluid retention
Leg cramps
Irritation in the areas where the patch is applied
Speak to your doctor if these symptoms are persistent or you are concerned about a particular side effect.
Precautions/interactions of Elleste Solo MX?
This treatment isn't suitable for all meonpausal or post-menopausal women, conditions that may prevent use of these HRT pataches include:
Women with oestrogen-dependent cancer
Problems with blood clotting, liver disease or a history of breast cancer.
Women allergic to the synthetic oestrogen ingredient in Elleste Solo MX
There are other conditions you may have where it is advised to be cautious when before using Elleste Solo MX patches. These include high cholesterol, diabetes and high blood pressure.
For further information about Estelle Solo MX patches and their side effects, precautions, and interactions, please refer to the helpful patient leaflet. This can be found included with your HRT medication, as well as being available for download towards the bottom of this page.
How can I buy Elleste Solo MX patches online safely?
You can buy Elleste Solo MX patches online from HealthExpress, if you have already been recommended this medication. If you would like a repeat prescription for your medication, simply complete our free and confidential online consultation and one of our doctors will assess your medical history and provide a prescription if it's suitable. Once a prescription is approved, you will be notified to complete your order. Once it's completed, your treatment will be dispensed and shipped via free next day delivery.
If you have any queries, please do not hesitate to contact our friendly customer service team.