What is Loestrin?
Loestrin contains two hormones; norethindrone acetate (progestogen) and ethinylestradiol (oestrogen). It works principally by preventing ovulation during the female menstrual cycle, preventing pregnancy in close to 100% of cases .
Combined pills can also be used to reduce period pains and cramping, alleviate a heavy flow and regulating irregular periods.
Taking a Loestrin pill on the first day of your period will provide you with immediate protection against pregnancy. If you aren't able to take it at this time, you can take it on the second to fifth day of your period, but you will have to wait seven days for its contraceptive effects to work. Loestrin pills can also have the additional benefit of helping to regulate your periods and can be particularly helpful for women who struggle with long and painful periods.
How does Loestrin work?
Loestrin pills work in a similar way to most other combination oral contraceptives. The synthetic hormones present in each pill will trick the body into thinking ovulation has already happened, which means that an egg never gets released for fertilisation. It also thickens the mucous in the cervix so sperm can't enter the womb and prevents the womb lining from becoming thick enough for an egg to attach itself, if one does get released.
Loestrin 20 and Loestrin 30 pills should not have any long-term effects on your fertility, and your cycle will return to normal when you stop using these pills.
Without oral contraceptives
With oral contraceptives
Released egg
Fallopian tube
Ovary
Endometrium
(uterus lining)
Cervix
UTERUS
VAGINA
Oestrogen and progestogen can prevent an egg from being released from the ovaries each month most of the time.
Progestogen causes thinning of the endometrium (uterus lining) so, if an egg is released, it cannot implant on the wall.
Lastly, progestogen also thickens the mucus in the cervix so sperm is prevented from reaching the egg.
How do I take Loestrin?
Loestrin pills should be taken for 21 days of your 28-day menstrual cycle, which leaves you with a seven-day period where you won't need to use this contraceptive. During this period you may experience bleeding similar to your menstrual cycle, but the contraception will always be effective if taken correctly. Remember to start a new course after the seven days have passed.
What should I do about a missed Loestrin pill?
If you happen to forget to take your pill or more than one pill in one blister pack at the usual time, follow the below protocol:
If you have missed one Loestrin pill then take it as soon as possible unless it is close to the time of your next pill. If it is nearer to the next pill than the previous time, miss it out completely and continue with the blister pack as normal. Missing one pill in one blister pack will not affect the effectiveness and you will not need further barrier protection.
If you miss two or more pills in one blister pack, then you will not be protected at maximum effect. However, take the last missed pill as soon as you remember unless it is close to the time of your next pill. Do not take two pills in close proximity - this will not combat the mistake - and skip the missed pills. It is advised to use condoms or refrain from sex for the next seven-nine days.
For more information about what to do if you've missed your dosage for a significant period, it's always best to speak to your doctor or pharmacist.
Use our interactive tool below on what to do if you miss one or multiple pills in one month (menstrual cycle). Simply click to begin and the outcome will display itself.
How many pills have you missed? How late?
One pill

less than


12 hours late
Started a new pill pack

less than

12 hours late
One pill

more than


12 hours late
Started a new pill pack

more than

12 hours late
*Vomiting and diarrhoea experienced within four hours of taking the pill is also classed as a missed pill.
*There are more than seven pills left in the pack. Continue to finish the pack, overlapping the seven-day break. Take your seven-day break and start your new pack as usual.
*There are fewer than seven pills left in the pack. Continue to finish the pack, overlapping the seven-day break. Start the new pack immediately after the old one is finished (missing out the seven-day break completely).
*If you have missed contraceptive pills in the first one to nine days of the pill pack and have had sex without barrier contraception, you could be pregnant. If you have calculated this between one to five days after the unprotected sex, you could use emergency contraception such as the IUD or morning-after pill. If not, continue your contraception until the seven-day break. If you don't have any bleeding, it is advised to take a pregnancy test and/or consult your doctor.
Does Loestrin protect against STIs?
No, Loestrin 20 or 30 will not protect you against any sexually transmitted infections. If you've have had unprotected sexual intercourse and are worried you might have contracted an STI, you should talk to your doctor or visit a sexual health clinic.
What dosage is Loestrin?
Loestrin (Lo Loestrin Fe) can differ in dosage depending on Loestrin 20 and Loestrin 30; both containing different amounts of norethindrone and ethinyl estradiol.
In the Loestrin 20, there is 1mg of norethindrone and 20mcg of ethinyl estradiol. In the Loestrin 30, there is 1.5mg of norethindrone and 30mcg of ethinyl estradiol. Your GP will be able to recommend one or the other, and you'll be asked a few questions during our online consultation, which will help our doctors work out which is the best one to start you on.
The main differences between Loestrin 20 and 30 are that they contain different levels of the two hormones; oestrogen and progestogen, Loestrin 20 is a slightly lower dose, and both tablets appear in different colours (Loestrin 30 is pale green and Loestrin 20 is pale blue).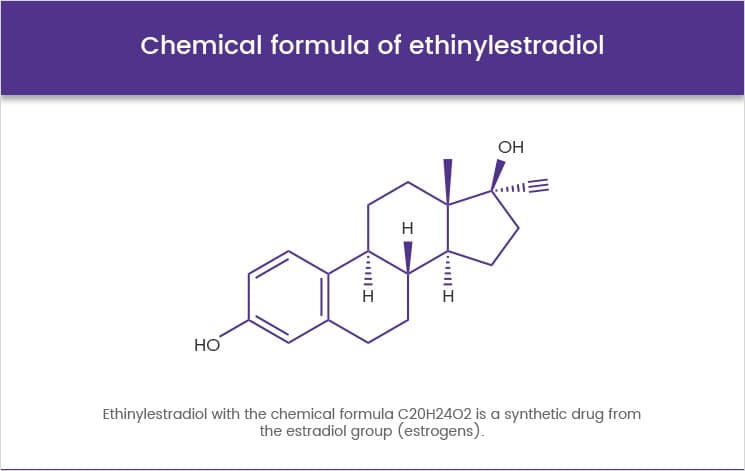 What side effects are associated with Loestrin?
Loestrin pills are usually well tolerated; however, they can sometimes cause some mild side effects in a number of women. Some of the most common side effects experienced are headaches, nausea, vomiting, weight gain and changes in water retention, breast tenderness, water retention, vaginal thrush and changes in menstrual bleeding.
Hormonal headaches are triggered in some women due to chemical changes in the body, especially if there is an increase in oestrogen. If you experience many headaches with one type of oral contraceptive, you may want to look at alternatives with lower levels of oestrogen and progestogen, or ask our doctors for advice.
What Loestrin precautions/interactions should I be aware of?
Loestrin pills can be purchased online by women aged 18 or over, provided that they are healthy and that they are not pregnant or breastfeeding.
You should not take Loestrin 20 or 30 if you have heart, liver or circulation problems, have had a stroke, high blood pressure or varicose veins.
It is advisable to mention any existing or past medical conditions or treatments that you are taking, or have recently stopped using, when filling in your consultation.
For further information, please see the patient leaflet which will be included with your medication, and is also available for download towards the bottom of this page.
Can I buy Loestrin pills online?
It's not always convenient to go to your doctor for a prescription, which is why HealthExpress offer patients a quick and confidential way to buy Loestrin pills online. Your online consultation will be checked by one of our doctors to ensure that this treatment is the most suitable one for you. Once your order is approved, your purchase will be dispensed and shipped from our pharmacy for express delivery. If you have any questions, please don't hesitate to speak to our helpful customer service team.