Situational Anxiety symptoms, medication & treatment online
Anxiety is a common emotion, however, many find controlling these emotions to be difficult. Further assistance such as self-help, therapy and medications can help control the symptoms of anxiety disorders and reduce the likelihood of panic attacks. An estimated 5% of the UK experience anxiety and the number is higher for mental illnesses in general. Phobias, past events or certain situations can trigger anxiety but there are many ways you can combat feelings of fear, apprehension and nervousness.
What is anxiety?
Anxiety is often used as a term used to describe feelings of worry and nervousness. It is a common emotion to experience. However, some individuals are formally diagnosed with an anxiety disorder; this is a mental health condition that requires treatment with medications and behavioural therapy.
There are different kinds of anxiety disorders, the most extreme being characterised by panic attacks and ongoing worry, both of which can cause a decline in a person's quality of life. While it is normal to feel anxious from time-to-time, if you believe you are suffering from mental or physical symptoms, you should seek medical advice from a doctor.
Anxiety can be classified as a disorder. These include:
Generalised Anxiety Disorder (GAD)
Obsessive-Compulsive Disorder (OCD)
Panic Disorder
Post-Traumatic Stress Disorder (PTSD)
Social Anxiety Disorder
Situational Anxiety
What causes anxiety?
The underlying cause of anxiety can depend on the disorder. For Generalised Anxiety Disorder, this can be more difficult to pinpoint. Discovering the root is essential to preventing panic attacks and symptoms.
The following are common causes of anxiety:
environmental and social factors
genetics
brain chemistry
drug and alcohol abuse
stress
You should consult your doctor, and potentially a mental health specialist, to determine what cause is most likely for your specific case.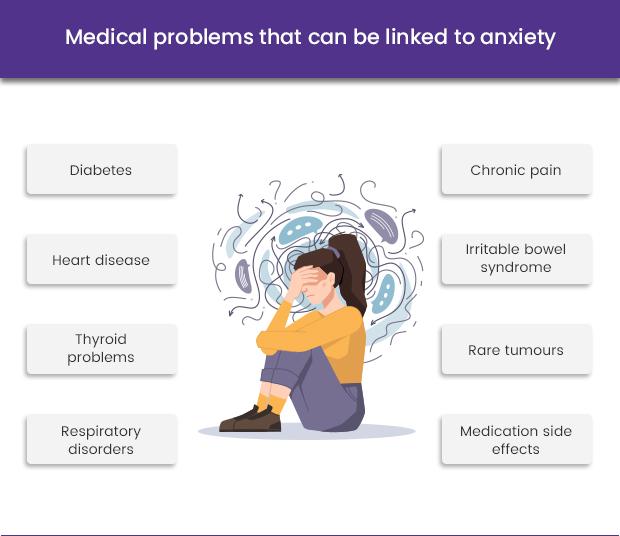 What are the symptoms?
Feeling anxious is somewhat different to being diagnosed with anxiety. While we all experience nervousness, fear and apprehension now and then, an anxiety disorder can induce the following symptoms:
intense fear, worry, nervousness, apprehension
nausea
heart palpitations
sweating/flushing
trembling
diarrhoea/stomach upset
headaches
fatigue
difficulty concentrating
confusion
difficulty sleeping and/or odd dreams
irritable or impatient
aches and muscle tension (particularly backache)
urge to urinate
trembling/visual shaking
breathlessness
dizziness
chest pains
pins and needles
dry mouth
If you wish to speak to a medical professional about anxiety, you can first book an appointment with your GP. As they are not strictly mental health professionals, your doctor may refer you to a relevant specialist, such as a psychiatrist. It's important to remember that many cases of mental health illnesses don't necessarily require a psychiatrist, and there are options offered beforehand such as self-help, online or group counselling or CBT and medications.
The key to a diagnosis is to recognise the frequency and severity of your 'nervousness'. If you find yourself highly concerned, visiting a doctor to pinpoint triggers can help to treat the condition.
What treatment is available?
Treatment should always be taken seriously. There are prescription medications available, self-help options and counselling. Depending on the disorder and severity of symptoms, you will be advised appropriate treatment by your doctor.
Self-help methods
Self-help methods are often used in conjunction with medications and counselling. These include:
staying organised
deep breathing techniques
exercise
staying active
Medications
A popular class of anxiety medications are beta-blockers. These impede the action of epinephrine, otherwise known as adrenaline.
Adrenaline is the fear, fight or flight hormone which causes the heart to beat faster. In an everyday situation this rush of adrenalin causes the unwanted side effects such as a fast heart beat flushing of the face, sweating and tremors.
By blocking the effects of adrenalin, beta-blockers slow the heart rate and stop these other, unwanted side effects. Due to their effects, they can also be used to treat certain heart conditions.
The beta-blocker HealthExpress offers is Propranolol. It can be taken either daily, if you suffer from regular and predictable bouts of anxiety, or as-needed, before stressful events, such as an interview, public speaking or flying. A maximum of three tablets daily should not be exceeded.
There are also several other medications that treat anxiety, however these are not available online and require the approval of a GP or specialist:
buspirone
monoamine oxidase inhibitors (MAOIs)
tricyclic antidepressants
benzodiazepines
Serotonin reuptake inhibitors (SSRI)
Counselling
Counselling can prove beneficial to both individuals suffering from intermittent and long-term anxiety. There are many options including group therapy sessions, one-to-one therapy and charities you can contact.
Psychotherapy, either privately or through the NHS
Charities such as Mind and Samaritans
Cognitive-behavioural therapy (CBT)
CBT can be highly effective and can challenge you to confront triggers of anxiety instead of masking them.
Cognitive-behavioural therapy works in two ways. Firstly, the cognitive aspect helps you identify emotional triggers, while the behavioural aspect focuses on changing the way you respond and react to these.
If you're interested in CBT, you can talk to your GP and ask for a referral to a therapist. It may take several sessions.