What is Ultraproct?
Ultraproct is an effective treatment for haemorrhoids. Using Ultraproct can help relieve symptoms such as itching and pain to aid recovery. This treatment works in two ways, firstly, it provides immediate relief by numbing the affected areas and secondly, it reduces swelling of inflamed blood vessels.
This haemorrhoid treatment is available in both suppository and ointment form. However, though it will reduce swelling, the initial cause should also be addressed, which in most cases is constipation.
How does Ultraproct work?
The active ingredient in Ultraproct is fluocortolone (a corticosteroid). This is a type of natural steroid that works to reduce inflammation. The inflammation associated with haemorrhoids is caused by pressure on the blood vessels in the back passage. If skin tissues are irritated, the immune system releases chemicals that cause blood vessels to swell, but fluocortolone limits their effectiveness, thus reducing inflammation.
One of the active ingredients, cinchocaine, is a type of local anaesthetic which helps to numb the region affected, this in turn relieves pain and itching.
Fluocortolone on the other hand is a type of corticosteroid which helps to reduce inflammation. By reducing the chemical substances that cause inflammation there is less irritation allowing piles to reduce naturally. Likewise when inserted in the rectum, the treatment goes to work on irritation in the afflicted area.
What are the benefits of Ultraproct?
Ultraproct can be used to alleviate pain and itching associated with piles. It not only works to numb the affected area but also acts to reduce swelling, which can aid recovery. It's a short-term treatment that comes in the form of an ointment or suppository, which means it's unlikely to cause side effects and usually produces results within a few days of use.
How do I use Ultraproct?
The ointment version of this treatment can be applied externally as well as rectally with the help of an applicator nozzle. This should be one twice daily and once daily once symptoms have cleared up.
Ensure the area and your hands have been cleaned thoroughly with water
Dry the area completely by patting so as not to aggravate the piles further
For external haemorrhoids - the area around the anus
Squeeze a pea size amount onto your finger
Spread gently over the skin and leave
Do not rub the ointment in
For internal haemorrhoids - to be used inside the anus
Place the nozzle onto the top of the tube
Fill the nozzle with the ointment
This is the correct dosage for one application
Insert the nozzle into the anus slowly
The whole nozzle should be inside
Squeezing the tube gently, withdraw the nozzle
Wash nozzle thoroughly ready for next use
If you are only experiencing internal symptoms, the suppository treatment may be all that is required. This should be applied once a day, but in the initial stages of treatment you could use it between three to four days in a row. With both types of treatment, it should not be continued for more than seven days, so if symptoms persist beyond this point, you should speak to your doctor.
Using suppositories
Some people prefer to use the suppositories for direct application to the site of the piles. Instructions on how to use a suppository are below: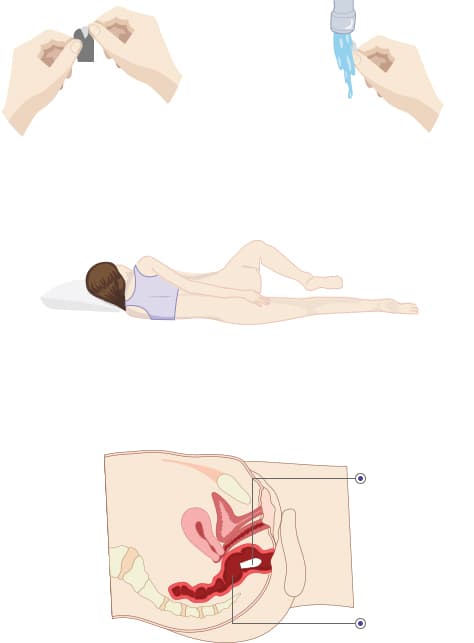 Remove foil wrapper.
Moisten the suppository with water or water-based lubricating jelly.
Lie on your left side and bend your right knee up toward your chest. Gently push the suppository into your rectum.
Suppository
Rectum
What dosages are available with Ultraproct?
Ultraproct comes in two different dosages, depending on what form of delivery you opt for. If you prefer ointment, you should expect a 30g tube, and for an Ultraproct suppository the quantity is 1mg.
All Ultraproct dosages have been specifically formulated by the manufacturer to maximise efficiency whilst minimising potential side effects.
Are there any side effects when taking Ultraproct?
Side effects are uncommon with this haemorrhoid treatment as it is only used for a short time and is not taken orally. However, adverse effects may include:
Irritation of the application area Including rashes.
With extended use, skin may begin to thin.
If they occur, these side effects should lessen with time. However, if symptoms do persist, then you should contact your doctor to discuss alternative treatments.
What are the precautions/interactions I should aware of with Ultraproct?
Most adults who require treatment for painful haemorrhoids ccan buy Ultraproct ointment or suppositories, however you should not use the treatment if:
You are allergic to the active ingredients
You have a viral, bacterial or fungal infection
You are pregnant or breastfeeding
You should also inform your doctor if you are taking any other medications.
How can I buy Ultraproct online safely?
Ultraproct ointment and suppositories are available to order online for convenient next day delivery, although we do ask all our patients complete a free, online consultation first. That way, we can ensure this treatment is safe for your use. Consultations are reviewed by our doctors, and all medications are shipped directly from our pharmacy to you.