What is Viagra?
Viagra is a very popular treatment for erectile dysfunction (ED) produced by the pharmaceutical company Pfizer.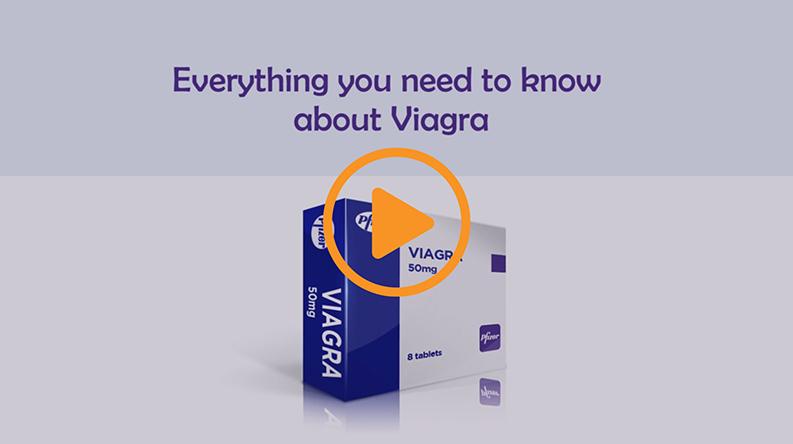 It has transformed the lives of millions of men and is clinically proven to help achieve erections strong enough for penetrative sex.
The same treatment is available as the generic version - sildenafil. Sildenafil contains the same ingredients and has identical effects - the only difference is the name and price.
As with most ED treatments, Viagra belongs to a class of medication known as PDE-5 inhibitors. Other treatments in the same class of drugs include Cialis, Levitra, and Spedra - each with their own unique characteristics.
Please note, for any of these treatments to work, you must first become sexually aroused.
How does it work?
Put simply, Viagra works by increasing blood flow to the penis.
An erection occurs when sexual arousal stimulates the brain. Your brain then initiates the body's production of cGMP. This chemical relaxes the muscles in the penile wall, allowing the arteries in the penis to fill with blood. The end result is an erection.
When you have climaxed, your body will then produce an enzyme called PDE-5. This enzyme breaks down the erection.
For some men, the PDE-5 enzyme is overly active. This prevents proper function and limits the flow of blood to the penis.
Viagra works through its active ingredient 'sildenafil citrate', which inhibits the PDE-5 enzyme for a period of time, meaning the arteries in the penis can fill with blood.
What dosages are available?
There are three prescribed dosages with varying strengths of 25mg, 50mg and 100mg, all of which are available to order online with HealthExpress.
25mg - the lowest dosage is recommended for those sensitive to higher dosages, as well as those over the age of 65
50mg - this is usually recommended if you are using treatment for the first time
100mg - the strongest dosage available and only recommended if the 50mg dosage has little effect. It is also important that you have not experienced any side effects when using the 50mg dosage
If you are unsure which strength to take, you should first consult with a doctor.
How do I take Viagra?
You should always follow the directions of your doctor and what is detailed in the patient information leaflet (PIL).
This medication is very easy to take:
Please note, the time it takes for this treatment to work varies between men. It will normally take between 30 minutes and one hour.
If this medication does not have any effect, please contact your doctor.
*Taking a dose of more than 100mg will not increase the efficacy - however it will increase the severity of side effects. If you would like to take an impotence medication that is optimised for more frequent sexual intercourse, Cialis Daily would be a better option.
Can I take Viagra with food and alcohol?
If you eat a heavy meal (especially a fatty meal), you may find that this medicine takes a longer time to take effect. However, it is completely fine to take with meals, as long as you expect a slight delay before effects.
Alcohol can prevent a man from achieving an erection. For this reason, it is not advised to drink heavily when taking this medication.
What are the possible side effects?
All prescription medication can cause adverse effects. Thankfully Viagra is very well-tolerated and any reactions are not normally serious.
The following are the most commonly reported (they are usually mild and not long-lasting):
alopecia
anaemia
anxiety
cough
diarrhoea
dizziness
fluid retention
headaches
increased risk of infection
insomnia
nasal complaints
nausea
night sweats
pain
skin reactions
stomach discomfort
stomach disorders
tremor
vasodilation
vision disorders
If you experience any of the above and it causes you distress, please stop treatment and contact your doctor.
You should also stop treatment and seek immediate medical attention if you suffer an allergic reaction, chest pain or painful erections.
A full list of reactions and their frequency can be found in the patient information leaflet - this will be included with your order.
Who can take Viagra?
Viagra is generally suitable for any adult male with erectile dysfunction. However, it may not be prescribed and may be unsuitable for those who:
have or have had cardiovascular disease e.g. heart problems, angina or a stroke
have kidney or liver disease
have low blood pressure or sickle cell anaemia
have galactose intolerance
have or have had renal dysfunction
have had a stroke in the past 6 months
have severe damage/deformity to the penis
are already on nitrate medication
If any of these apply to you, you should contact your doctor and ask about other ED treatments - there are other options available.
What precautions should I take?
Viagra is known to interact adversely with certain drugs and substances:
you should avoid grapefruit - when combined with sildenafil, the fruit can cause low blood pressure
alcohol - excessive consumption can increase the chance of side effects occurring
blood pressure medications - some medications, such as Lisinopril or Amlodipine can lower blood pressure to dangerous levels
if you have used other erectile dysfunction treatments such as Cialis or Levitra it is recommended to wait at least 24 hours (36 hours for Cialis) before using Viagra
if you are also using Priligy to combat premature ejaculation, you should confirm with a doctor that you are also suited to take Viagra
Viagra is safe to take alongside many heart medications, but it is recommended to avoid taking it with alpha-blockers or medications containing nitrates
When completing a consultation to buy Viagra online, it is important to list any medications you are taking, especially high blood pressure medications.
Can I buy Viagra online?
Yes, you can buy Viagra online from HealthExpress. First, we ask you to complete a quick consultation - this is a medical requirement. It will be checked by one of our doctors who will assess your suitability and decide whether the medication will pose any risks to your health. The consultation is completely confidential - your information will not be shared.
If our doctors approve, they will issue a prescription to our pharmacy. The pharmacy will dispense and dispatch your order with complimentary delivery (next-day or nominated).
If the doctors do not approve, you will not be charged. You will also be sent a message explaining the reasons why and alternatives proposed.
If there are no issues, the whole process will take no more than 24 hours. Your package will also be discreetly packaged.
What are some alternative ED medications?
Before you buy Viagra, it's worth exploring alternative treatments. Many ED medications provide similar effects, for example; Cialis, Levitra, sildenafil, Tadalafil and Spedra. HealthExpress offers a comprehensive selection of treatments for ED and related conditions.
How do I know the service is secure?
HealthExpress is regularly inspected by UK healthcare regulatory bodies, the Care Quality Commission (CQC) and Medicines and Healthcare products Regulatory Agency (MHRA) and all our doctors are registered with the General Medical Council (GMC). Certificates can be viewed at the very bottom of this page.