What is Atrovent?
Atrovent is a preventative treatment for asthma in the form of an HFA (hydrofluoroalkane) inhaler that is also recommended for the treatment of COPD, also known as chronic bronchitis. It works with the active ingredient ipratropium bromide, which is known as an antimuscarinic bronchodilator, meaning that it is particularly effective at preventing constriction in the airways, which is common in people with respiratory conditions and makes them more prone to breathing difficulties. Atrovent works directly in the lungs, but should never be taken to relieve symptoms in the event of an attack.
What is an HFA (hydrofluoroalkane) inhaler?
Since the government placed a restriction on CFC gases, most inhalers are now HFA-propelled. Therefore we only provide Atrovent CFC free inhalers which most users have found beneficial as the spray is lighter and thus causes less chances of a sore throat etc. For more information about the differences between CFC and HFA inhalers you can read more about it at WebMD.
How does Atrovent inhaler work?
Atrovent contains ipratropium and works in the lungs, where it prevents receptors, known as muscarinic receptors, from reacting and causing constriction and narrowing in the airways. Muscarinic receptors react to a chemical known as acetylcholine and cause constriction of the airways. Atrovent prevents this reaction from occurring.
What are the benefits of Atrovent?
Atrovent inhaler is able to prevent airways from constricting as a result of asthma or other respiratory conditions by providing treatment directly where it is needed. It is easy to use on a daily basis and doesn't take long to administer.
Inhaling the active ingredient also makes it much less likely to cause side effects, as the amount that is actually absorbed into the blood stream via the lungs is much lower than is the case with oral treatments. Atrovent is also compatible with spacers, should you find it difficult to use the inhaler on its own.
What if I suffer from COPD?
Atrovent can also be used in the treatment of chronic obstructive pulmonary disease (COPD). Your HFA Atrovent inhaler contains the active ingredient ipratropium, which relaxes the muscles of the airways, reducing the narrowing of the airways, known as bronchospasm, and increasing air flow into the lungs.
Whilst (COPD) is a progressive airways disease that usually gets worse with time, regular use of your Atrovent inhaler relieves symptoms of reversible bronchospasm.
How do I use an Atrovent Inhaler?
One or two puffs of Atrovent CFC-free inhaler three to four times a day should be sufficient to manage asthma in adults, however a doctor may start you off on a higher dose. Always use Atrovent exactly as your doctor has instructed, and if you don't notice an improvement, it's best to mention this to your doctor. Below are some additional notes to consider when using an Atrovent inhaler:
Take the cap off the inhaler mouthpiece and hold the it upright. Shake it vigorously up and down.
Remove the mouth piece
Breathe out normally as far as you comfortably can
Hold the mouthpiece between your lips.
At the same time as you first start to breathe in, press the top with your finger to spray the medicine.
Remove the inhaler from your mouth and hold your breath for up to 10 seconds and breathe out slowly.
If you need more than one dose, start again from step 3.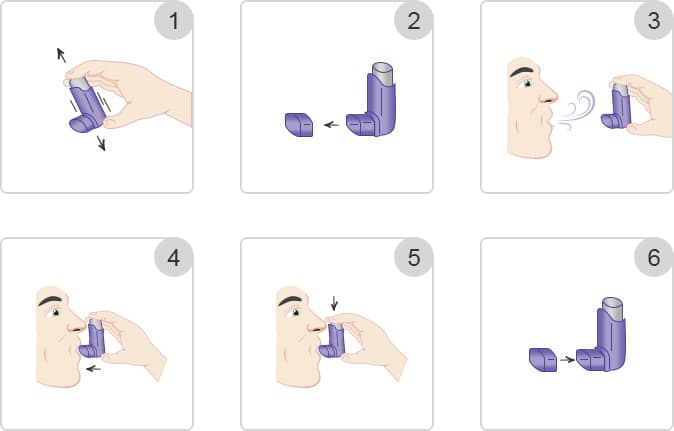 Atrovent is a puffer inhaler, which means that you push down on a canister containing the active ingredient as you breathe in. If this is difficult for you to do, you should speak to your doctor about using a spacer.
If you are using your inhaler for the first time or if you haven't used it in three days, it is advisable to squeeze two puffs before placing the mouthpiece in your mouth and inhaling.
To ensure that it keeps on working effectively, we recommend that it be cleaned once a week. This should be done by removing the canister, and washing the inhaler casing separately with warm soapy water.
What dosages are available for Atrovent?
The only available Atrovent dosage is 20 mcg (micrograms), which works out at 200 measured doses. This quantity has been specifically set as it is highly effective whilst retaining a lower chance of side effects.
Are there any side effects when using Atrovent?
Side effects from inhaled treatments are rare, but they can affect people who are sensitive to the active ingredients in the treatment. The most common side effects include headaches, diarrhoea, dry mouth, and upset stomach or throat irritation.
Common side effects:
Dizziness
Constipation or Diarrhoea
Dry mouth
Nausea
Stomach upset
Rare side effects:
Trouble breathing
Fast heartbeat
Painful urination
Vision changes
Eye swelling
Although these rarely occur, if you do experience anything more serious, such as an allergic reaction or any other worrying symptoms, you should seek medical assistance straight away.
What are the precautions/interactions with Atrovent?
Atrovent is safe for most people with asthma or COPD to use, although it may not be suitable for everyone with these conditions, this includes:
People who are allergic to Atrovent and any of its ingredients
Women that are pregnant or breastfeeding
Make sure you tell your doctors if you suffer from prostate problems, have issues passing urine, have cystic fibrosis or if you have glaucoma or if you are using any other treatments, especially those that regulate breathing.
If you require any further information about Atrovent's side effects, interactions and precautions then please refer to our patient leaflet.
How do I buy Atrovent inhalers online safely?
Atrovent CFC Free inhalers can be ordered safely online from HealthExpress. Simply start the ordering process by completing one of our completely confidential online consultation forms. Our doctor will first check this form and if you qualify for a prescription, you'll be notified to complete your order. As soon as this has been completed, your prescription will be passed to our pharmacy. The pharmacy will then dispense your medication and ship it directly to you.