What is non-specific urethritis (NSU)?
Non-specific urethritis (NSU) is a widespread infection, characterised by the inflammation of the urethra. A diagnosis of NSU is made when the cause of inflammation is not known.
Alternatively, a doctor may diagnose you with non-gonococcal urethritis (NGU) – this refers to infections not caused by gonorrhoea, but the result of other infection or irritation.
The urethra is the tube that runs from the bladder to the genitals. Urine travels along the urethra and out of the body. When you contract NSU, you may experience several painful and unpleasant symptoms relating to your urethra.
NSU is typically caused by sexually transmitted infections (STIs), such as chlamydia. However, it is also possible to catch the infection by other means – though over half of confirmed cases result from STIs.
If you have confirmed you have this infection, you should inform past sexual partners so that they can get tested themselves.
What causes non-specific urethritis?
There are various possible causes of non-specific urethritis, including damage, irritation and infection.
Infections
STIs are by far the most common cause of urethritis. They are spread via unprotected sexual contact with an infected partner. Usually vaginal, although oral sex and anal sex as well as the shared use of sex toys can be causes. The best way to protect against these is by using a barrier contraceptive (condom).
Examples of STIs that cause NSU include:
Other non-sexually transmitted infections that can cause NSU include:
adenoviruses
urinary tract infections
Damage & irritation
It is also possible for NSU to be caused by physical factors such as:
certain soaps, spermicides and toiletries can cause irritation
allergic reactions to products
damage from vigorous sex or masturbation
squeezing or over-examining the penis for STI symptoms
damage from medical procedures (e.g. inserting catheter)
In these cases, treatments will vary, and antibiotics may not work. For this reason, you must confirm a diagnosis with a doctor, health professional or STI test before ordering antibiotics.
You can get a free STI test from a sexual health clinic. In some areas, you can order them for free online.
What are the symptoms of non-specific urethritis?
Non-specific urethritis does not always show visible symptoms, and they can sometimes be so mild that they are overlooked.
You should have regular tests if you have unprotected sex – especially if you have multiple sexual partners.
Both men and women can suffer from this condition, though they may present with different symptoms.
Symptoms in men
Men who have non-specific urethritis may experience:
a painful or burning sensation when passing urine
red, raw and sore head of the penis (glans)
white, cloudy discharge
more frequent urination
pain and swelling of the testicles
Symptoms in women
For women, NSU symptoms are less noticeable until the infection spreads from the urethra to the womb and fallopian tubes. At this point, you may notice:
pelvic or lower-stomach pain
unusual vaginal discharge
pain during sexual intercourse
If you experience any of these, you should consult a doctor as soon as possible. Complications for women can be more serious and may include infertility, pelvic inflammatory disease and chronic cystitis.
Having regular sexual health tests can also help to identify this infection before it spreads and worsens.
White cloudy discharge

More frequent urination

Pain during intercourse
Possible damage to the fallopian tubes

Burning sensation during urination
What treatments are available for non-specific urethritis?
The usual treatment for non-specific urethritis is antibiotics.
Antibiotics work by preventing the bacteria responsible for the infection from producing certain enzymes. These enzymes are needed for the cells to grow and multiply.
Without the ability to multiply, your immune system can more easily fight off the infection.
The antibiotics prescribed for NSU are:
doxycycline - this is the first-line treatment
azithromycin - this is the second-line treatment (only take after an unsuccessful course of doxycycline)
Please note that the above medications will only treat NSU cases where the cause is a bacterial infection, such as chlamydia or ureaplasma urealyticum. If you have NOT tested positive with an STI test, you should visit your doctor to determine the real cause of your symptoms.
If you are taking antibiotics, you should always finish the full course. Do not stop taking tablets when you start to feel better – continue until the course is complete. Not following the pharmacist's instructions may cause the infection to return.
You should avoid all sexual activity until your infection has completely cleared up. You should take a second STI test after treatment to confirm the infection is gone.
You should also use condoms to avoid future reinfection.
How can I prevent non-specific urethritis?
NSU is a very treatable condition that can be effectively prevented by following methods:
use condoms (male or female) – this ensures safe sex and is the safest option for preventing all STIs
keep the number of sexual partners you have to a minimum – more sexual partners increases the chance of coming into contact with an infected individual
avoid sharing sex toys – if shared, they should be washed thoroughly and covered with a fresh condom
you and your partner(s) should have regular STI check-ups – this will catch any infection early and will limit its spread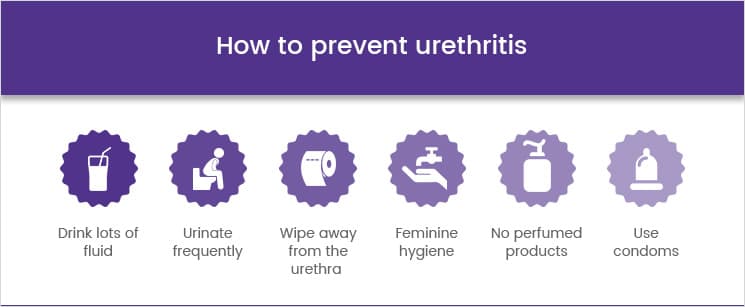 Can I buy treatment online?
You can order treatment for NSU from HealthExpress. You should first have had an STI test that shows a positive result. If you test negative, another condition may be causing your symptoms, and a course of antibiotics will not work.
We ask that you complete a short, online consultation before you order. This will allow our doctors to check your symptoms, medical history and decide on the correct treatment.
If the doctors decide not to prescribe (for any reason), we will refund you.
The treatment we sell for NSU is doxycycline and azithromycin. Doxycycline is the first-line treatment.
All orders are shipped with free next-day delivery – check our delivery page for cut-off times. Our pharmacy will package your treatment in a plain box. Only your name and address will show. There is no indication of its contents.
If you have any questions, please do not hesitate to contact Customer Services. You can find contact details at the bottom of this page.