What is non-specific urethritis?
Non-specific urethritis (NSU) is a very common STI, which causes the urethra to become inflamed. The urethra itself is the tube that urine passes through from the bladder out of the body through the genital organ. It is brought on by STIs, such as chlamydia, and through having unprotected sex with an infected partner. Non-specific urethritis is known by a number of different names, including, non-gonococcal urethritis, NGU, and non-gonococcal genital infection. However, in the UK, the most common name for this condition is non-specific urethritis 'NSU'.
What are the symptoms of non-specific urethritis?
Non-specific urethritis does not always show visible symptoms, and they can sometimes be so mild that they are often overlooked. Both men and women can experience this condition, and show different symptoms.
Symptoms in men
Men who have non-specific urethritis may experience...
A burning sensation during urination
The tip of your penis may appear red, raw and sore
White cloudy discharge
More frequent urination
Burning or painful sensation during urination
However, symptoms are not always visible and can be milder than other infections. It is important that you get yourself checked regularly if you are involved in unprotected sex or have multiple sexual partners.
Symptoms in women
In women the symptoms of NSU are less noticeable until the infection spreads from the urethra to the womb and fallopian tubes where they may experience...
Pain around the pelvis or lower part of your stomach
Unusual vaginal discharge
Pain during sexual intercourse
If this occurs, you should consult a doctor as soon as possible. Ensuring that regular sexual health tests are taken can also help to identify this infection before it spreads and becomes worse.
White cloudy discharge

More frequent urination

Pain during intercourse
Possible damage to the fallopian tubes

Burning sensation during urination
What causes non-specific urethritis?
During unprotected sex, organisms that cause inflammation can pass into your urethra and lead to a diagnosis of non-specific urethritis. In almost 50% of studies, chlamydia was identified as the underlying cause of the infection. Other organisms that are responsible include the human papilloma virus (HPV), which causes genital warts; the herpes simplex virus, which causes genital herpes; and trichomonas vaginalis, a protozoan that causes trichomoniasis.
Non-specific urethritis is usually the result of vaginal, oral or anal sex with a partner who has a sexually transmitted infection. It is sometimes referred to as non-gonococcal urethritis, and its side effects include inflammation, pain, redness and a swelling of the urethra. It is called 'non specific' because a number of infections may later be identified as being responsible for the symptoms after testing.
Non-specific urethritis is one of the most common reasons why men visit their local genitourinary medicine or sexual health clinic. 46,000 cases of non-specific urethritis were reported in the UK alone in 2004, as a result of chlamydia.
What are some additional benefits of treating non-specific urethritis?
There are a variety of benefits that can be experienced when successfully treating non-specific urethritis. These include:
Avoiding the risk of further health problems, such as diarrhoea
Fertility isn't negatively influenced or harmed
Personal sexual confidence is improved
Partner's sexual confidence will also improve
Sexual performance and experience will be significantly enhanced
Psychological issues related to NSU, such as stress and anxiety, are avoided
How can I get tested for non-specific urethritis?
If you are displaying any of the symptoms caused by non-specific urethritis, then you should visit your local genitourinary medicine (GUM) clinic or sexual health clinic. These tests usually involve either a swab or a urine sample and will be used to detect any bacteria. It is also advised that you get tested for gonorrhoea and chlamydia at the same time as these two STI's have been known to cause non-specific urethritis.
What are the risks of non-specific urethritis?
If left untreated, non-specific urethritis can potentially lead to serious pelvic inflammatory disease (PID) in women. In addition, women may experience other health problems including irregular vaginal discharge, lower abdominal pain, vomiting, vaginal bleeding between periods and feverish symptoms. This infection may also cause thinning and a permanent blockage of the fallopian tubes, and in some instances, ectopic pregnancy. Untreated non-specific urethritis can also reduce fertility levels and cause infections of the testicles for men, and in the cervix for women. All of these risks are totally preventable with effective treatment for non-specific urethritis. Together, we can stop these health problems from ever occurring.
What are some ways of preventing non-specific urethritis?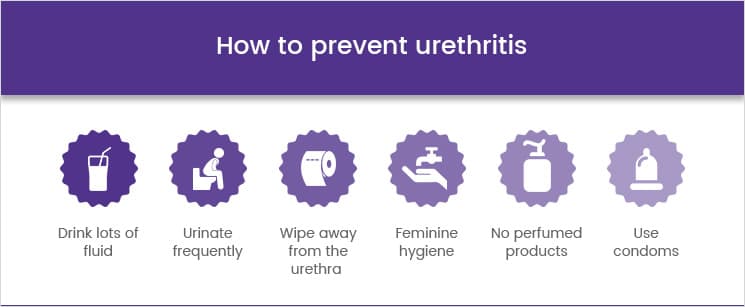 Non-specific urethritis is a completely avoidable condition and can be effectively prevented by following the following prevention methods:
Use condoms (male or female) - this ensures safe sex and is considered to be the safest option when attempting to prevent non-specific urethritis
Keep the number of sexual partners you have down to a minimum
Avoid sharing sex toys - if they are shared, they must be washed thoroughly and covered with a fresh condom
You and your partner(s) can attend regular STI check-ups - this will prevent the infection from being passed on
What treatments do HealthExpress offer for NSU?
Currently, the only effective and clinically approved way to successfully treat non-specific urethritis is through the use of antibiotic medications.
If you've tested positive for non-specific urethritis, start a quick, free, and simple online consultation to determine which prescription treatment is right for you. After you've completed an online consultation, one of our doctors will assess your condition and select suitable treatments for your condition.
You can then buy your chosen medication, and a prescription will be issued and passed onto our pharmacy. They will then prepare your medication and dispatch it for free next day courier delivery.
Benefits of treating Non-specific Urethritis
Avoid the risk of further health problems

such as cervicitis, urethritis, and ectopic pregnancylong-term

Treat asscoicated symptoms

reduced pain and burning sensations in the genital region
Fertility issues

these can be prevented if the condition is treated in time

May prevent further transmission

although it is still advised to use a barrier contraceptive condition is treated in time
Chlamydia