Chlamydia symptoms, medication & treatment online
Chlamydia is the most common bacterial sexually transmitted infection (STI) in the UK. It's most common in men and women under the age of 25, although roughly 50% of men and 75% of women show no symptoms. If left untreated, it can potentially cause health and fertility problems.
You can read more about the causes, methods of prevention and available treatments below. Our service is completely discreet and orders are delivered with free next-day delivery.
What is chlamydia?
Chlamydia is a sexually transmitted infection (STI) and is currently the most common type of STI in the UK. It is most common amongst young men and women aged from 16 to 25. Chlamydia is spread via unprotected sex, including oral, vaginal and anal sex, and can also be spread by sharing sex toys.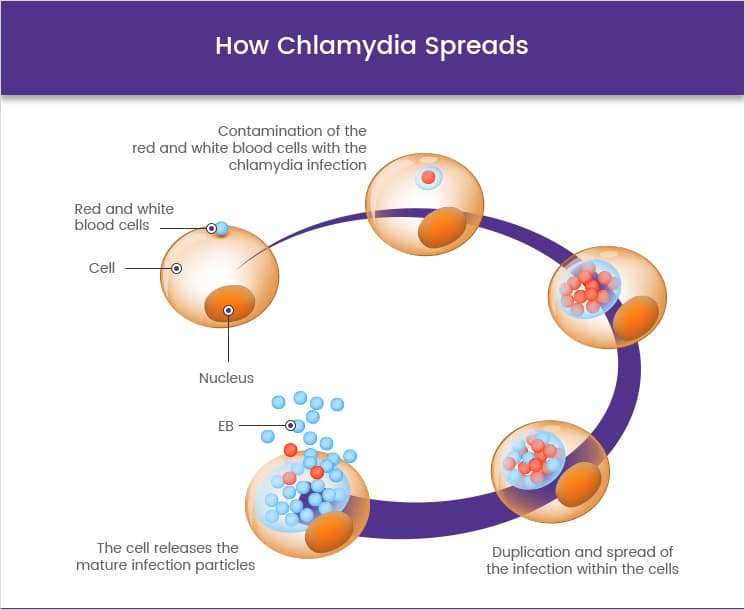 Chlamydia can be considered to be dangerous, due to the fact that there aren't many noticeable symptoms for the condition, in fact, according to recent reports, 75% of women dealing with chlamydia don't experience any symptoms. This means that those who are infected may unwittingly spread the infection further through unprotected sex. However, this can be avoided by taking the necessary precautions through the use of barrier contraceptives such as condoms or femidoms. Effective antibiotic treatments are also available to help cure the condition if contracted.
Both you and your partner can experience a number of benefits by successfully treating chlamydia. These benefits include:
Avoiding other potential STIs/STDs
Keeping your partner safe from any potential infections
Enhancing your sex life and future sexual experiences
Potential pregnancy issues can be avoided
Improved sexual confidence
Avoiding potential long-term health problems, such as pelvic inflammatory disease (PID) and epididymo-orchitis (inflammation of the testicles)
Possible psychological issues, such as depression and stress, can be effectively treated
How do I get tested for chlamydia?
You can get a free chlamydia test at a sexual health clinic, your local GP surgery, or a genitourinary medicine (GUM) clinic. The test kit will typically involve a swab, taken from the vagina or urethra. Doctors can also check for chlamydia by testing a urine sample.
If you or your partner thinks that you have any symptoms of chlamydia, then visit a doctor, or get a free, instant chlamydia test as soon as possible. If it is detected and diagnosed early, you can treat the infection straight away, reducing the risk of any further complications. Often, these complications are associated with long-term chlamydia and are much more difficult to treat.
Can chlamydia be cured?
Absolutely. With the right antibiotic treatment, and if you ensure you take the prescribed amount for the duration specified, it is unlikely you'll need to return to the clinic for further treatment. Antibiotic treatments for chlamydia have a 95% success rate.
What causes chlamydia?
Chlamydia is caused by a bacterium called chlamydia trachomatis.
Chlamydia can live inside the vagina, penis and rectum, and the bacterium can be found in traces of male semen and in the vaginal fluids of women who have contracted the infection.
Chlamydia can be passed on from one sexual partner to another during vaginal, anal or oral sex.
Sharing sex toys with someone who is infected with chlamydia can also pass it on.
If you are sexually active, you can catch chlamydia through unprotected sex, or if you have frequent sex with different partners.
What are the symptoms of chlamydia?
The symptoms of chlamydia include a change in penile and vaginal discharge, but the signs of this STI are often not visible because chlamydia is usually asymptomatic. This is why it's essential to take regular STI tests if you are sexually active, as chlamydia isn't the only asymptomatic STI. Symptoms may differ slightly between men and women.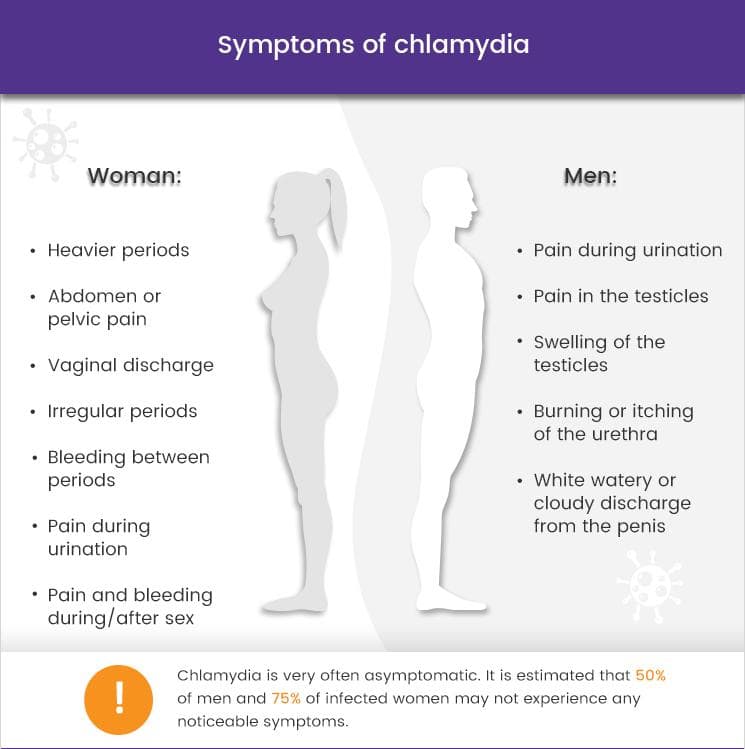 Chlamydia in women
Women may experience:
Cystitis
A change in vaginal discharge
A mild lower abdominal pain
However, other unrelated infections and diseases can also cause these non-specific symptoms, which is why it's important to get yourself tested, in order to specify that these symptoms are caused by chlamydia.
Chlamydia in men
Men may experience:
A slight discharge from their penis
Mild irritation at the tip of the penis (urethra), that disappears after two or three days Many men will wait to see if the discomfort goes away. However, while the discomfort may disappear, the man can still harbour the infection. If you need more information on chlamydia symptoms, then please visit our symptom page.
Cystitis

Lower abdominal pain

Slight penile discharge
Pain during urination

Pain during urination
What are the effects of chlamydia?
Although chlamydia can easily be aided by treatment, it can stay unrecognised for months, if not years. Untreated chlamydia can cause pelvic inflammatory disease. Fallopian tubes may stop working properly and can eventually become blocked. When your fallopian tubes are blocked, you then become unable to conceive naturally.
Chlamydia can affect sperm production and decrease male fertility. It is the most common cause of inflammation in the testicles and sperm tubes for men under the age of 35. This can then cause pain, swelling and redness on your scrotum. These side effects of chlamydia are completely avoidable if chlamydia is effectively cured.
How can I treat chlamydia?
Natural treatments for chlamydia
Chlamydia is a condition that can be easily treated. There are a number of touted natural herbal remedies for chlamydia; however, there is no definitive evidence to prove that they can effectively treat chlamydia. The only proven natural treatment options involve the preventative measures, such as those listed in the prevention section below. Therefore, prescription medication is the only clincially proven options available as proven in clinical studies to be extremely successful in treating chlamydia.
Prescription medication
To treat chlamydia, Doxycycline tablets are recommended as first line treatment. One 100 mg tablet should be taken twice a day for seven days. For a second line treatment Azithromycin is prescribed with a single dose of 1 gram followed by a 500 mg dose once a day for two days. It's important to always take the full course of antibiotic treatment, even if your symptoms of chlamydia disappear before you finish the course to avoid any symptoms from returning.
How can I prevent chlamydia?
Any individual who is sexually active can potentially catch chlamydia. However, it is completely preventable, and can be successfully prevented using a number of the methods listed below:
Using a latex condom during all sexual encounters
Avoiding sharing sex toys
Washing before and after sex
Limiting your number of sex partners
Getting regular screenings with your doctor
Getting help for any drug or alcohol-abuse issues, which can increase the likelihood of unprotected sex occurring
What treatments do we offer for chlamydia?
If you have tested positive for chlamydia and need to buy medication, take an online consultation to determine which prescription treatment is right for you to purchase. After you have completed an online consultation, one of our doctors will assess your condition and recommend which treatments are best suited for you. Once you've selected your medication, a prescription will be forwarded to our pharmacy and dispatched for free next day delivery. If you have any questions regarding this treatment or would like to know more about how we work, you can contact our Customer Service Team anytime.
What should I do if I think I have chlamydia?
One of the most common STIs in the UK, largely because many people don't know they have it, is chlamydia. It can lead to complications, which is why timely treatment is recommended.