What is genital warts?
Genital warts are a type of viral, sexually transmitted infection. It is one of the most common STIs in Europe, with an average of at least half of all sexually active people contracting human papillomavirus (HPV) (the virus that causes genital warts) at some point in their lives. HPV Types 6 and 11 are usually identified as the main causes of genital warts, and clinical studies have also shown that women are more likely to develop genital warts than men.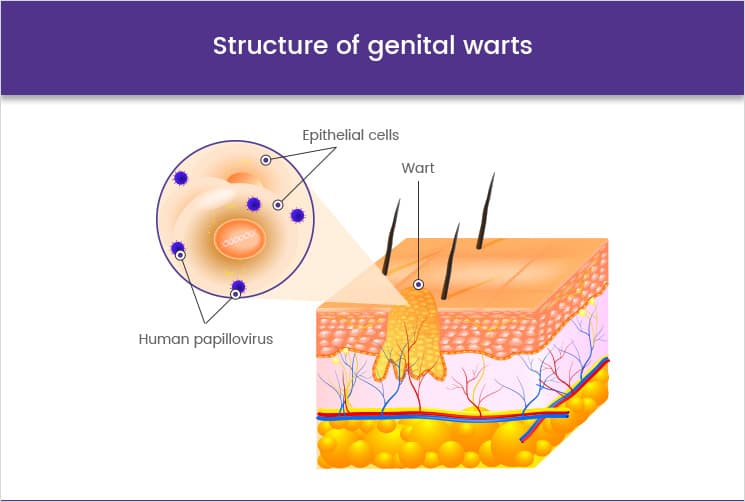 The wart itself affects the moist tissues of the genital region and looks like small, flesh-coloured bumps, or can even be cauliflower-like in terms of their shape. Normally the warts aren't visible, due to them being too small. The warts may appear a few days or weeks after infection, or could show no visible symptoms for a few years.
How do genital warts look like?
What causes genital warts?
Genital warts are caused by the HPV virus, which is transmitted through sexual contact. Around 90% of these infections are caused by HPV-6 and HPV-11, which are specific strains of the HPV virus, which are considered "low risk", meaning their cancer-causing potential is low. Other types of the HPV virus, such as HPV-16, are more high risk and can lead to cervical cancer.
Genital warts is spread through vaginal, anal, and oral sex with a person who is infected with HPV. Those who do not practise safe sex, or have multiple sexual partners may be more at risk, especially those who do not use barrier contraceptives such as condoms.
What are the symptoms of genital warts?
It is possible that you will not be immediately aware that you have been infected. For some people, it can take several months of being infected before warts appear, though it can happen in as little as two weeks. You are likely to notice early signs, consisting of the appearance of fleshy growths or bumps on the external or internal genital or anal area.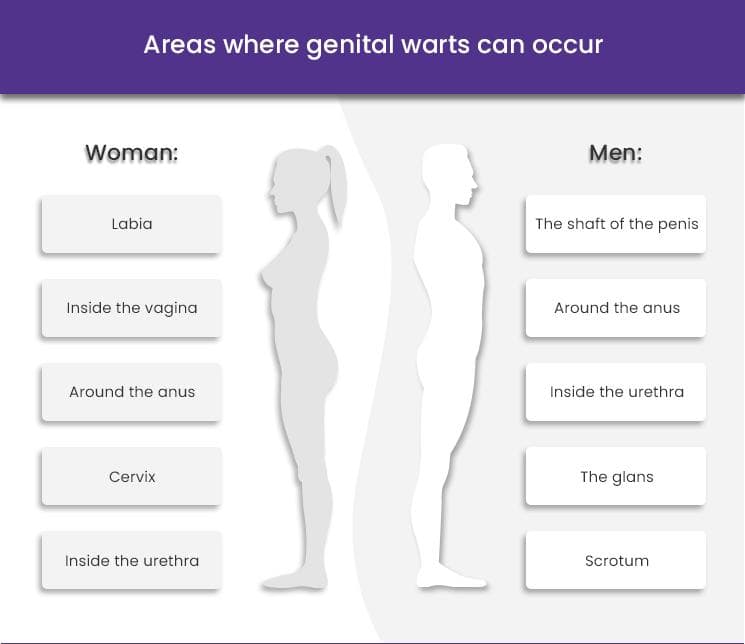 A genital wart could appear on its own or in a group. They can be large or small, smooth or rough, usually painless but sometimes itchy. These warts often vary in colour, according to individual skin tone. Sometimes genital warts can develop deep inside the vagina for women, or inside the urethra for men. This means that you will not experience visible signs of the infection.
The visible symptoms of genital warts appear differently on male and female bodies.
Male genital warts typically appear:
Somewhere on the penis or scrotum
Inside the urethra
Around or inside the anus
Upper thigh area
Female genital warts typically appear:
Somewhere around the vulva
Somewhere on the cervix
Anywhere inside the vagina
Around or inside the anus
Upper thigh area
Are there any risks with Genital warts?
Genital warts can be uncomfortable or unpleasant, but they are not usually dangerous. If the warts bleed uncontrollably, you should see a doctor immediately. If they block the opening to the urethra to the point that you are not able to urinate, you may have to go see your doctor for a genital warts removal treatment.
It is a myth that Genital warts can develop into cervical cancer. The types of HPV that cause genital warts (HPV-6 and HPV-11) are not the same as those that can cause cervical cancer. It is possible, however, to have more than one strain of HPV at a time. If you are concerned, you should talk to your doctor.
Visible warts on or around the genitals

Itchiness/inflammation of wart region
What are the additional benefits of treating genital warts?
Some of the benefits that come from getting rid of genital warts include:
Lowers the risk of spreading the virus
Can relieve any pain and itching
Removes warts that can be hard to keep clean
Can genital warts be cured?
No, there is no complete cure for genital warts at present. Though the warts themselves can be treated, it is important to remember that the virus that causes the warts cannot be cured or gotten rid of, which could lead to further outbreaks in the future.
How do I treat genital warts?
Genital warts treatments can be both surgical and medical. There are currently two known methods of treating this infection, through surgical means or through medical prescriptions.
Surgical
Surgery is usually only an option for getting rid of especially large warts, or for women during pregnancy. Such treatments can include freezing the warts with liquid nitrogen (cryotherapy), burning off the warts with an electrical current (electrocautery), laser treatments, or by cutting the warts out (excision). A trained doctor who has experience with removing genital warts must carry out these procedures. This commonly takes place in a GUM clinic. These forms of surgery can cause pain and swelling, and are only necessary for large warts. Plus, these methods can't cure the condition, as it can return in the future.
Medical
These are normally classed as 'topical treatments', and involve applying cream or lotion to the warts over a number of weeks, depending on which treatment is used. Clinical studies have proven that medications, such as Aldara, Condyline and Warticon are highly effective in the treatment of genital warts, with side effects being rare and mostly mild. These medications are fast-acting, and can be used in the comfort of your home, removing the unnecessary need to visit a doctor or clinic.
How can I prevent genital warts?
Genital warts are a completely preventable condition, and there a variety of different methods that you can use, in order to effectively prevent genital warts. These methods include:
Using condoms (male or female) - this is regarded as the safest option when trying to prevent genital warts, as well as other STIs. However, HPV (the cause of genital warts) is spread by skin-to-skin contact, so it's possible that a condom won't cover all of the skin around the genital area.
Avoiding sharing sex toys - if you do intend to share them, ensure that you wash them thoroughly and cover them with a new condom.
HPV vaccines - the FDA have approved two forms of vaccination, referred to as Gardasil and Cervarix. These vaccines aren't currently available for free outside the NHS. They can't protect you from all types of HPV infections, therefore an additional cervical screening (i.e. smear test) may be required.
What are the options we have to offer for genital warts?
There are several genital warts treatment creams available on prescription from HealthExpress, such as Aldara, Condyline and Warticon. Over-the-counter treatments are not recommended, as they may not be suitable for the sensitivity of the genital area. All three of these treatments are approved by UK qualified doctors, and are proven to effectively treat Genital warts, with quick results.
If you have tested positive for genital warts, you can complete a quick and simple online consultation, to determine which of the medications is most suitable for you. The consultation will be assessed by one of our doctors, who will prescribe the appropriate and most effective medication for you, according to your medical history and overall health. Our pharmacy will then dispense the medication and dispatch it for next day delivery, a service which we offer free of charge.