What is period delay?
Period delay is a term used for medically delaying your period from occurring at its usual time. This could be for a vast number of reasons depending on the person, and there are few ways to do so.
Why delay your period?
There are a number of reasons why some women may delay their period. Some of these reasons could include:
Going on holiday
Going to a festival
If you swim frequently
For a busy work week
Sporting event; marathon, etc
On your wedding day
For your honeymoon
During a long haul flight
There may be other events and scenarios that may call for period delay, whatever it may be, there are effective ways to do so.
What are the benefits of delaying your period?
The most obvious benefit of taking medication to delay your period is the increased level of control over where and when your period will start. If you have planned a weekend away, for example, and your period is due to start just before you leave, you can choose to take a few tablets a day to delay your period until you return from your trip. They can also be taken for a longer timeframe - up to two weeks - without any trouble whatsoever.
Period delay treatments also provide women with some added benefits including:
Reducing painful periods
Reducing heavy bleeding during or between periods
Decreasing premenstrual symptoms
Helping to treat the pain and discomfort associated with endometriosis
How can I delay my period?
If looking to delay your period medically, there is specific medication clinically proven to help you successfully delay your period. A treatment such as Norethisterone is a progestogen-type hormone that works by influencing the delicate balance of the female hormones oestrogen and progestogen that occur naturally in the body. This additional hormone dosage upsets this balance, causing your period to be delayed until the extra hormones are removed from the body after you stop taking the tablets. Your period will start around 2-4 days after you stop taking the tablets.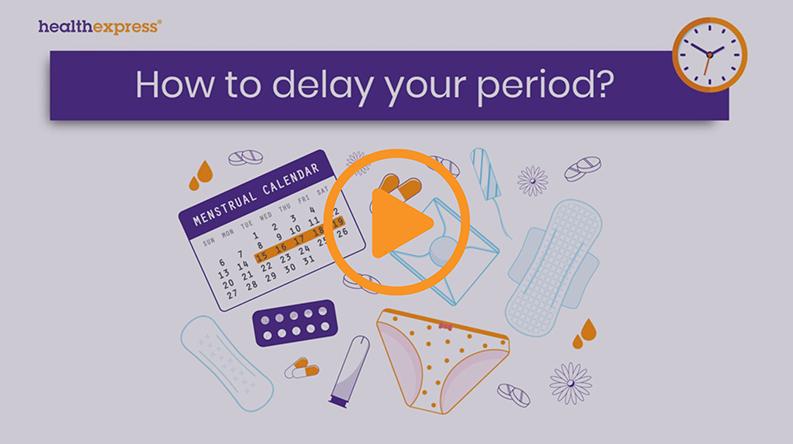 When to start delaying your period?
You can start using your period delay tablets three days before you expect to start your next period and it should be used three times a day until you are ready for your period to return.
Will my period be heavy if I delay it?
No, delaying your period will not usually affect how heavy your next period is. In fact, other benefits may include lighter periods and far more manageable menstrual cramps meaning. If anything, delaying your menstrual cycle may make your next period much better. However, it's recommended that you don't delay your period for longer than two weeks, or skip more than two cycles with the contraceptive pill.
Will delaying my period make my time of the month irregular?
The month in which you delay your period will be irregular to what you have become accustom to, however you are likely not to experience any further irregularities in the future and it will balance out at about one week each month.
Is delaying my period safe?
It is perfectly safe to delay your period by up to two weeks. Delaying your period by using Norethisterone 5mg, or combined oral contraceptives, doesn't tend to be dangerous, as long as you take the pills exactly in accordance with a doctor's instructions. It's important that you don't take tablets containing norethisterone for prolonged periods of time (more than two weeks).
How long can you delay your period for?
With period delay tablets you can delay your period for up to two weeks. You do not have a period as normal when you are using a combined oral contraceptive, normally you experience a withdrawal bleed during your seven pill-free or placebo days. So taking packs back to back can delay this withdrawal bleed for three weeks. At HealthExpress, we only offer tablets for up to ten days. If you wish to delay your period for a couple days more, you can visit your GP for a higher dosage.
What happens when you delay your period?
Norethisterone controls the hormones in your body to delay your period. Because it is a type of progestogen, it works in your body to sustain your womb lining. Just before you have your period, the level of progestogen drops, which allows the womb lining to be shed, which is when you menstruate. Taking Norethisterone 5mg keeps the level of progestogen high enough so that the womb lining can stay in place for longer. Similarly the oestrogen and progestogen in combined pills affect your hormone levels in the same way.
Does period delay prevent pregnancy?
No, delaying your period cannot protect against pregnancy. However, combined oral contraceptives, if taken correctly, can provide effective contraceptive cover.
Can contraceptive pills be used with Norethisterone?
It is not advised to used Norethisterone tablets if you are already taking a combined or progestogen-only contraceptive. If you require contraception, you could speak to your doctor about using a combined oral contraceptive to delay your period. However, you will need to start taking it a couple of weeks in advance. Alternatively you could use a barrier contraceptive. Speak to your doctor about your options if you are using a progestogen-only contraceptive.
How to safely delay your period infographic
Click on the image below to discover how to delay your period with ease.
What period delay treatments are available?
Many women are unaware that there are treatments available that are designed to safely delay a period for up to 2 weeks. We touched upon some tactics above. Here is further information:
Prescription medication
Norethisterone is a prescription medication that is available to buy at HealthExpress. It is the only clinically proven treatment that is available for the purpose of delaying a period, and for this reason is highly beneficial for women planning a special event.
You can get a one-week to 10-day supply of Norethisterone - 30 tablets
This will include full instructions on how to take it and any vital medical information
Take one tablet three times a day
Whilst we offer plenty of information on conditions and the accompanying medication online, it is vital that you read the patient leaflet before taking any prescription medicine. It is important to remember that Norethisterone is not the best protection against pregnancy, nor should the medication be taken in conjunction with other hormonal contraception.
If you are planning on being sexually active during this time, but do not wish to fall pregnant, please take extra precautions such as barrier contraceptive methods.
Contraception
You can't take a period delay treatment alongside any hormonal contraceptives. However, there are other ways that can help you delay your period that vary depending on what type of pill you are taking:
Monophasic 21 day pill - To delay your period whilst taking this form of pill, you must miss out the seven day break and start a new pack straight after you finish the first one.
Every day (ED) pill - If you need to delay your period, simply miss out the 'inactive' phase and throw these pills away. You will then be able to start a fresh packet straight away.
Phasic 21 days pill - The pills involved in this contraceptive have different levels of hormones. You should ask your doctor which ones to miss out in order to delay you period.
Progestogen only pills (mini pill) - Unfortunately you can't delay your period if you are using this type of oral contraceptive. Please contact your doctor for more information.
It is advised to finish your entire next pack of contraceptives to make sure you're completely protected against pregnancy before heading back to normal. Some women can experience spotting when prolonging their contraception, however this is usually very light.
What are the options available for period delay?
At HealthExpress, we supply 30 tablets of Norethisterone in a 5mg dosage to be taken over 10 days. This is the recommended dose for period delay tablets. You can order with us and receive your tablets as early as tomorrow, perfect if they've slipped your mind before a trip. For more information on Norethisterone, visit our treatment page, or to order your medication, start a consultation below. If you have any queries, please don't hesitate to contact our friendly Customer Service Team.
What can I do if I want to delay my period?
It's not always convenient to have your period, which is why period delay treatments can be very helpful. Norethisterone can help you safely delay your period for a special occasion.