Buy morning after pill online
The morning after pill is the only contraceptive that can prevent pregnancy after unprotected sex. Whether it's a split condom, a missed pill or you were caught in the moment, emergency contraception is up to 98% effective depending on when it is taken.
Levonelle and ellaOne are the only two morning after pills available in the UK. You can order either online with free next-day delivery. Start your consultation by selecting a treatment below.
What is the morning after pill?
The morning after pill is a form of emergency contraception that is used by women to prevent pregnancy after unprotected sex. In the UK, the morning after pill is available in two versions - Levonelle and ellaOne - both of which are available here at HealthExpress. It is available in the form of just one pill, that should be taken as soon as possible after intercourse. Levonelle is the first brand, and can be taken up to 72 hours after sex whilst ellaOne is effective up to 120 hours after. Both have the same effectiveness, within 24 hours, of 95%.
IUD
An alternative to the morning after pill is an IUD - a small plastic and copper device that is fitted to the womb to prevent an egg from being fertilised. An IUD can be fitted up to 5 days after intercourse to prevent pregnancy. They are 98% effective and must be fitted by a doctor or nurse. Although IUDs are successful for most women, the device can be uncomfortable and the procedure is not common in the UK.
Emergency contraception is exactly that - for an emergency. You should not rely on the morning after pill as a viable contraceptive option. If you're sexually active, there are effective methods of contraception including the contraceptive pill, patch or ring that offer you protection and peace of mind.
How does the morning after pill work?
The morning after pill contains a female hormone called levonorgestrel and works in two ways to delay ovulation. It:
Prevents your ovaries from releasing an egg
Alters your womb so that a fertilised egg cannot embed into the lining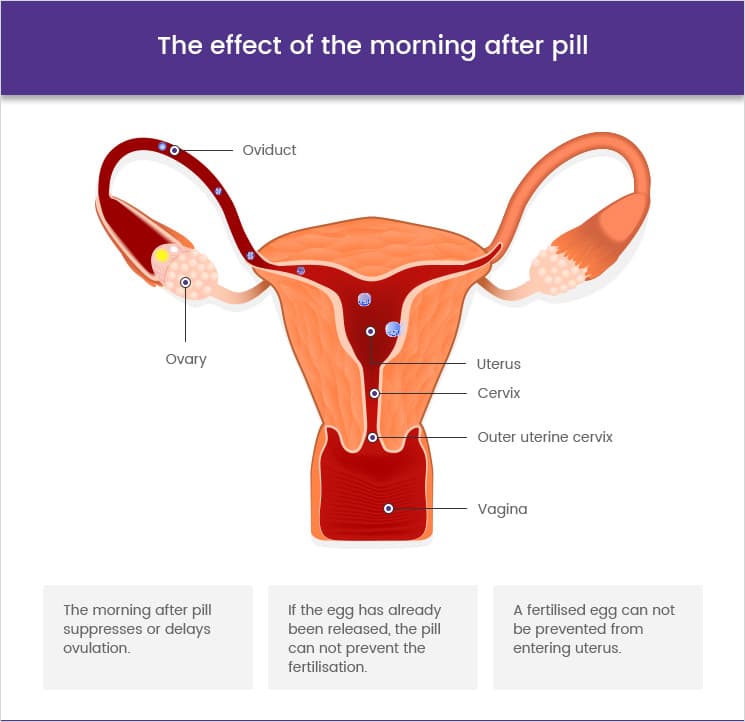 It is important to remember that:
Emergency contraception should be used to prevent pregnancy if your usual contraception has failed, or if you have had unprotected sex. It does not work if you are already pregnant.
Emergency contraception should not be used as a long-term method of contraception.
The morning after pill can only be used once a month.
What are the benefits of the morning after pill?
Easily obtainable

As emergency contraception needs to be taken quickly to be most effective, they are easy to obtain online or from a sexual health clinic

High effectiveness

known to be around 95-98% effective if used within 24 hours
Easy to use

It is just a one dose tablet to be taken as soon as possible

Reduces abortion rates

Going through an abortion takes an emotional and physical toil. Using the morning after pill means you avoid this stage completely
How effective is the morning after pill?
The morning after pill effectiveness is determined by the time in which you take it; the sooner you take it after unprotected sex, the more effective the pill will be. Ideally, you should take the tablet within 12 hours to stand the best chance of avoiding conception.
Levonelle (levonorgestrel)
Figures from the NHS show that Levonelle emergency contraceptive pills prevent 95% of pregnancies if taken within 24 hours of unprotected sex and can be effective up to 72 hours after pregnancy:
95% effective within 24 hours
85% effective within 25-48 hours
58% effective within 49-72 hours
ellaOne (ulipristal acetate)
The emergency contraceptive pill, ellaOne is thought to be 98% effective at preventing pregnancy; research has shown that only 2 in every 100 women who take ellaOne become pregnant within five days of intercourse:
Some medicines, both prescription and complimentary, can have a negative effect on the efficacy of the morning after pill. You should always inform your doctor if you are taking any medication before taking the emergency contraceptive pill.
Ulipristal acetate Pregnancies, n/N(%)
Levonorgestrel Pregnancies, n/N (%)
Odds ratio (95% CI)
p
Study 507
(0-72 hours)
7/773
(0.9%)
13/773
(1.7%)
0.50
(0.18-1.24)
0.135
Stud 513
(0-72 hours)
15/844
(1.8%)
22/852
(2.6%)
0.68
(0.35-1.31)
ND*
Meta-analysis
(0-24 hours)
5/584
(0.9%)
15/600
(2.5%)
0.35
(0.11-0.93)
0.035
Meta-analysis
(0-72 hours)
22/1617 (1.4%)
35/1625
(2.2%)
0.58
(0.33-0.99)
0.046
What is the difference between the morning after pill and the abortion pill?
The morning after pill and the abortion pill are completely different. An abortion pill is used when the woman is definitely pregnant and is looking to abort the unborn baby, whilst the morning after pill prevents the woman from getting pregnant in the first instance.
The morning after pill can be used up to 5 days after unprotected sex. The abortion pill is used further down the line if you have had unprotected sex, haven't taken emergency contraception and have fallen pregnant.
The abortion pill is used to induce an abortion, stopping the development of the foetus to a baby and is 92-96% effective.
How to use the morning after pill
How to take the morning after pill checklist
You should only use a morning after pill once after having unprotected sex
You can only take a morning after pill once every menstrual cycle
For the rest of your menstrual cycle, you should continue to use a condom, even if you are already taking a daily contraceptive pill
Emergency contraception contains one single pill
Swallow the pill with water as soon after unprotected sex as possible
This has replaced the old method of taking two lower strength pills 12 hours apart
What happens next?
If you get your period - If your next period arrives as normal, you will know that the morning after pill has been successful. You can continue your usual contraception routine and be protected.
If you don't get your period - Don't panic. If your period doesn't arrive, you should wait three weeks before taking a test. The test isn't guaranteed to be accurate within the 1-3 weeks after taking the emergency contraceptive. It is also important to remember that emergency contraception is designed to prevent pregnancy - it will not work if you are already pregnant.
What are the side effects of the morning after pill?
Emergency contraceptive pills very rarely cause any side effects and there is no evidence to suggest that using emergency contraception like the morning after pill will damage your fertility. A small number of women taking emergency contraception may experience the following symptoms:
| | | |
| --- | --- | --- |
| Nausea | Vomiting | Headaches |
| Irregular bleeding | Abdominal pain/cramping | Dizziness |
Research shows only 1 in 60 women physically sick after using emergency contraceptive pills. If you are sick within 3 hours of taking the morning after pill, the effectiveness is completely lost.
What precautions should be taken with the morning after pill?
The precautions for ellaOne and Levonelle may vary as they contain different active ingredients at distinctive dosages best suited for that particular tablet. For more information on specific side effects and precautions for each, please visit the product page in question.
Where can I get the morning after pill?
Morning after pills are available from various places, but time is of the essence so be sure to pick the right option that can deliver the goods quickly with confidence.
GP surgery
Some surgeries do not provide the IUD but most will supply emergency contraception in the standardised pill form. The plus of NHS GP surgeries is that contraception is free of charge, however, it can be difficult to get an appointment quickly enough, especially considering the effectiveness of emergency contraception diminishes over time. In addition, many surgeries do not offer appointments out of work hours.
GUM or sexual health clinic
Similar to your GP surgery, your local sexual health or GUM clinic will have emergency contraception with the same plus (free of charge) as well as the same negatives (trouble with appointments, wait times and conflicting opening hours). In addition, sexual health clinics have longer wait times (often walk-in), eating into your day. Whilst obtaining emergency contraception is important, this can be inconvenient if you're in full-time employment.
Pharmacies
Certain pharmacies supply the morning after pill. This is often far more convenient than waiting for an appointment at the sexual health clinic or your local surgery despite the fact there is a one-off payment for the pill. There is a possibility your local pharmacy may not stock them, however, the likelihood of there being a pharmacy near you that does is high. They are easily accessible and arguably much easier than sorting an appointment.
Online
We work with our pharmacy to offer both types of clinically proven morning after pills (ellaOne and Levonelle). Online options also require a one-off payment and there is free next day delivery with the ease of ordering from the comfort of your home, or desk. Unlike pharmacies, online orders are faster and more discreet.
Most women can take the morning after pill, even those who have been advised not to take the regular contraceptive pill. This includes women with a family or past history of breast cancer, women over the age of 35 and women who smoke.
How can I buy the morning after pill online safely?
Getting emergency contraception online is a popular method in the UK and it's easy to see why. It gives you the discretion and efficiency that ordering in the store often cannot, plus saves time and effort. At HealthExpress, our packaging is blank except for your name and the address meaning you can get the morning after pill delivered to your shared accommodation or workplace.
The main plus of buying the morning after pill online is the speed in which it arrives. We've mentioned the need to take the tablet as soon as you can after unprotected sex. Well, with our next day delivery on orders before 4pm, you don't need to find the time to head to the pharmacy.
How can the morning after pill help me?
Contraceptive accidents can occur no matter how careful you are. Emergency contraception can significantly reduce the likelihood of pregnancy if taken in time, therefore it is important to be prepared with emergency contraceptives. One form of emergency contraception is the morning after pill, which works for up to three days after unprotected sex. It prevents pregnancy by preventing your ovaries from releasing an egg and altering the lining of your womb. The morning after pill we provide is ellaOne, which is approved by UK qualified doctors and is clinically proven to prevent pregnancy.