Cystitis symptoms, medication & treatment online
Cystitis is a bladder condition that most women experience at some point in their lives. However, it can also occur in men. You are more likely to contract cystitis if you are sexually active, however, it is not classed as an STI.
Find out more about the causes and symptoms below, as well as the various types of cystitis and the treatment options available. Alternatively, if you want to order medication for the condition, you can do so after taking our quick online medical consultation.
What is cystitis?
It is believed that most women will experience cystitis at some point during their lifetime, often on more than one occasion. It is an extremely common bladder infection - also known as a urinary tract infection (UTI) - that occurs most frequently due to intestinal bacteria.
This UTI more commonly occurs in women compared to men because the urethra (the tube that transports urine out of the body from the bladder) is shorter in women. The location of the opening of the urethra is also in close proximity to the anus, which means it is easy for bacteria to infect the bladder.
Cystitis is a type of urinary tract infection
20-40% of women will get cystitis in their lifetime
Recurrent bouts are particularly common
Over 2 million UK women will get cystitis each year
There are many ways to aid treatment further
Cystitis is particularly common in women who are pregnant, sexually active or postmenopausal, though it can occur at any age and for various reasons. It is usually a mild urinary tract infection that lasts between 4-9 days, however it can disrupt your day-to-day activities meaning most women seek antibiotics to alleviating symptoms and get rid of the infection quicker.
Cystitis in men
Whilst it is mainly common in women, men can also get urinary tract infections although it may be linked to more serious conditions such as kidney or prostate infections and even cancer. Reports also suggest that men with an enlarged prostate or those who have sex with other men, are more likely to have cystitis or other urinary tract infections. It is advised for any symptoms to be seen by a doctor as soon as possible to prevent it from worsening.
Types of cystitis
Bacterial cystitis
The most common type of urinary infection, this type usually occurs when external bacteria manages to find its way into the urinary tract and multiply causing the infection. In most cases the e-coli strain of bacteria is responsible for cystitis of this kind.
Although the chance of this kind of cystitis can be heightened by sexual activity, it is not an STI as women who are not sexually active can still get an infection, as the female genital region conceals bacteria that can cause cystitis
Interstitial cystitis
Although bacterial infections are the most common form of cystitis, there is also a non-bacterial type usually caused by inflammation called interstitial cystitis. It is not quite clear exactly what causes the bladder inflammation, and the condition can be sometimes difficult to diagnose or treat.
Symptoms of this interstitial cystitis include:
Increased pain in the pelvis
Strong and sudden urge to urinate
Urinating more frequently than normal
The symptoms can come and go in different phases and can last from a few weeks, to a couple of months or even long term if not treated effectively. Lifestyle changes such as stopping smoking, reducing stress and watching the quantities you drink can be of benefit, coupled with prescribed treatments, which can help to reduce the inflammation
What causes cystitis?
All urinary tract infections are caused by a negative impact on the bladder, usually caused by bacteria or inflammation, and due to the complex nature of this area, it can become infected for a number of reasons.
Cystitis causes can vary widely, however there are some triggers that mainly cause the problem. The causes of a urinary tract infection can usually be categorised into two groups; bacterial and nonbacterial. The vast majority can be extremely manageable by adjusting your usual habits.
Bacterial
There are various ways bacteria can infect the urinary tract, some of these include:
Hygiene- the urinary tract is shorter in women and closer to the anal passage
Underwear - tight underwear such as thongs can spread bacteria to the urethra opening
Diabetes - due to the high sugar content in the urine of diabetics, bacteria can grow more easily.
Non-empty bladder - residual or leaking urine can lead to an increased amount of bacteria around the area.
Non-bacterial
As non-bacterial causes of cystitis are sometimes hard to diagnose, there are various controversies regarding the exact reasons, diagnosis and treatments required to treat it effectively. Possible causes though, are identified as:
Medicine-induced cystitis - Certain treatments can cause inflammation of the bladder as their components are broken down and leave the body, these include medication containing ifosfamide or cyclophosphamide.
Chemical cystitis - Hypersensitivity to certain chemicals in bath oils, soaps, spermicides and sprays can cause an allergic reaction that causes inflammation or infection.
Cystitis due with other conditions. Cystitis may sometimes occur as a complication of other disorders, such as diabetes, kidney stones, an enlarged prostate or spinal cord injuries.
Radiation - radiation therapy around the pelvic area can sometimes facilitate inflammation in the bladder
Auto-immune - this occurs when the immune system mistakes the bladder cells for a foreign entity and attacks it, causing inflammation
Apart from these, other non-bacterial causes that can contribute to urinary tract infections include severe dehydration, smoking, menopause and the user of tampons.
Toilet hygiene is an important factor to bear in mind, as the urethral opening in women is close to the anus, making it easy for anal bacteria to come into contact with the urethra to cause a UTI. This tends to be the most common trigger as well as sex, which is why urinating after intercourse is so strongly advised. Inadequate emptying can be caused by other medication, in particular, antidepressants or constipation. Pregnant women are also at a greater risk. Other causes include an increase in sexual activity (known as "honeymoon" cystitis), sexually transmitted diseases (such as gonorrhoea and chlamydia), certain parasites and contact dermatitis.
Keeping on top of the triggers can be very helpful in managing the condition, as well as seeking the right medical treatment.
What are the symptoms of cystitis?
The signs of cystitis are usually the same for most women, however they may be accompanied by other symptoms depending on the cause that is detailed underneath our bullet points.
Pain when urinating

This could be burning or stinging

Frequent urinating

Need to pee more often, and more urgently

Change in urine colour

Could be cloudy, dark and/or stronger smelling
Blood in urine

urine could be slightly pink in colour

Abdominal pain

Especially in the stomach area

Cold like symptoms

Tiredness, nausea and aching
There are other ways and lifestyle changes that can be made to help in clearing the bacteria, such as drinking a lot of water and taking very good care of hygiene. If you have other accompanying symptoms you are concerned about, then there's a possibility your condition is caused by something else. In this case, it is best to visit your GP who will be able to prescribe you the best treatment.
What are the additional benefits of treating cystitis?
The majority of cases are mild and you may not feel the need for treatment at all, however if the condition lasts over a few weeks or is frequent then it may be worth seeking medical help and treatment. Benefits of treating the condition include:
Avoiding the infection from spreading
Return of normal bladder function
Reduced pain around the pelvic region
Even if this particular bout of cystitis is mild, the discomfort can still be extremely distracting so many women look to use antibiotics as soon as they can. HealthExpress can come in handy as we offer next day delivery - meaning you can start treatment as soon as possible without a doctor's appointment and from the comfort of your own home or desk.
How can I treat cystitis?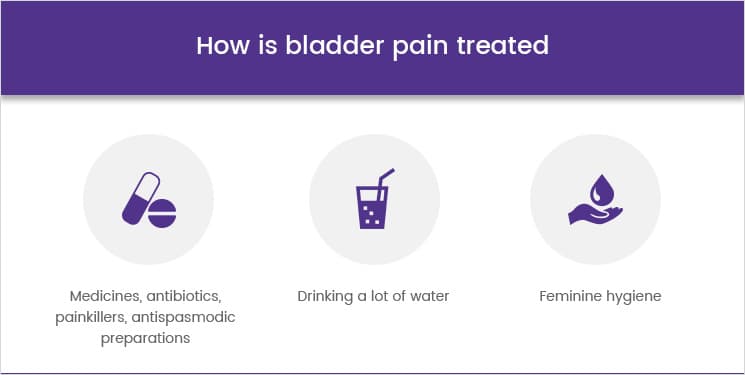 Antibiotics
There are a number of effective treatments available for cystitis, including antibiotics such as Trimethoprim or Nitrofurantoin that effectively treat the infection. Stronger antibiotics are ideal if you have a stronger strain of the bladder infection, but also to significantly speed up your recovery time. It is advised to speak to your doctor to understand the best treatment choice for your condition.
Painkillers
Combining antibiotics with paracetamol and ibuprofen to ease any pain or discomfort has been said to be helpful. There are many self-help techniques and prevention tactics women can use to not only help the recovery if you have cystitis, but can reduce recurrent bouts if you happen to be prone to urinary tract infections.
Keeping hydrated
Drinking plenty of water can keep your kidneys clear and help them flush out foreign entities that may cause urinary infections. Avoid fluids with a lot of sugar such as fizzy drinks, as well as caffeine and alcohol may reduce the chance of bacterial growth.
Relaxing
Avoiding exercise and any vigorous activities until the cystitis has cleared is essential. This means no sex or activities that require a lot of movement. Also, the NHS state that a hot water bottle placed on your tummy and thighs can help relieve any discomfort caused.
Bladder distention / Bladder instillation
Bladder distention fills the bladder with gas or fluid, which relieves interstitial cystitis as well as other types of cystitis whilst bladder instillation is a 6-8 week treatment using Rimso-50 (dimethyl sulfoxide). Both are essentially flushing out your bladder and relieving the unpleasant symptoms so commonly associated with urinary tract infections. Both methods can be used for interstitial cystitis as well as incontinence, and specifically for those who have recurrent bouts that are detrimental to your quality of life. For more information on what the treatment involves you can visit WedMD.
Surgery
For cases that are severe, and you have tried antibiotics and distention or instillation to no prevail, surgery can be the last option. It includes removing ulcers, altering the size of the bladder and adjusting the urinal flow. As always, surgery is usually the last resort. Visiting a medical professional or the NHS cystitis treatment page can offer you further information on cystitis surgery and whether it will work for you.
Preventing cystitis
There are various theories surrounding cystitis and how to prevent it. Some have elements of truth, whilst others have not been clinically proven. We have debunked a few stories surrounding urinary infections here.
Drink plenty of water - True. Drinking plenty of fluids, in particular water, will help flush out the system
European Food Safety Authority recommends a daily fluid intake of 1.6 litres for women
Drinking cranberry juice - Unproven. Whilst drinking cranberry juice can prevent cystitis for some women, once you have a bladder infection, there is no proof it won't help clear it up any quicker than water
Keep hydrated - drink plenty of water and avoid excessive consumption of beverages like caffeine and alcohol
Avoid sex - True. Sex can be a cause of cystitis; however avoiding sex altogether may not be a logical solution. There are ways to avoid the infection though
Gentle sex - if you are prone to bacterial infections, a more gentle approach may lessen the chances
Quit smoking - True. The habit is a bladder irritant that can make cystitis worse and leads to bladder cancer
Washing correctly - True. Having showers and steering clear of perfumed soaps, lotions and powders can help avoid UTIs.
Avoid having baths that can expose your genitals to more chemicals and perfumes over a longer period of time
Change your contraception - True. Whether it's a new form of contraception you're trying or not, it could possibly be your diaphragm causing urinary infections
Changing your underwear - True. Wearing cotton underwear can help prevent cystitis
Wearing loose fitting clothes can not only aid in prevention, but speed up recovery time if you have an infection
Altering your diet - True. Certain foods and drinks could be aggravating the UTI
Keep a food and drink diary to log what foods are prompting urinary tract infections
What are the options we have to offer for cystitis?
HealthExpress offer treatment in the form of Trimethoprim and Nitrofurantoin - these are prescription antibiotic medications taken orally.
As the uncomfortable symptoms of urinary tract infections such as cystitis can escalate quickly, we offer next day delivery if ordered before 4pm - so you can start your treatment as soon as possible.
Ordering cystitis online is becoming a popular method due to ease. There are no appointments, trips to the pharmacy or hidden costs at HealthExpress meaning you can get your Trimethoprim or Nitrofurantoin medication delivered quickly and discreetly. Our packaging has no details exposed, other than your name and address, meaning you can get your cystitis treatment delivered to your place of work or shared accommodation.
Benefits of treating Cystitis
Prevent the infection from spreading
Reduced pain around the pelvic region
Return of normal bladder function
Reduced discomfort
Chemical cystitis

hypersensitivity to certain chemicals in bath oils, soaps, spermicides and sprays can cause an allergic reaction that causes inflammation or infection.
Other conditions

cystitis sometimes occurs as a result of other bodily complications/disorders, such as diabetes, kidney stones, an enlarged prostate or spinal cord injuries.