What is the mini pill (POP)?
The mini pill is an oral contraceptive method that contains only progestogen (also known as progesterone) and is over 99% effective at preventing pregnancy. This makes it particularly tolerable, especially for women who have experienced side effects of the combined pill in the past, whilst still giving the same high level of efficiency. Other groups of women who can't use the combined pill will be able to use the mini pill.
This birth control method is most suitable for women who:
Smoke
Have high blood pressure
Have had blood clots in the past
Are overweight
Are over 35
Are breastfeeding
Whilst it is so effective as contraception, it's important to remember that the POP will not protect you against sexually transmitted infections. For this, you will need to take further barrier protection in the form of condoms and.or dental dams, or ensure that you and your partner are both sexually clean before unprotected sex.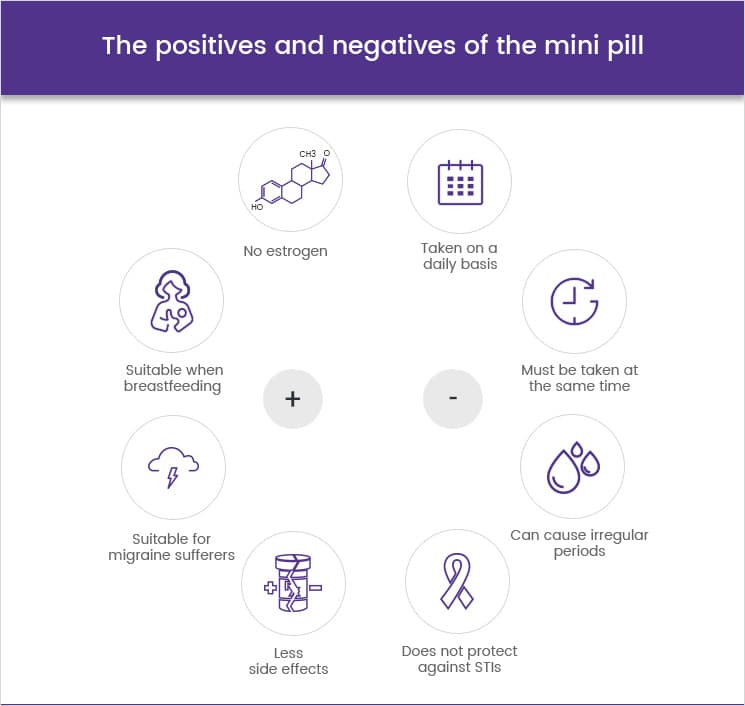 Mini pill brands in the UK
Aizea
Micronor
Nacrez
Desomono
Desorex
Some mini pills will be more appropriate than others for you. We can offer further medical advice on which contraception to choose when completing our consultation, or visit your GP for further details.
*Sold at HealthExpress
How does the mini pill work?
If you start taking the mini pill on the first day of your period you will be immediately protected against pregnancy. If not, you will need to use additional barrier protection for a further week before it is 99% effective, and it works in the following two ways:
It thickens the cervical mucus, making it more difficult for sperm to reach and fertilise the egg
It makes the lining of the womb thinner so, if an egg was fertilised it would not be able to implant itself on to the wall to grow
Some scenarios can affect the mini pill's efficiency. For example, certain antibiotics or herbal medication can interfere and if you happen to vomit, or are dealing with diarrhoea, this may reduce its effectiveness significantly. You will need to consult your doctor regarding additional medication and use barrier protection if you are poorly. More information on what to do if you miss the mini pill is detailed below under the 'What if I miss a pill?'.
What are the benefits of the mini pill?
If used correctly the mini-pill has proven to be up to 99% effective at preventing conception. As the progestogen-only pill is also a suitable alternative for women who have experienced side effects as a result of taking contraceptives that contain oestrogen, this means there are a number of additional advantages as well as the usual pluses can be included in the benefits.
More accessible

Can be used by women who have high blood pressure, blood clots, who smoke, are over the age of 35, breastfeeding or are overweight

Alleviates period pains

As well as reducing period pains and discomfort, the mini pill can make your flow lighter and shorter

Highly tolerable

studies show that progestogen only pill users experience fewer side effects in comparison to the combined pill.
Does not contain oestrogen

beneficial for those that are sensitive to the hormone present in the combined pill, patch and vaginal ring.

Easy to remember

unlike the combined pill, the mini pill is taken for the full 28 days without a break making it predominantly easy to remember

Reduces premenstrual symptoms

such as bloating, headaches, nausea, mood swings and feeling irritable.are prone to being erratic.
How do I take the mini pill?
Unlike the combined pill, the mini pill should be taken once daily at the same time for the full 28 days of your cycle. There is no seven-day break and you should start your next pack straight after the last. This does make it easier to remember as you are taking the tablets more often and you won't be delayed in starting the new pack. It is important that you take the mini pill as close to your usual time as possible as this can influence its effectiveness as mentioned above.
When starting the pill, pick a time of the day that is most convenient for you. Most women find first thing n the morning or last thing at night to be the easiest. If started on the first to fifth day of your period, the mini pill will be effective straight away, unless your menstrual cycle is typically shorter then 23 days. If you have a short menstrual cycle, or start the POP pill outside this five day window, you will not be protected for the two days after.
What if I miss a pill?
Missing a pill is a common occurrence for women due to various reasons out of their control, if this occurs it is essential that you use your pill as soon as you remember. In regards to the mini pill, due to the type of birth control it is, most progestogen on pills have to be taken within a certain time frame each day to ensure it is still full effective, below is a simple checklist of what you need to do if you miss a pill:
Three-hour mini pill - are those that need to be taken within the three-hour time frame every day. Pills in this category are Femulen, Micronor, Norgeston and Noriday.
12-hour mini pill - these can be taken after the 3 hour window but must be taken within a 12-hour time frame. This includes the mini pills Cerazette and Cerelle.
More than 12 hours late
Take the late pill as soon as possible
You can take two in one day
Continue your pack as normal
You will not be protected to the same efficiency as normal so seek additional barrier contraception like condoms
If you need further health advice, the NHS provides a great explanation about what to do if a pill has been missed depending on the duration.
If you have had sex and have missed a pill by more than 12 hours, there is no need to panic as you can get the emergency contraceptive pill here also.
Bleeding when taking the mini pill
Bleeding whilst taking the pill is also a fairly common occurrence, especially when you're first taking the medication. Also referred to as a 'breakthrough bleed' or 'spotting', this is particularly typical when starting the pill as your body begins to adjust to the new hormones. Continue taking the pill as detailed and seek further information if you have experienced withdrawal bleeding for over 3 months.
What are some interactions to be aware of when taking the mini pill?
If you vomit or have been experiencing severe diarrhoea within 3 hours of taking this particular contraception, it could mean that it hasn't been fully absorbed into your bloodstream.
Instead of taking another tablet immediately after, wait for the vomiting or diarrhoea to subside before continuing. If you have missed just one pill, the process included in the 'What to do if you miss a pill?' section will mean you're protected against pregnancy. If more than one pill has been missed, then consider additional methods of protection or don't have sex until you've had your period and started the new pack. You may decide to use condoms when missing one pill anyway for peace of mind before the 7-day break and new course.
What are the dosages available?
The dosages of the mini pill will differ depending on the pill in question. For more information on the four of these HealthExpress supply, please visit the respective pages.
What are the side effects of the mini pill?
Like any medication, there is a slight risk of side effects, however these are very unlikely as the POP pill is generally very well tolerated, especially compared to other forms of contraceptives.
If you are experiencing anything awry, they are usually mild and quick to clear up (within 3 months) once your body has become accustomed to the new medication. If they are particularly severe and prolonged, please contact your GP for further advice. Side effects of the mini pill include a loss of sex drive, hot flushes, headaches, abdominal pains, cramps, breast tenderness, dizziness, spots/pimples, slight weight gain and irregular periods.
For further information regarding the side effects of the mini pill, we have a dedicated page.
What precautions should be taken with the mini pill?
Whilst the mini pill is highly tolerable, and renowned for being so, there are some women who this type of contraception will not be best suited for. These include:
Vaginal bleeding where the cause is unknown
A severe artery disease
Any serious problems with the liver
If you have porphyria (blood based disease)
If there is a history of breast cancer in your family
If you have had or currently have ovarian cysts
There still might be scenarios where you can use the mini pill as your preferred method of contraception. When filling in your consultation, it is important to state any previous or current illness, as well as any other antibiotics or medications you are taking.
The mini pill and pregnancy - There is little evidence suggesting any amount of progestogen will harm your baby in the unlikely event that you fall pregnant whilst taking the mini pill. It is also strongly advised not to use a contraceptive method such as the mini pill if you are confirmed as pregnant, as certain studies have shown it may induce an effect similar to abortion or harm the baby in the uterus.
The mini and breastfeeding - Some progestogen passes into your breast milk and to the baby, however the POP pill is safe to use if you are breastfeeding
How can I buy the mini pill online safely?
The POP pill is available easily online from HealthExpress. You can buy four of the most popular brands after a free consultation. First, you will have to complete an online consultation with one of our doctors, who will ensure that this contraceptive is suitable for you. This will take a couple of minutes. Your prescription will be sent to our pharmacy for delivery. But why should you order online, and why from HealthExpress?
Quick and easy - no appointment queues and no waiting rooms for contraception you know you need
It's all discreetly packaged - get any of our medications delivered to shared accommodation or your workplace in confidence
You only pay for the medication - our consultation, pharmacy and delivery services are all included
Free next day delivery on orders before 3pm