What is erectile dysfunction?
Erectile dysfunction is a condition diagnosed when a man has difficulty achieving and/or maintaining an erection when experiencing arousal, and so cannot engage satisfactorily engage in sexual intercourse. A lack of blood flow to the penis predominantly caused it, and it can affect men's mental health and quality of life significantly.
How does an erection work?
In simple terms, an erection is the process of the increased blood flow into the corpora cavernosa - the soft tissues that run up the shaft of the penis. This causes the penis to become enlarged, elongated and firm.
The erection process starts with mental or sensory stimulation caused by arousal.
When this happens, impulses are sent from the brain to local nerves to instruct the muscles around the corpora cavernosa to relax. This allows blood to flow through the penile artery and the penis expands. The blood flow to the penis at this point can be eight times that of the normal blood flow.
At the same time, the tunica albuginea membrane around the corpora cavernosa stretches and blocks off the veins that drain the blood. The blood is now trapped in the penis, and the pressure increases allowing the penis to become, and remain, erect. At this point, the blood pressure in the penis can be as much as twice as high as in the rest of the body's circulatory system.
An erection ends when the muscles in the penis contract. The tunica contracts and opens up the channels for draining blood. The deoxygenated blood is then carried away via the deep dorsal veins and the penis becomes flaccid.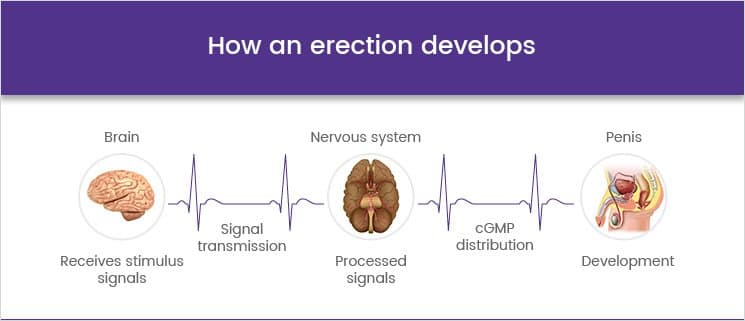 What causes erectile dysfunction?
Erectile dysfunction (ED) can be caused either by psychological or physical issues, or sometimes a combination of the two.
A great way for a man to identify the underlying cause is to check whether an erection occurs naturally in the morning, and then if there is a struggle to achieve an erection when aroused. Depending on what this comparison shows, there are various physical or psychological causes that can be looked at.
Whilst the condition is common in older men, ED is not a guaranteed part of ageing. It is more likely to be linked to an underlying health problem.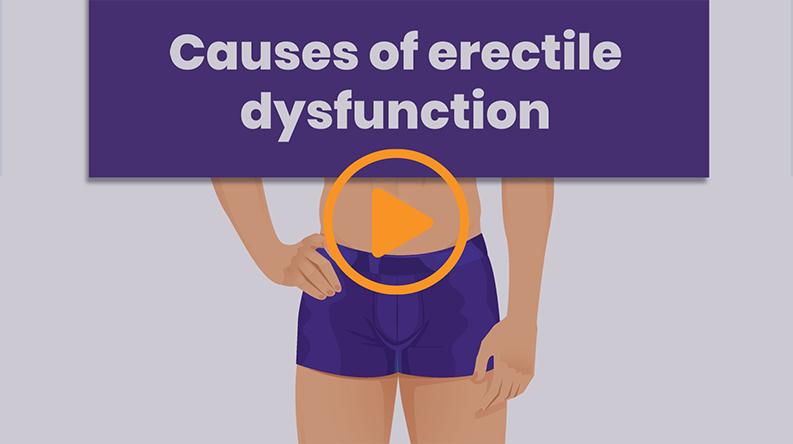 Some of the most common causes of ED can also include:
Physical causes of impotence
The most common causes of erectile dysfunction are physical. This is because there are a lot of physical processes needed for an erection to occur. In fact, ED can often be a sign of an underlying physical health problem.
One of the most common causes of physical ED is atherosclerosis, which is where fatty deposits build up in the arteries and damage your blood vessels. This limits blood flow, thereby resulting in ED.
Atherosclerosis can be caused by several factors, including:
high blood pressure
high cholesterol
binge drinking
There are also other medical conditions that are linked to physical ED, such as:
neurological disorders (e.g multiple sclerosis and Alzheimer's)
Peyronie's disease - a condition that causes a curved penis
low testosterone
certain cancers (e.g prostate cancer)
kidney disease
Finally, ED can be caused by certain medications including antidepressants, high blood pressure medicines, non-steroidal anti-inflammatory drugs (NSAIDs), recreational drugs and many others.
Make sure you read the patient information leaflet of your current medicines to understand the side effects.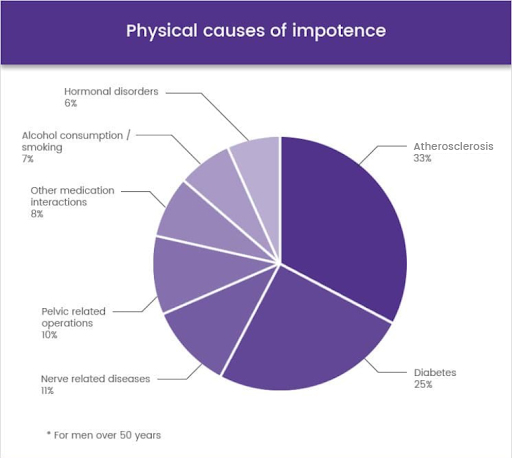 Psychological causes of impotence
It is not a secret that your mental and physical health are related. This is also true for erectile function.
Psychological ED can be caused by many different conditions, and can often be more difficult to treat.
Psychological causes include:
sexual performance anxiety (SPA)
depression or another mental health disorder
porn - a condition known as PIED (porn-induced erectile dysfunction)
relationship issues
gender dysphoria
body image issues
This type of ED is more common in younger men, and will often require a more specialised approach to treatment.
How is erectile dysfunction diagnosed?
ED is usually a simple condition to diagnose, however, you should always consult your doctor so they can ensure it's nothing else.
Your doctor will usually do a physical exam and ask you questions. If you have other symptoms, the doctor may do more tests or talk to another doctor. But usually, ED is not serious and does not need a lot of testing.
If you have an additional health condition, such as diabetes, they will want to make sure you're managing your health accordingly as it may be the source of your ED.
Is ED the same as premature ejaculation?
Whilst both fall under the category of male sexual dysfunction, they are separate conditions. ED is the inability to achieve or sustain an erection after arousal, whilst premature ejaculation occurs when a man can achieve/sustain an erection but reaches orgasm before a satisfactory duration.
What medicines are available for erectile dysfunction?
Although for some men, erectile dysfunction can be resolved with simple lifestyle changes or psychological help, the first-line and most effective treatment for ED is prescription medicines.
PDE5 inhibitors
The most popular form of erectile dysfunction treatment is a group of medicines called PDE5 inhibitors. You take them shortly before you intend to have sexual activity and they effectively boost your erections.
There are many options available with varying dosages including:
All of these PDE5 inhibitors are available online at HealthExpress for quick, discreet treatment.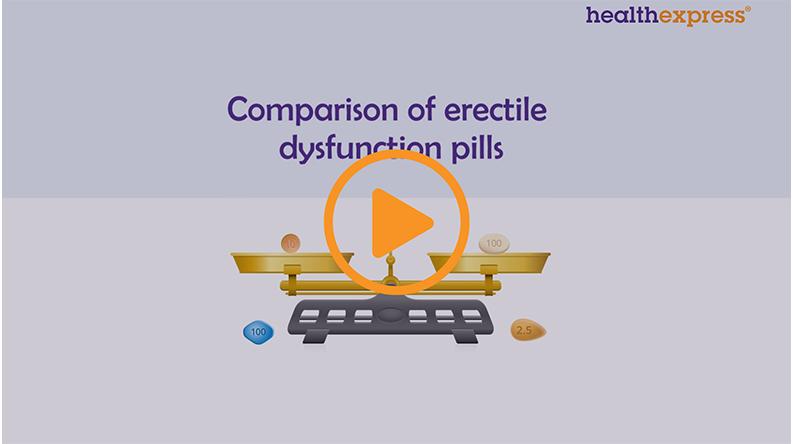 Alprostadil
There is another prescription medication available for ED, known as alprostadil or by its brand name Caverject. It is available as a cream or an injection, but will need to be prescribed by a specialist.
Testosterone replacement therapy (TRT)
Low testosterone, known as hypogonadism, has been correlated with erectile dysfunction. However, it rarely causes ED as the sole symptom. Men with low testosterone may also experience mood changes, fatigue and loss in muscle mass.
If you suspect you have low testosterone, consult your doctor. They will conduct a blood test and, if they diagnose you with hypogonadism, you will be prescribed testosterone.
Do ED medicines cause side effects?
All prescription medicines come with a risk of side effects. However, most of the common side effects tend to be mild and go away on their own. The risk is further reduced with most ED meds because you only need to take them as and when you need them. If you do experience any side effects, there is always an alternative option available.
Are there other treatments for erectile dysfunction?
For those who can't take prescription medicines, or for those for whom they have not worked, you can take several other treatment routes.
Lifestyle changes
Making simple lifestyle changes can put you on a step towards better erections, as well as improve your overall health.
To improve your erection health, you should:
eat a healthy diet that is low in saturated fats and sugars
add some physical activity into your daily life
quit smoking
reduce your alcohol intake
manage stress in your life
Making these positive changes early can also help prevent the onset of ED in those who are at high risk.
Herbal treatments
Opinion on the use of herbal treatments to combat ED is divided, and the effectiveness of the treatment depends on the individual. As ED herbal remedies don't boast the same success rate as prescription treatments, and in nearly all cases, are not subject to clinical studies, it is highly advised for you to consult first with your GP.
Foods for erectile dysfunction
While it is certainly true that a healthy diet can improve your cardiovascular health and therefore your erectile health, research has found that certain foods have additional properties that can improve erection quality. This includes fruit, red wine, garlic and several other foods. However, prescription treatment and general lifestyle improvements are a much more reliable method for treating your ED.
Therapy
Counselling or talking therapies are a good way of tackling psychological issues and stress. It's also beneficial if you have a more specialist problem, such as sexual performance anxiety or PIED.
Vacuum Constriction Devices
VCDs (penis pumps) are small cylindrical devices that are placed over the penis to achieve an erection.
They are either operated by a physical pump or by a small battery. You pump the air out of the cylinder which creates a vacuum. This then draws blood into the shaft of the penis which causes it to become hard.
VCDs tend to have a low risk of adverse effects and complications, making them a great option for those who can't take medicines or those worried about any side effects.
Surgery
Surgery is usually considered a 'last resort' option, for when all others have proven unsuccessful. The exception is for those who have been in serious accidents, or for men who have damage, disfigurement or anatomical issues with their penis.
The procedure involves the insertion of a penile implant or penile prosthesis. There are two types, either inflatable or semi-rigid. Inflatable implants are operated by a pump in your scrotum, whilst semi-rigid ones mean your penis is hard all the time.
However, these are cosmetic operations and are only available privately. Furthermore, not everyone is suitable for surgery.
What are the additional benefits of treating erectile dysfunction?
Treating ED doesn't only benefit you in the bedroom, it can have wide-reaching positive effects on your entire life. For example, it can boost your self- esteem, improve overall confidence, and even aid blood circulation.
You may even find you have the motivation to make changes you never thought possible, whether that's quitting smoking, cutting back on alcohol or losing weight – confidence is key in all aspects of life.
What do I do if my ED symptoms persist?
If you are experiencing persistent symptoms of ED, the worst thing you can do is experience this condition in silence. The first thing to do is to discuss your condition with your partner and a doctor for emotional and professional support. Talking to someone can also help you to find out the underlying cause for your erection problems.
If you feel too uncomfortable speaking to your doctor, our discreet and confidential consultation service can help. Our service means you can avoid a face-to-face consultation with the doctor and get your treatment delivered to your door.
Can I buy erectile dysfunction treatment online?
Yes, you can buy PDE5 inhibitors online from HealthExpress. Our service is safe and private from the beginning to the end. You just have to fill out a quick medical questionnaire. One of our UK-registered doctors will review it. If they approve you, your medicine will come in discreet packaging with free next-day shipping.