What is Brevinor?
Brevinor is commonly known as 'the pill' or the combined pill and is a daily oral contraceptive. Brevinor can also help to regulate your periods, reduce pain and shorten the duration of your period. Brevinor contains both artificial oestrogen and progestogen (ethinylestradiol and norethisterone), and if taken on the first day of your period, protection is immediate.
What are the additional benefits of Brevinor?
If you take Brevinor on the first day of your period, you'll be able to benefit from this protection straight away. Brevinor contains the same dose of contraceptives as Binovum, but it's monophasic, so you only have to ingest a single dose during your entire cycle, which makes it easier to take.
Taking a monophasic birth control pill can help to regulate your hormone levels, which makes it less likely that you will experience mood changes as a result of natural fluctuating hormone cycles.
Some women use Brevinor pills to treat acne, and improvements are often seen within three months in the patients who respond well to hormonal treatments.
BiNovum and Trinovum have both been discontinued by their manufacturer, but contain the same active ingredients as Brevinor. If you were previously on either pill, Brevinor could be taken as an alternative.
How does Brevinor work?
As Brevinor is a version of the combined pill. It works in three ways to stop you from falling pregnant. Firstly, it supplements your body with hormones (ethinylestradiol 35 micrograms and norethisterone 0.5 milligrams) which override your natural cycle. This makes your body think that ovulation has already occurred, so that your body doesn't release an egg as usual. Secondly, because ovulation isn't happening, the womb lining doesn't thicken, so even if an egg gets released, it can't attach itself to the womb lining and grow. Thirdly, the hormones prevent sperm from entering the womb, as they change the consistency of the cervical fluid.
Without oral contraceptives
With oral contraceptives
Released egg
Fallopian tube
Ovary
Endometrium
(uterus lining)
Cervix
UTERUS
VAGINA
Oestrogen and progestogen can prevent an egg from being released from the ovaries each month most of the time.
Progestogen causes thinning of the endometrium (uterus lining) so, if an egg is released, it cannot implant on the wall.
Lastly, progestogen also thickens the mucus in the cervix so sperm is prevented from reaching the egg.
How do I take Brevinor?
For immediate protection, you should take your first Brevinor pill on the first day of your period. You can also take it up to the fifth day of your period, but then you will have to wait for up to seven days before it is completely effective. In this time, you can use condoms or refrain from sex. Brevinor is a 21-day oral contraceptive, which means that you'll have to take it for 21 consecutive days, preferably at the same time each day.
After the 21 days, you need to take a seven-day break. You will be completely protected during this time and may experience a withdrawal bleed similar to your period.
After the seven-day break, you should start with your next 21 pills immediately.
What should I do about a missed Brevinor pill?
If you happen to forget to take your pill or more than one pill in one blister pack at the usual time, follow the below protocol:
If you have missed one Brevinor pill then take it as soon as possible unless it is close to the time of your next pill. If it is nearer to the next pill than the previous time, miss it out completely and continue with the blister pack as normal. Missing one pill in one blister pack will not affect the effectiveness and you will not need further barrier protection.
If you miss two or more pills in one blister pack, then you will not be protected at maximum effect. However, take the last missed pill as soon as you remember unless it is close to the time of your next pill. Do not take two pills in close proximity - this will not combat the mistake - and skip the missed pills. It is advised to use condoms or refrain from sex for the next seven days.
Use our interactive tool below on what to do if you miss one or multiple pills in one month (menstrual cycle). Simply click to begin.
How many pills have you missed? How late?
One pill less than
12 hours late
Started a new pill pack less than 12 hours late
One pill more than
12 hours late
Started a new pill pack more than 12 hours late
*Vomiting and diarrhoea experienced within four hours of taking the pill is also classed as a missed pill.
*There are more than seven pills left in the pack. Continue to finish the pack, overlapping the seven-day break. Take your seven-day break and start your new pack as usual.
*There are fewer than seven pills left in the pack. Continue to finish the pack, overlapping the seven-day break. Start the new pack immediately after the old one is finished (missing out the seven-day break completely).
*If you have missed contraceptive pills in the first one to nine days of the pill pack and have had sex without barrier contraception, you could be pregnant. If you have calculated this between one to five days after the unprotected sex, you could use emergency contraception such as the IUD or morning-after pill. If not, continue your contraception until the seven-day break. If you don't have any bleeding, it is advised to take a pregnancy test and/or consult your doctor.
For more information about what to do if you've missed your dosage for a significant period, it's always best to speak to your doctor or pharmacist.
What dosage is Brevinor?
There is one standard dosage, which contains 35 micrograms of ethinylestradiol, and 500 micrograms of norethisterone. There are 21 pills per pack which will last a month, including your required seven-day break.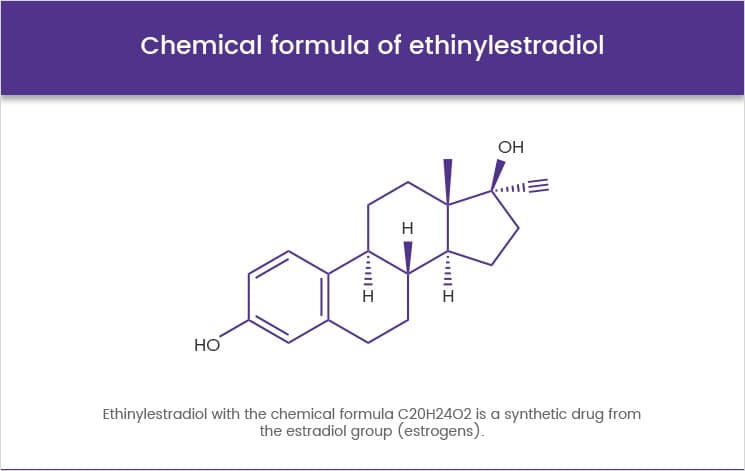 What side effects are normally associated with Brevinor?
Like a lot of prescription medications available to buy, taking Brevinor tablets may cause side effects, although most women are able to use it with no complications. The most common side effects are changes in menstrual bleeding, changes in libido, headaches or nausea.
Mild side effects aren't unusual if you are starting a new pill, but they normally go away after your body has become used to the medication's effects. This is usually a timeframe of three months. However, if they persist or if you experience any severe reactions, it is advisable to speak to your GP who may recommend a more suitable medication for you.
What Brevinor precautions/interactions should I be aware of?
Most women over 18 can buy Brevinor online for contraceptive purposes, however you should not use Brevinor pills if you have:
Heart problems
Bad migraines
Jaundice
Thrombosis
Liver problems
Current or previous cancer of the cervix, womb, vagina or breast.
There may be other conditions or medications which could prohibit you from being prescribed Brevinor that are not mentioned above. You should ensure you answer all questions as thoroughly as possible when you take your online consultation.
Older women, women who smoke and those who are breastfeeding should use a mini pill as an alternative to Brevinor.
If you would like more information about the precautions and interactions of Brevinor, please refer to the helpful patient leaflet, which is available for download towards the bottom of this page.
Can I buy Brevinor online?
You can purchase Brevinor tablets online from HealthExpress, after completing a completely free and confidential online consultation form. When you've completed the form, one of our doctors will review it and see whether Brevinor is the most suitable medication for you. Once you've placed your order, our pharmacy will dispatch Brevinor directly to your home via free next day delivery. If you have any queries, please speak to our friendly UK Customer Service team.