What is Bricanyl?
Bricanyl (terbutaline sulphate) belongs to a group of medications called short-acting beta 2 agonists. It is available in tablet form, syrup form and as an inhaler device, all containing the same active ingredient (terbutaline) to treat the symptoms of asthma and chronic obstructive pulmonary disease (COPD). It is mostly prescribed as an inhaler to provide short-term relief for asthma attacks, but it can also be taken by mouth (tablet or syrup) to help keep the airways open all the time.
How does Bricanyl work?
Bricanyl works directly on essential receptors in the lungs. The active ingredient will stimulate these receptors (beta 2 receptors), which relaxes the muscles in the troubled area - the respiratory tract. This will, in most cases, unblock the airways, helping you to breathe throughout the day and in the event of an asthma attack.
What are the benefits of using the Bricanyl Turbohaler?
Asthma is a condition that can be defined by the narrowing of airways, often making breathing difficult. The active ingredient, terbutaline, relaxes important muscles in the respiratory tract, eliminating many of the obstructions that are causing the problem.
Bricanyl has been clinically proven to do aid breathing
The active ingredient is absorbed directly into the lungs
Provides quick action for asthma attacks
Sufferers of COPD (Chronic obstructive pulmonary disease) may also benefit from regular usage of Bricanyl.
Who can use the Bricanyl Turbohaler?
Bricanyl is suitable for patients who have breathing difficulties or suffer from chronic conditions like asthma or chronic obstructive pulmonary disease (COPD). This medication is not suitable if you are sensitive to any of the ingredients found in this medicine. If you have heart problems, an overactive thyroid gland or diabetes, or are taking any other medications, you must inform a doctor to ensure this treatment is suitable for you. Women who are pregnant or breastfeeding should not use this medication.
How do I use a Bricanyl Turbohaler?
If you're familiar with other asthma inhalers, then the Bricanyl 500mcg turbohaler should be extremely familiar to you and simple to use. However, it's always advisable to use this medicine in the exact way discussed by your doctor.
The recommended dose is one inhalation at a time, as required
Do not have more than four inhalations within 24 hours
One inhalation dose should last for 6 hours
You should rinse your mouth out with water after using your turbohaler. This is because some of the medicine can sometimes stick to the inside of your mouth and throat with each inhalation. Rinsing it away reduces excess medicine being absorbed, and thus reduces the chance of unnecessary side effects.
The complete instructions for use are contained in the leaflet, which will be supplied with your order.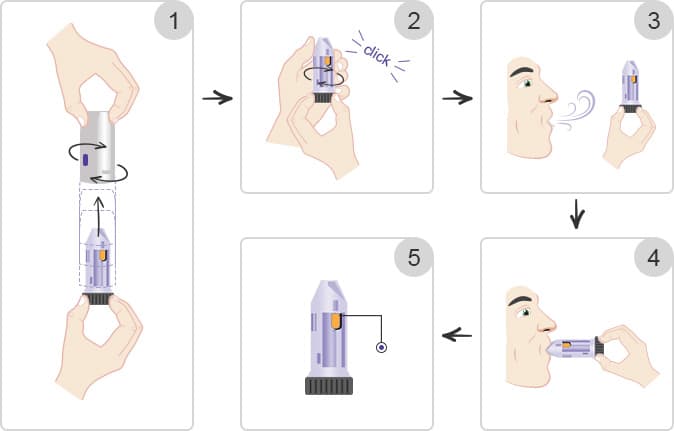 window
What are the dosages available for Bricanyl?
Bricanyl is available in many forms. In all cases, the medication will contain the active ingredient terbutaline.
Bricanyl turbohaler - the most commonly prescribed version - is a dry powder inhaler with a 500mcg dose, which should be taken when you are encountering an asthma attack. Do not exceed four inhalations per day.
What other ways can I take Bricanyl?
Bricanyl syrup has a 1.5mg dose and should be taken throughout the day, requiring two 5ml spoonful's taken orally, three times daily. Bricanyl syrup is also available for infants.
The starting dose of Bricanyl 5mg tablets is usually half a tablet three times a day, but may be adjusted if a doctor deems it necessary.
What happens if I forget to use my Bricanyl turbohaler?
You are advised to take the missed dose as soon as you remember.
However, you should skip that missed dose if it is nearly time for your next scheduled dosage. It's important not to take medicine to make up for the missed dose.
Are there any side effects when taking Bricanyl?
Like most prescription medications, Bricanyl can cause side effects. Not everyone will develop them, but it is still important that you tell your doctor about any allergies that may cause adverse reactions to the treatment. You should also consult your doctor if you experience sudden wheezing directly after a dose. A doctor will, in these cases, change your course of treatment.
Other side effects include:
Headache, cramping, muscle weakness and trembling or shaking
If you are concerned about the side effects or if you suffer from an allergic reaction whilst using this inhaler, then it's recommended that you read the patient information leaflet, or see a doctor for more information.
What are the precautions/interactions to be aware of with Bricanyl?
If you provide our doctors with enough details about your condition, they will determine the suitability of Bricanyl. People with:
Diabetes
A history of heart failure or heart disease
High blood pressure or thyrotoxicosis should exercise particular caution when taking this medication
For further information about all the possible drug interactions that may occur when using your Bricanyl 500mcg inhaler, please refer to the patient leaflet.
How do I buy Bricanyl inhalers safely online?
The Bricanyl Turbohaler is available here at HealthExpress to those who use this inhaler to help relieve symptoms of asthma. You will need to complete our quick consultation, which will be assessed by our doctors to ensure that Bricanyl is the most suitable treatment for you. If they approve and you choose to order this medication, a prescription will be sent directly to our certified pharmacy, which will dispense your medication ready for free next-day delivery.