What is Daktacort?
Dakatort is an NHS-approved, topical treatment for conditions that cause inflamed skin. HealthExpress currently only sells this product for eczema (dermatitis) and psoriasis. You should contact your doctor if you wish to purchase it for athlete's foot or inflamed skin rash (candida intertrigo).
Dakatcort has both anti-inflammatory and antifungal properties and is prescribed for cases where conditions have been aggravated by fungal infections.
If you do not have a skin infection, there are better treatments for you. You should consult a doctor for more information.
This product is available from HealthExpress as either a cream or ointment. The cream is recommended if you have to apply treatment to large areas of skin, as it is water-based. The ointment is ideal if you have dry skin, and it will remain for longer. If you are unsure which is best for you, please ask your GP.
How does it work?
Daktacort works in two ways, fighting inflammation and infection.
Both eczema and psoriasis are the result of an overactive immune system. With eczema, your body overreacts to certain triggers and irritants (such as soaps, allergens and the weather). With psoriasis, your body overproduces skin cells, leading to a scaly building up of patches - this condition can also be exacerbated by the same triggers.
The first of Daktacort's active ingredients, hydrocortisone, is a corticosteroid. Steroids reduce inflammation by suppressing an overactive immune system.
Infections are very common for certain sufferers of eczema and dermatitis. Dry and weak skin can easily crack - this makes you susceptible to bacteria and fungi, as organisms can easily penetrate your skin.
The second of Daktacort's active ingredients, miconazole nitrate, is an antifungal. It fights fungal infections that may be making your condition worse. Miconazole does this by forcing holes into the cells of fungi - your body can then clear the infection easier.
How do I use it?
You should always follow the advice of your doctor when taking any treatment.
Daktacort comes in a 30mg tube containing hydrocortisone (1%) and miconazole (2%). You should not use this product for more than 3 weeks continuously.
Please consult the diagram below for an example of a "fingertip unit" - the length of the tip of your index fingertip to the first crease. You can also see how many units should be applied to each area of the body. Always apply a thin layer - applying more than this will not make treatment more effective.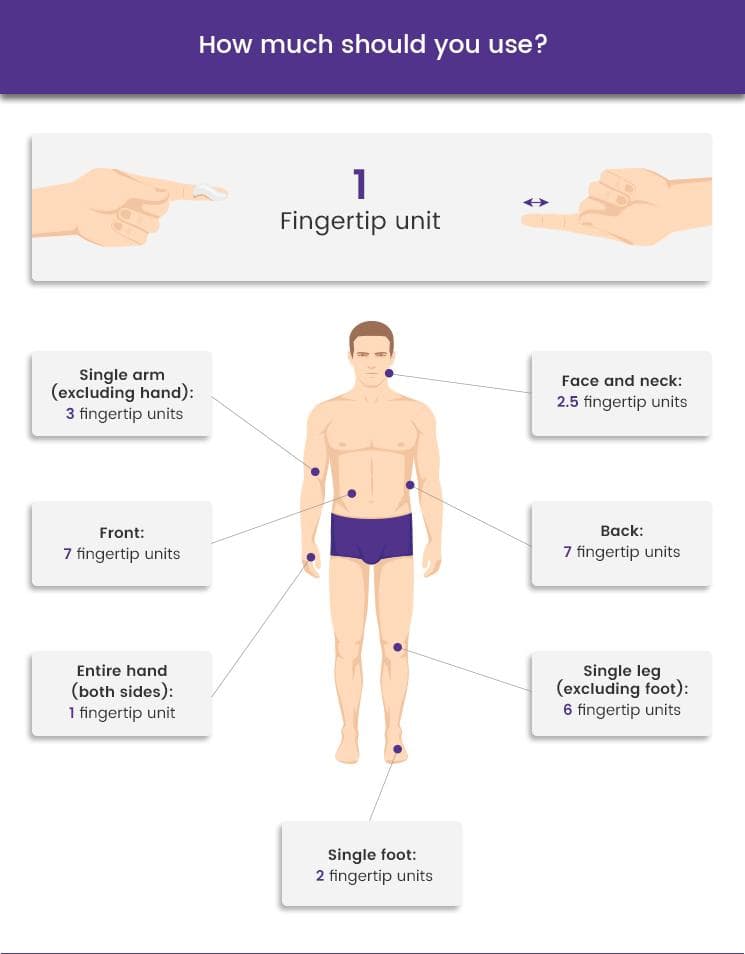 The following is a summary (full details can be found in the patient information leaflet):
wash and dry the affected area*
apply a small amount of cream to the affected area
rub in until it has been absorbed
you should wash any clothing that the cream gets on
do not apply more than the recommended amount - applying more will not make treatment more effective
if someone else is applying the cream to you, they should wear gloves
*Do not share towels with others if the skin is infected.
If you forget a dose, apply as soon as you remember. Do not apply double to make up for a missed dose - this will increase the risk of side effects.
If you accidentally ingest Daktacort, contact your doctor ASAP.
What are the possible side effects?
All medications pose a risk of side effects. As Daktacort contains a steroid, the chance of them occurring increases with prolonged use. For that reason, you should not exceed the recommended course. You should also only apply a thin layer of ointment or cream to reduce the risk of steroid-related side effects.
For a full list of side effects, please consult your doctor. A list can also be viewed in the patient information leaflet - this is included with your order.
The most common side effects include:
skin reactions (e.g. irritation, burning sensations)
telangiectasia (spider veins)
Rare side effects include:
adrenal suppression
hypertrichosis (excessive hair growth)
skin repigmentation
If you experience any of the above, please inform your GP. You should also contact them immediately if you suffer any unlisted reactions.
Do not allow anyone else to touch your treatment - if someone else is going to apply it to you, they should wear gloves.
Who can use it?
A complete list of contraindications and precautions are detailed in the patient leaflet.
You should not use this product:
if you are allergic to any of its ingredients (listed in the patient leaflet)
on any broken skin
on any skin conditions (e.g. acne, cold sores, shingles, herpes) other than what it has been prescribed for
on your face, unless advised by a doctor
on the genital or anal regions
to only treat fungal infections (e.g. ringworm)
for longer than recommended by your doctor
What precautions should I take?
You should inform your doctor at the point of consultation, what medications you are taking (over-the-counter and prescription), as well as any medical conditions you may have. This is especially important if you are taking any anticoagulants (blood thinners), for example, warfarin.
Topical steroids cause thinning of the skin. You should not exceed the course length recommended by your doctor. Skin thins naturally as you age, so you should pay extra attention if you are elderly.
If you are breastfeeding, pregnant or planning to conceive, inform your doctor before starting this treatment.
Please note, Daktacort cream can damage latex condoms and diaphragms. If you are sexually active and using this form of contraception, you should be careful when applying cream. Alternatively, contact your doctor and ask about other contraceptive options.
Can I buy Daktacort online?
To order Daktacort online, you must complete a confidential consultation. At HealthExpress, we ask you to fill out a short form (in some cases, you may need to upload a photo of affected areas of skin).
Our doctors will use this information to decide whether to prescribe the chosen medication or not. If they prescribe, your order will be sent with complimentary next-day delivery. If they do not, then you will not be charged.