What is Eumovate?
Eumovate is an NHS-approved topical treatment for mild to moderate cases of eczema (also known as dermatitis) and psoriasis. It belongs to a class of medications called corticosteroids (or steroids) - these work to reduce the symptoms of skin condition flare-ups.
Eumovate is available from HealthExpress as either a cream or ointment. The cream is better if you have to apply treatment to large areas of skin, as it is water-based. The ointment is better if you have dry skin and will remain on the skin for longer.
How does it work?
If you suffer from eczema or psoriasis, you will have an overactive immune system. In the case of eczema, your skin is overly sensitive to certain irritants and triggers (e.g. weather, temperature, food allergies, etc.).
In the case of psoriasis, your body overproduces skin cells, leading to a buildup of inflamed patches. Again, this condition is exacerbated by triggers and irritants (e.g. stress, clothing, smoking, etc.).
Eumovate contains the active ingredient clobetasone butyrate. As a corticosteroid, this ingredient has an anti-inflammatory effect. It suppresses your body's immune system, alleviating the itchy and painful symptoms of inflamed skin.
How do I use it?
You should always follow the advice of your doctor when taking any treatment.
Both the cream and ointment are available in 30g or 100g tubes. A course of treatment should not last more than 2-4 weeks. You should see your doctor during this time to check if the treatment is effective. Do not exceed 3 months of continuous use.
You can use the graphic below to determine how much treatment to apply to the affected area of skin. One fingertip unit is from the tip of the finger to the first crease of the finger.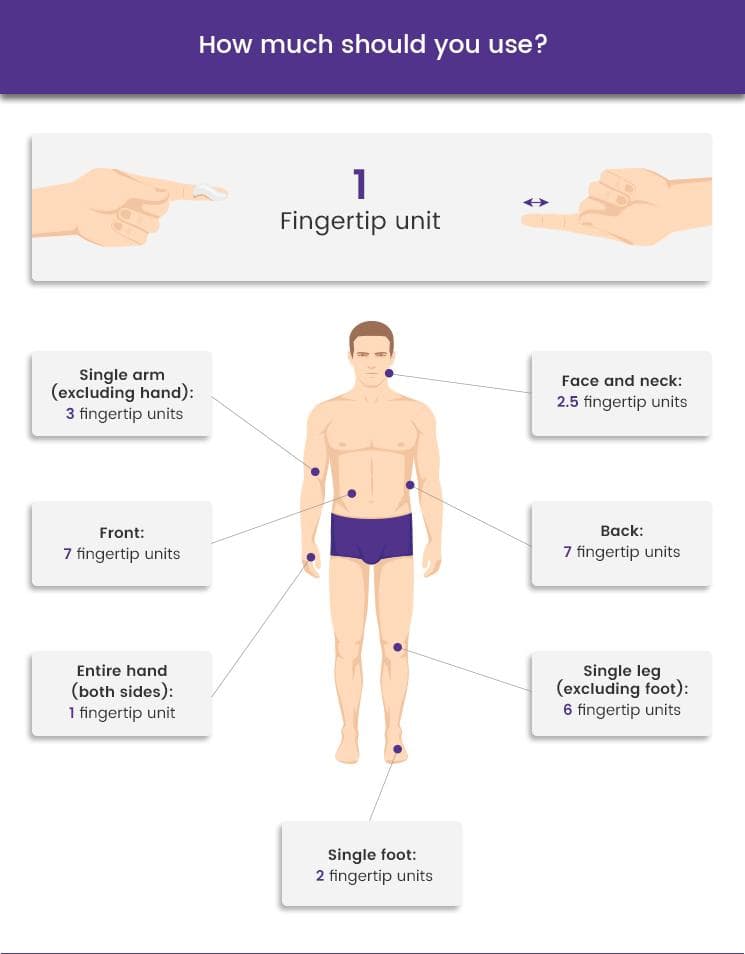 The following is a summary of application instructions:
one dose is one fingertip length of cream/ointment - this will cover an area the side of two adult hands (the back and the front of one hand)
apply one fingertip unit of treatment (or more) to the affected area(s) of skin depending how large the areas are, in relation to the size of 2 adult hands
you should apply the cream/ointment 1-2 times per day
you should apply the cream/ointment once per day as symptoms improve
if you use an emollient (moisturising product), apply Eumovate first
if you are applying Eumovate to someone else, use gloves or wash your hands after application
wash your hands before and after applying cream/ointment
If you forget to apply a dose, wait until the next dose. Do not apply more than the recommended amount. If you apply too much Eumovate, or accidentally ingest some, contact your doctor.
You should also contact your doctor if you get any steroid cream or ointment in your eyes. You should only apply this treatment to your face if instructed to by your doctor.
If you do not see any improvement after using this treatment for 4 weeks, contact your GP or dermatologist.
What are the possible side effects?
There is a risk of experiencing adverse effects with all medication. As Eumovate is a steroid, you should only apply the recommended amount and spread it thinly on your skin. Applying too much will increase the likelihood of side effects.
As this is a topical treatment, the most common side effect to experience is unexpected skin reactions, such as telangiectasia (spider veins). If you have skin reactions to Eumovate, stop the treatment and inform your doctor - they will recommend a different medication.
Rarer side effects include:
adrenal suppression
hypertrichosis (excessive hair growth)
skin depigmentation
vasodilation (widening of the blood vessels)
If you experience any of the above, or any unlisted reactions, stop using the cream or ointment immediately and inform your doctor.
Who can take it?
You should only use this treatment if it has been prescribed to you by a doctor. This includes HealthExpress' doctors once you have completed an online consultation.
Do not apply to the following conditions:
acne
rosacea
infected skin
spots/pimples/warts, etc.
itching skin (pruritus) without a known cause
fungal infections (athlete's foot, etc.)
cold sores
Do not use this treatment if you are allergic to any of its ingredients. Eumovate contains chlorocresol, which is known to cause allergic reactions. A complete list of ingredients can be found in the patient information leaflet (PIL) - this can be found in PDF form on the right of this page. It will also be included with your order.
Do not exceed 3 months of use of this treatment - otherwise, you risk side effects like skin thinning.
What precautions should I take?
So they can better monitor you, you should inform the prescribing doctor* if any of the following apply to you:
you have suffered an allergic reaction to any steroid (especially topical corticosteroids)
you are taking any other over-the-counter or prescription medications (especially ritonavir and itraconazole)
you will be applying the cream or ointment to an area near an open wound
you are applying the cream or ointment to any broken skin
you plan to apply treatment to your face
you experience increased inflammation/other signs of a skin infection after use
*Include this information during your online consultation.
If you are pregnant, breastfeeding or planning to conceive, speak to your doctor before starting a course of this treatment.
When using Eumovate, avoid close proximity to naked flames. Clothing that has absorbed the treatment will also be more flammable.
Can I buy Eumovate online?
HealthExpress' service allows you to order treatment for a variety of conditions, all from the comfort of your home.
You can order Eumovate online - all we ask is that you complete an online consultation. This is a short questionnaire that will ask you for details of your symptoms and medical history and may ask you to upload an image of the affected area of your skin.
Our doctors will review your completed consultation to decide if Eumovate is safe and effective for you to use. If they approve, they will send a prescription to one of our pharmacies. We will deliver your order the following working day.
If the doctor does not approve your order, you will not be charged, and they will give the medical reasons why.