What is Evorel?
Evorel Conti is a hormone replacement treatment (HRT) in patch form that contains two active ingredients, estradiol and norethisterone acetate. These are artificial forms of oestrogen and progestogen, respectively, making it safe to use if you require relief from the symptoms of menopause, but you haven't had a hysterectomy.
How do Evorel Conti patches work?
Evorel Conti patches contain oestrogen and progestogen. These hormones are released through a patch via the skin, which means that they are transdermally absorbed. Once these hormones are in the bloodstream they work to replenish oestrogen levels to combat menopause symptoms, while progesterone acts to balance out the additional oestrogen in order to promote womb health in women who have not had a hysterectomy. If oestrogen is taken without progestogen in women who still have a womb it can increase the risk of endometrial cancer.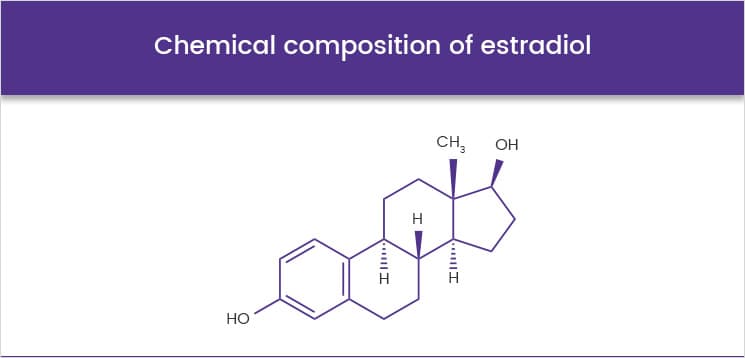 What are the benefits of Evorel Conti patches?
During menopause the production of certain hormones by the body drops significantly. The effects of a fall in oestrogen, in particular, is what causes the most bothersome and disruptive symptoms associated with menopause, such as night sweats, vaginal itching, and dryness, changes in sex drive and loss of bone mass.
Evorel Conti can provide relief from these symptoms in a convenient patch that only needs to be replaced twice a week. The lowering of oestrogen is also associated with bones thinning and becoming more prone to breaking. This is a condition known as osteoporosis. HRT treatments, such as Evorel Conti patches, can therefore be used to ward off this ailment.
How do I use Evorel Conti patches?
Evorel Conti hormone replacement patches aren't taken orally, but are applied to the skin, ideally below the waist or on the thigh or bottom. Other guidelines for using this HRT patch include:
Patches should be placed in the area below the waist, ideally the thigh or bottom and never on the arm or near the breasts.
Patches shouldn't be applied to places where they can rub off like the waistband or around the breasts.
Make sure the chosen area is clean and dry. Do not apply to broken skin as it may irritate.
Keep the area free of products such as creams, lotions and powders before applying.
Patches should be changed twice a week and there should normally not be a break between patches, unless your doctor has advised otherwise.
Fresh patches should be applied to a different area to avoid further irritation of the area, especially if you have sensitive skin.
Patches are waterproof, so can be worn whilst exercising, bathing or swimming.
HRT patch
Protective liner
HRT patch
Protective liner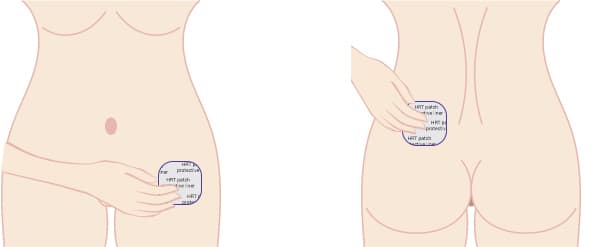 What dosages are available with Evorel Conti?
Every Evorel Conti patch releases a dose of 50mcg estradiol and 170mcg norethisterone acetate over a 24-hour period. Patches should be changed twice weekly, with no breaks in-between. The specific amounts of the active ingredients have been specifically formulated by the manufacturer to be highly effective, whilst also minimising the possibility of experiencing side effects.
What are the side effects associated with Evorel Conti?
Evorel Conti is generally well tolerated and doesn't carry a high risk of side effects, although you will most likely be monitored by your doctor, if you've been recommended a remedy such as this, to make sure that you are getting the most from your treatment. Common side effects may include:
Heavy periods (if you are still bleeding)
Headaches
Insomnia,
Breast tenderness
Irritation around the area where the patch is applied
Weight gain
Many of these side effects should go away as your body gets used to the medication, but if they get worse, or you experience anything more serious or worrisome, you should speak to your GP as soon as you can.
Some of the more rare side effects can sometimes include:
Disturbance in liver function
Gallbladder disease
Blood clots
Significant rise in blood pressure
What are the precautions/interactions to be aware of with Evorel Conti patches?
If your doctor has examined you and they have decided that you'll benefit from using a HRT treatment, such as Evorel Conti, you may be able to order it safely online at HealthExpress. Evorel Conti will most likely have been prescribed to you if you are experiencing menopause symptoms, you may not be able to purchase this treatment if:
You're vulnerable to any oestrogen sensitive cancers (breast cancer for example)
Had a hysterectomy
There are other conditions you may have where it is advised to be cautious when using Evorel Conti. These include high cholesterol, diabetes, and high blood pressure.
For further information about Evorel Conti hormone replacement patches and its side effects, precautions, and interactions, please refer to the helpful patient leaflet. This can be found included with your HRT medication, as well as being available for download towards the bottom of this page.
How can I buy Evorel Conti patches online safely?
Evorel Conti HRT treatment is available to buy online from HealthExpress if it's the medication you are currently using to treat your symptoms. Simply start the process by completing a quick and confidential online consultation. This will be checked by one of our doctors to make sure that you can use this treatment safely. Once your consultation is approved, you'll be notified to complete your order online. Your purchase will be shipped as soon as possible after completion of this process. All medications are dispensed by a pharmacist and dispatched straight to your door.