What is Flixotide?
The Flixotide Accuhaler and Evohaler are both long-term preventative treatments for asthma. Both versions of Flixotide work by delivering the active ingredient, fluticasone propionate, directly into the lungs, where it prevents inflammation of the airways.
Although it's not used to provide relief, it can help improve asthma symptoms with long-term use, often when used alongside a reliever inhaler treatment.
How do Flixotide inhalers work?
Fluticasone propionate is a type of steroid known as a corticosteroid, so it works to prevent inflammation within the bronchi. Inflammation makes them more sensitive than normal to irritation. These treatments can help because they prevent the release of chemicals that increase the risk of inflammation occurring. If the airways are less inflamed, there is less chance of irritation occurring.
What is the difference between the Flixotide Evohaler and Accuhaler?
Both the Evohaler and Accuhaler contain the active ingredient fluticasone propionate, but the way in which they deliver it to your system differs. The Accuhaler inhaler delivers the active ingredient via a powder version of the medication, whereas the Evohaler delivers the active ingredient via a compressed form of the medication. Please see the 'How to Use' section for further information.
What are the benefits of Flixotide?
Flixotide is an effective long-term way to control asthma symptoms, if used alongside a reliever inhaler.
As these treatments are delivered straight to the lungs, they are less likely to lead to side effects than oral steroid treatments.
Flixotide is also effective in the treatment of chronic obstructive pulmonary disorder (COPD).
The Flixotide inhalers are very easy to use and come in a standard measured dose inhaler.
How do I use Flixotide inahlers?
Whilst they are very similar, the two inhalers differ in their method of delivery. Below, you will find a helpful summary of how each inhaler operates, with further information so that you can make an educated choice.
How to use the Flixotide Accuhaler
Step 1. Open

Holding your Accuhaler in one hand, as shown. Place the thumb of your other hand.
Open your Accuhaler by pushing the thumb grip right around until it clicks.
The mouthpiece should now be fully visible (see photo in step 2).

Step 2. Slide

You'll also see the lever.
Hold the mouthpiece towards you and push the lever away from you until it stops.
The number in the dose-counter window will be reduced by one.

Step 3. breathing out

Breathe out as much as possible.

Step 4. Inhale

Put the mouthpiece to your lips.
Breathe in steadily through your Accuhaler (not through your nose).
Remove your Accuhaler and hold your breath for about 10 seconds.
Breathe out slowly.
Rinse your mouth with water after using your Accuhaler.

Step 5. Close

Close your Accuhaler by sliding the thumb grip back to the original position.
This makes your Accuher ready to use again next time.
The dose counter on the top of the Accuhaler show how may doses are left to use.

Step 6. Rinse

After use, rinse mouth with water.
This will reduce the chances of any irritations.
The Flixotide Accuhaler delivers a powder version of the medication to the lungs. This simply involves placing your mouth over the opening of the Accuhaler and inhaling a small amount of the treatment. This may be a more suitable option if you find it difficult to use an Evohaler, which involves pressing down on a canister. The Evohaler contains a set amount of doses, which are tracked every time you use the inhaler, so you'll know exactly when you're about to run out.
How to use the Flixotide Evohaler
Take the cap off the inhaler mouthpiece and hold the inhaler upright. Shake the inhaler vigorously up and down.
Remove the mouth piece
Breathe out normally as far as you comfortably can
Hold the mouthpiece between your lips.
At the same time as you first start to breathe in, press the top with your finger to spray the medicine.
Remove the inhaler from your mouth and hold your breath for up to 10 seconds and breathe out slowly.
If you need more than one dose, start again from step 3.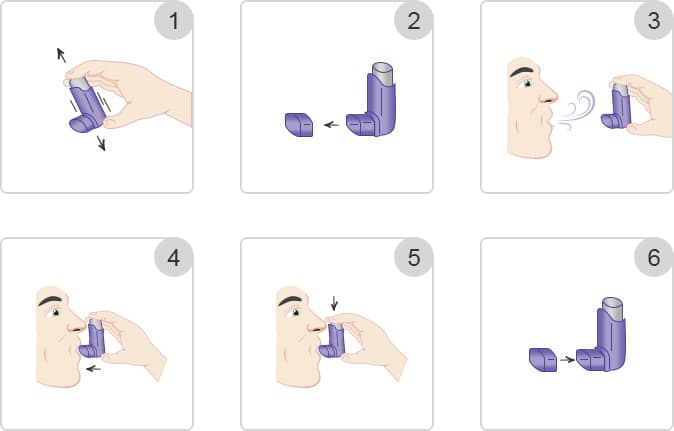 The Flixotide Evohaler looks like a standard inhaler and is designed to provide you with a dose of medication in a compressed form. Using the Evohaler simply involves pressing down the canister containing the active ingredient, while you inhale the medication through the mouthpiece. The Evohaler also has a set amount of doses, although it's not always easy to track of when your treatment is ready to be replaced. You may prefer to use the Evohaler if you are allergic to milk protein, which forms part of the ingredients found in the accuhaler.
What dosages are available with Flixotide inhalers?
This medication is available in four different doses and which one you should take will depend on the severity of your asthma. Your doctor may choose to alter your dose depending on the intensity of your symptoms at a particular point in time. Below is a general guide of recommended doses for both Flitoxide inhalers:
Flixotide Evohaler (50mcg, 125mcg, 250mcg):
Mild to moderate asthma - Starting dose is a 100mcg dose twice a day
Severe asthma - 250mcg or 500mcg dose twice a day is normally recommended; up to a 1,000mcg dose twice a day
Flixotide Accuhaler (50mcg, 100mcg, 250mcg):
Mild to moderate asthma - A 100mcg dose twice a day
Severe asthma - 250mcg or 500mcg dose twice a day; however, up to a 1,000mcg twice a day is the maximum that can be prescribed
Are there any side effects when using Flixotide?
The Flixotide inhalers are less likely to cause side effects than most oral steroid treatments for asthma, but there is still a slight risk. The most common negative effects are:
Oral thrush or a sore throat
Both of these side effects can be prevented by rinsing the mouth after each dose. In severe cases, nausea may occur, although this is also very unlikely. If you do experience any adverse effects whilst using this inhaler medication, ensure you speak to your doctor as soon as possible.
What are the precautions/interactions I should be aware of with Flixotide?
If you experience asthma symptoms more than twice a week, if you have to use your reliever more than twice a week or if you wake up at least once a week due to breathing difficulty, you might have been recommended a Flixotide Evohaler or Flixotide Accuhaler.
Although most adults can use these medications, there may be a few instances where it's not recommended that you do. Examples of these include:
If you are allergic to the ingredients used in the treatment, such as lactose or norflurane (Evohaler) / milk protein (Accuhaler)
If you are allergic to the active ingredient - fluticasone propionate
If you have been advised previously against similar asthma treatments
Those who have required treatment for tuberculosis
Women that are pregnant or breastfeeding
If you are currently using another steroidal treatment
Ensure you mention in the online consultation if you are using any other medication so that the doctor can make an informed decision. For further information about this medicine, please refer to the patient leaflet, which is available to download towards the end of this page.
Where can I buy Flixotide inhalers online safely?
You can buy the Flixotide Evohaler and Flixotide Accuhaler now from HealthExpress. To start the ordering process, simply complete an online consultation form, which will allow our doctor to evaluate whether you are suitable for this medicine. Once your consultation is approved, a prescription will be issued and your medication will be shipped directly from our pharmacy to your door. If you have any queries, please don't hesitate to get in touch with our helpful customer service team.