What is Fucidin H Cream?
Fucidin H Cream is a topical treatment for mild to moderate skin conditions that a bacterial infection has aggravated. Conditions include:*
Fucidin has two active ingredients. It contains a corticosteroid that reduces the inflammation caused by an underlying condition (e.g. eczema) as well as an antibacterial agent that aids your immune system in clearing bacterial infections.
You should only use this product if you have a skin infection. There are alternative treatments that only contain the steroid and effectively reduce inflammation. Please speak with your doctor if you are unsure what is best for you.
*Please note - this treatment is currently only available from HealthExpress for eczema (dermatitis) and psoriasis.
How does it work?
Fucidin H Cream is particularly effective at treating skin conditions due to its combination of active ingredients, hydrocortisone and fusidic acid.
If you suffer from psoriasis or eczema, your immune system can become overactive when exposed to certain triggers. Triggers vary between individuals - one person may find stress worsens the condition, another may find certain foods or weather plays a role.
When exposed to triggers, an individual with eczema will find their skin becomes inflamed. A psoriasis sufferer will find their skin also becomes inflamed, but with characteristic patches (caused by overproduction of skin cells).
An infection can exacerbate both of these conditions. Germs can also more easily get into the skin if it is cracked and damaged, worsening inflammation and pain.
Hydrocortisone, a corticosteroid, is one of the active ingredients of Fucidin H Cream. It suppresses the immune system, reducing inflammation.
The second active ingredient of Fucidin H Cream is fusidic acid - this is a mild antibiotic that kills bacteria that may have got into the skin.
How do I use it?
Always follow the advice of your doctor when taking any new medication.
The following is a summary of how to use Fucidin H Cream:
to prepare the tube, push the spike in the cap through the seal
wash and dry your hands before and after applying the product - you should also wash and dry the affected area of skin*
you should rub a thin layer of cream into the skin until it disappears
apply treatment twice daily, once in the morning and evening
do not exceed the recommended course - usually 1-3 weeks
*Do not share towels with others if the skin is infected.
If there is no improvement after 7 days of use, contact your doctor immediately as you may require oral antibiotic tablets.
Do not swallow the cream. If you do, contact your doctor immediately.
Please consult the image below to see how much cream to apply to different areas of the body. One fingertip unit is from the tip of the index finger to the first crease (joint).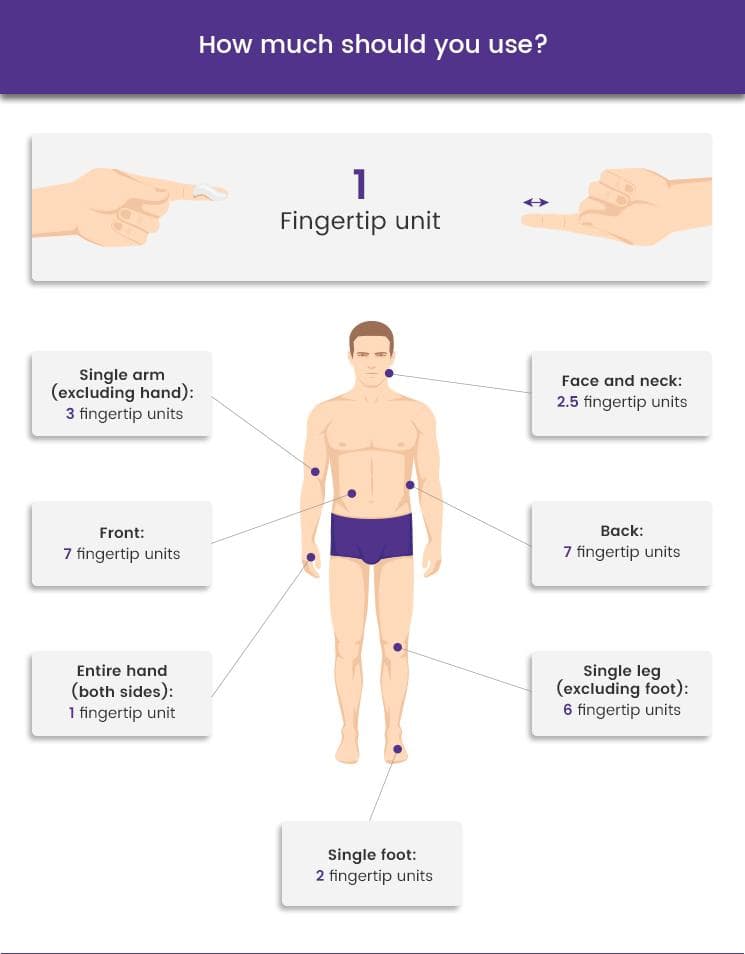 If you miss a dose, do not apply a double amount. Continue the course as normal. Using extra cream will not make treatment more effective and will increase the likelihood of experiencing side effects.
What are the possible side effects?
All medications can cause side effects. Certain lifestyle and health factors may increase the chance of your experiencing them. You should include all relevant information in your consultation when prompted.
Please note, the chance of side effects occurring increases with prolonged use. For that reason, you should not exceed the recommended course.
As Fucidin H is a topical treatment, the most common side effect is skin reactions (such as burning sensations) and telangiectasia (spider veins). Three of Fucidin H's ingredients may cause this. You should ask your doctor about other treatments if you have a history of reactions to butylhydroxyanisole, cetyl alcohol or potassium sorbate.
Rare side effects include:
adrenal suppression
hypertrichosis (excessive hair growth)
skin depigmentation
If you experience any of the above or any unlisted side effects, stop treatment and contact your doctor.
You will find a full list of side effects in the patient information leaflet (included with your order).
You should also be aware of the signs of an allergic reaction. These include worsening skin symptoms (e.g. hives), swelling of the face and throat and difficulty breathing. If you think you are suffering an allergic reaction, seek immediate medical attention.
Who can use it?
Do not use this product:
if you are allergic to fusidic acid or any of the other ingredients (found in the patient information leaflet)
on any undiagnosed skin lesions
on conditions it was not prescribed for (herpes, cold sores, shingles, etc.)
for longer than prescribed
on your face, unless told to by a healthcare professional
you are taking any other corticosteroids
you have had a bad reaction to steroids (of any kind) in the past
What precautions should I take?
If you are pregnant, breastfeeding or planning to conceive, please inform your doctor before starting treatment.
Do not go near fire or naked flames. Fucidin H Cream is flammable.
If applying to the face, be careful not to get treatment in your eyes. If you do, wash out with warm water.
As a topical steroid, this treatment can cause thinning skin if used for a long time. If you are elderly, you should take extra care as skin thins with age. See your doctor for regular checkups and stop treatment if there is no change to the infected area after 7 days of use.
Can I buy Fucidin H Cream online?
To order any prescription medication online, you must first complete a consultation. This is a short online form where you should describe your symptoms and mention any medications you are taking (including over-the-counter products).
Our doctors will review your answers. If they think the selected treatment will be safe and effective for you to use, they will issue a prescription. Our pharmacy will then dispense your order and dispatch it with next-day delivery.
Our service is all-inclusive. That means you only pay one price and get the consultation, prescription and delivery included.