What is Logynon?
Logynon (ethinylestradiol and levonorgestrel) is an effective triphasic contraceptive (also referred to as 'the pill' or combined oral contraceptive pill) that is used to prevent pregnancy.
Triphasic contraceptives use three different doses of pills in each pack, so that the dosage of hormones can rise and fall as needed throughout your cycle. The colours are ochre, light brown and white to be taken in the correct order.
This helps to reduce side effects, such as breakthrough bleeding, spotting and absent periods, which some women can experience while using single dose pills. Logynon is also a proven treatment for endometriosis, a condition where womb cells grow outside of the womb.
What are additional benefits of Logynon?
When taking Logynon (also referenced as Logynon ED), you may experience a wide variety of benefits. These benefits include:
Logynon is a triphasic combined contraceptive. That means each monthly course includes three different doses of hormones, allowing the hormone levels to rise and fall in sync with your own menstrual cycle.
As the changing dose closely fits within your natural cycle, the likelihood of you experiencing side effects is reduced.
Logynon can prevent pregnancy almost immediately if taken on the first day of your period.
Logynon ED is an effective treatment for endometriosis; a condition which causes cells from the womb to grow outside on other cells.
It is also sometimes prescribed to women who are experiencing painful periods, heavy periods irregular periods, continuous or heavy menstrual bleeding and premenstrual tension.
When Logynon is taken correctly, it is one of the most reliable methods of hormonal contraception available.
Logynon also has a tendency to help with premenstrual symptoms.
How does Logynon work?
Logynon uses two different hormones to prevent contraception; a synthetic oestrogen (ethinylestradiol) and a synthetic progestogen (levonorgestrel). They work to prevent pregnancy in three different ways.
Firstly, they convince the body that ovulation has already taken place so an egg is not released from the ovaries each month.
Secondly, it alters the lining of the womb (endometrium) so in the unlikely event that an egg is released, it would not be able to implant itself there to grow.
Thirdly, it alters the cervical lining, at the neck of the womb. This prevents sperm from actually making it to the womb and reaching an egg.
Without oral contraceptives
With oral contraceptives
Released egg
Fallopian tube
Ovary
Endometrium
(uterus lining)
Cervix
UTERUS
VAGINA
Oestrogen and progestogen can prevent an egg from being released from the ovaries each month most of the time.
Progestogen causes thinning of the endometrium (uterus lining) so, if an egg is released, it cannot implant on the wall.
Lastly, progestogen also thickens the mucus in the cervix so sperm is prevented from reaching the egg.
How do I take Logynon?
For immediate protection, you should start taking your first Logynon pill on the very first day of your period. You will need to use an additional barrier contraceptive such as condoms for the following seven days.
Logynon pills are taken for 21 continual days.
They should be taken at around the same time every day to be fully effective.
Logynon comes in three colours (light brown, ochre and white) to be taken in the correct order clearly marked on each blister pack.
This is followed by a seven-day rest period.
You may experience withdrawal bleeding similar to that of your regular period during this time.
You will still be protected during the pill-free week.
What should I do about a missed Logynon pill?
If you happen to forget to take your pill or more than one pill in one blister pack at the usual time, follow the below protocol:
If you have missed one Logynon pill, then take it as soon as possible unless it is close to the time of your next pill. If it is nearer to the next pill than the previous time, miss it out completely and continue with the blister pack as normal. Missing one pill in one blister pack will not affect the effectiveness and you will not need further barrier protection.
If you miss two or more pills in one blister pack, then you will not be protected at maximum effect. However, take the last missed pill as soon as you remember unless it is close to the time of your next pill. Do not take two pills in close proximity - this will not combat the mistake - and skip the missed pills. It is advised to use condoms or refrain from sex for the next seven-nine days.
You can find out more details about using this combined contraceptive in the patient information leaflet attached at the bottom of this page or by consulting with your doctor.
Use our interactive tool below on what to do if you miss one or multiple pills in one month (menstrual cycle). Simply click to begin.
How many pills have you missed? How late?
One pill

less than


12 hours late
Started a new pill pack

less than

12 hours late
One pill

more than


12 hours late
Started a new pill pack

more than

12 hours late
*Vomiting and diarrhoea experienced within four hours of taking the pill is also classed as a missed pill.
*There are more than seven pills left in the pack. Continue to finish the pack, overlapping the seven-day break. Take your seven-day break and start your new pack as usual.
*There are fewer than seven pills left in the pack. Continue to finish the pack, overlapping the seven-day break. Start the new pack immediately after the old one is finished (missing out the seven-day break completely).
*If you have missed contraceptive pills in the first one to nine days of the pill pack and have had sex without barrier contraception, you could be pregnant. If you have calculated this between one to five days after the unprotected sex, you could use emergency contraception such as the IUD or morning-after pill. If not, continue your contraception until the seven-day break. If you don't have any bleeding, it is advised to take a pregnancy test and/or consult your doctor.
For more information about what to do if you've missed your dosage for a significant period, it's always best to speak to your doctor or pharmacist.
What dosages are available?
Logynon tablets come in a set amount of varying dosages, which are to be taken throughout the month as instructed. The quantities of medicine contained in the pills have been specifically formulated to maintain efficacy whilst simultaneously minimising potential side effects.
Logynon pills need to be taken in the right order to be effective. Each pack contains six light brown tablets (30mcg ethinylestradiol and 50mcg levonorgestrel), which are taken first, followed by five white tablets (40mcg ethinylestradiol and 75mcg levonorgestrel) and then ten tan coloured tablets (30mcg ethinylestradiol and 125mcg levonorgestrel).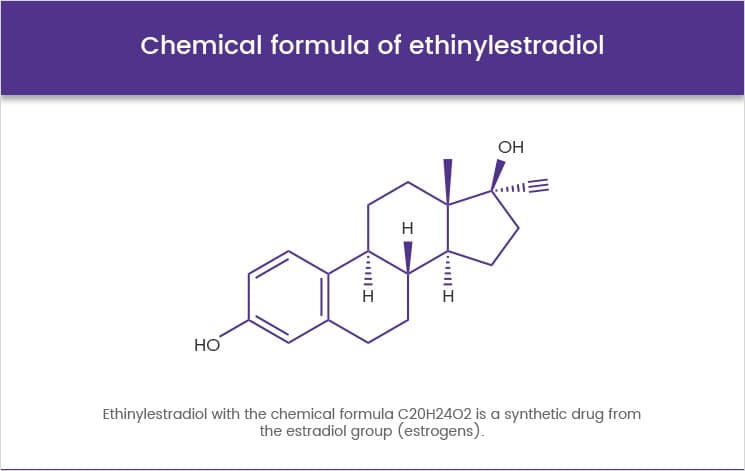 What are the possible side effects of Logynon?
Users of contraceptives can experience side effects, depending on their tolerance towards the synthetic hormones used. It's quite common for first time users to experience some side effects, but as Logynon is a triphasic pill, the possibility of you experiencing them is significantly reduced.
Side effects you could potentially experience while taking Logynon ED include nausea, weight gain, breast tenderness, headaches, abdominal pain, skin reactions, and menstrual spotting.
If any of these potential side effects happen to occur and persist, it is advised that you speak to a doctor to discuss your condition and a possible alternative.
What are the precautions/interactions to be aware of with Logynon?
Most women who are over 18 can buy Logynon online to use as a daily contraceptive. Some women, however, may be prohibited from using it due to an existing health condition. Women who may not be able to use this contraceptive include those who suffer or have suffered from:
Obesity, diabetes, migraines, depression, gallstones, blood clotting, and those who suffer from heart, kidney or liver problems.
Older women and those who smoke or are breastfeeding would be recommended to try a mini pill, such as Micronor or Femulen.
Before beginning your use of Logynon tablets, it is important that you consider the precautions associated with this medication. These precautions include:
Logynon pills don't protect you against sexually transmitted infections (STIs). This means that extra protection (e.g. condoms) may still be required during sex.
Menstrual irregularities, such as missed periods and breakthrough bleeding, can possibly occur when using Logynon for the first time.
You should talk to a doctor if you intend to use Logynon ED during a long journey, or when you are due to have a surgery. This is because Logynon may increase the risk of blood clots. This risk is further increased during long periods of travel or during surgery.
Women who are breastfeeding shouldn't use Logynon until at least six months after birth.
Logynon pills shouldn't be used by women dealing with blood disorders, varicose veins, obesity, angina, diabetes, high blood pressure, high cholesterol, migraines, breast cancer, liver cancer, hepatitis, jaundice, or gallstones.
Logynon shouldn't be taken if you have a history of heart attacks or strokes.
Logynon tablets should be used with caution if you are over the age of 35 or a smoker.
Can I buy Logynon online?
You can buy Logynon contraceptive pills from HealthExpress by clicking on the link below. This will start a quick and simple online consultation. One of our doctors will check your consultation and make sure you are suitable to use this treatment. If your consultation is approved, you can safely and securely purchase this treatment.