What is Marvelon?
Marvelon is a combined oral contraceptive (also most commonly known as 'the pill'), taken in the form of a 0.15mg / 30mcg tablet, that is used for the successful prevention of pregnancy. Marvelon pills are one of the most reliable, reversible methods of contraception available. In clinical trials, it showed a near non-existent pregnancy rate of 0.1% within the first year of use.
As a result of taking the Marvelon pill, you may notice an improvement in the appearance or your skin, especially if you suffer from acne. Also, if used over the long term, this contraceptive can also reduce a woman's risk of developing cancer of the ovaries and womb. Marvelon pills also result in lighter, less painful and more regular menstrual bleeding.
What are the benefits of Marvelon?
There are a number of benefits to using Marvelon, when taken correctly.
Marvelon pills protect against pregnancy immediately if taken on the first day of your menstrual cycle .
They can be taken up to the fifth day of your period; however, you will need to take additional precautions for up to seven days if you begin to take them at this time.
This pill can help to make periods lighter, less painful and more regular, which will be helpful if you experience particularly uncomfortable periods.
Using a contraceptive such as Marvelon means that there is no need to interrupt sex in order to use contraceptive precautions.
These contraceptive pills have an anti-androgenic effect, which means that it reduces the amount of testosterone present in your system; this consequently can reduce any problems you might have with acne.
Studies have also suggested that this contraceptive pill can reduce your chance of developing cancer of the womb or ovaries.
How does Marvelon work?
Marvelon is a low dose hormonal contraceptive that contains artificial versions of the two female sex hormones; oestrogen and progestogen in the form of its active ingredients ethinylestradiol and desogestrel. These ingredients work in tandem by overriding the normal menstrual cycle, which prevents ovulation so that no egg is released for potential fertilisation.
The daily dose of hormones within the pill essentially works by tricking your body into thinking that ovulation has already occurred. This prevents your eggs from being released from your ovaries each month.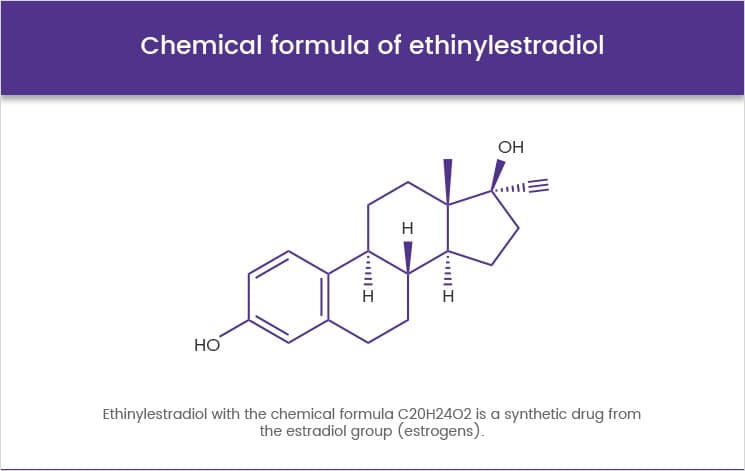 The active ingredients also cause the fluid present in the natural mucus, at the neck of the womb, to become too thick for sperm to enter the womb, and reach an egg.
Marvelon also changes the quality of the womb lining (endometrium). This ensures that it is far less likely that a fertilised egg can get implanted there.
How do I take Marvelon?
Your first Marvelon 0.15mg / 30mcg pill should be taken on the first day of your period for immediate protection. It can be taken up to the fifth day of your period, but it's advisable to use additional contraception for seven days to give the medication time to take effect.
If you have taken the treatment as instructed, you won't have to worry about any additional contraception during this time. After seven days, simply start a new course.
Marvelon pills are taken for 21 continual days.
They should be taken at around the same time every day to be fully effective.
This is followed by a seven-day rest period.
You may experience withdrawal bleeding similar to that of your regular period during this time.
You will still be protected during the pill-free week.
What happens if I miss a pill?
Many women find they miss a pill every now and then. Luckily with the combined pill, if you miss just the one, you can take as soon as you remember and still be fully protected against pregnancy.
If you miss more than one then the effectiveness can drop. This means you will need to use further barrier contraceptives for the following seven days.
If you have missed one Marvelon pill, then take it as soon as possible unless it is close to the time of your next pill. If it is nearer to the next pill than the previous time, miss it out completely and continue with the blister pack as normal. Missing one pill in one blister pack will not affect the effectiveness and you will not need further barrier protection.
If you miss two or more pills in one blister pack, then you will not be protected at maximum effect. However, take the last missed pill as soon as you remember unless it is close to the time of your next pill. Do not take two pills in close proximity - this will not combat the mistake - and skip the missed pills. It is advised to use condoms or refrain from sex for the next seven-nine days.
As the contraceptive pill is ingested, this also means Marvelon may not be as effective if you vomit or have severe diarrhoea. The same process follows; take another pill once the illness has subsided and use condoms for further peace of mind.
Use our interactive tool below on what to do if you miss one or multiple pills in one month (menstrual cycle). Simply click to begin and the outcome will display itself.
How many pills have you missed? How late?
One pill

less than


12 hours late
Started a new pill pack

less than

12 hours late
One pill

more than


12 hours late
Started a new pill pack

more than

12 hours late
*Vomiting and diarrhoea experienced within four hours of taking the pill is also classed as a missed pill.
*There are more than seven pills left in the pack. Continue to finish the pack, overlapping the seven-day break. Take your seven-day break and start your new pack as usual.
*There are fewer than seven pills left in the pack. Continue to finish the pack, overlapping the seven-day break. Start the new pack immediately after the old one is finished (missing out the seven-day break completely).
*If you have missed contraceptive pills in the first one to nine days of the pill pack and have had sex without barrier contraception, you could be pregnant. If you have calculated this between one to five days after the unprotected sex, you could use emergency contraception such as the IUD or morning-after pill. If not, continue your contraception until the seven-day break. If you don't have any bleeding, it is advised to take a pregnancy test and/or consult your doctor.
What dosage is Marvelon?
Marvelon contains two active ingredients; desogestrel (progesterone) and ethinylestradiol (oestrogen). This is in quantities of 0.15mg and 30mcg respectively that have been tested and proven to be effective at preventing pregnancy.
What side effects are normally associated with Marvelon?
There are very few people who experience side effects when using Marvelon pills, and it is very well tolerated having been proven so in clinical trials. If side effects do occur, they are usually mild in nature and pass relatively quickly without any treatment, especially at the beginning of the medication.
Some of the most common side effects are:
Mild nausea, vomiting, bloating, breast pain or tenderness
Hirsutism, changes in weight or appetite, changes in sex drive or headaches.
Side effects in general are highly unlikely to occur when taking Marvelon pills, but if they do happen and are consistent then you should contact your doctor or local GP to discuss your condition.
What Marvelon precautions/interactions should I be aware of?
Before taking Marvelon, there are some precautions that must be considered. They include the following:
Marvelon doesn't protect against sexually transmitted infections (STIs). Therefore, condoms are still required if this is a risk.
Women using Marvelon for the first time may experience menstrual irregularities (e.g. missed periods or breakthrough bleeding). If this occurs, you should contact a doctor.
Marvelon pills shouldn't be taken if you are due for a surgery. This is because the risk of blood clots can increase if you are immobile for long periods of time whilst taking Marvelon. This is also the case for long journeys. To prevent this, doctors may recommend that you stop taking the pills for a period of time (around 4 to 6 weeks) before these events.
Marvelon shouldn't be taken by women who are breastfeeding. Marvelon should be avoided until at least six months after birth.
Women with blood clots in the veins or lungs, or any kind of blood infection should not use Marvelon.
It is also recommended that Marvelon should be avoided if you are dealing with angina, heart valve disease, irregular heartbeats, high blood pressure, severe diabetes, high cholesterol, or obesity. This is also the case if you have a history of breast cancer, heart attacks, or strokes.
Women over 50 years of age shouldn't be taking Marvelon, or if they are over 35 years of age, but smoke over 15 cigarettes per day.
Marvelon can be purchased online by most healthy women aged 18 or older. There are however certain instances where you might not be advised to take Marvelon pills.
Therefore, it's advised to mention any medical conditions you have or have experienced, and medications you are currently using during your consultation. Marvelon cannot be taken if you are pregnant, think you are pregnant or if you are breastfeeding. For more information regarding these precautions, please refer to the 'precautions for Marvelon' section below to learn more, before taking this contraceptive pill
Can I buy Marvelon pills online?
You can buy Marvelon 0.15mg / 30mcg tablets from HealthExpress by simply clicking on the link below to start your fast and simple online consultation. Your consultation will be checked over by one of our doctors, who will assess your suitability. If your consultation is approved, you will be able to buy this medication, safely and securely.