What is Melatonin (Circadin)?
Melatonin, also sold by the brand 'Circadin', is a medication prescribed to treat sleeping problems. It is best for short-term cases of sleep problems. It is available at HealthExpress for insomnia and jet lag.
The active ingredient is the hormone of the same name. By increasing levels of melatonin, it naturally aids your sleep-wake cycle.
Please note, that this medication is prescribed off-label for insomnia to those under 55 years old.
What is Melatonin used for?
Melatonin is prescribed for acute sleeping problems. It helps to improve sleep quality and symptoms like daytime sleepiness caused by a lack of sleep.
It can be used to treat primary insomnia. This is insomnia that has no clear cause such as poor sleep habits or a medical condition. It is best for older adults who have naturally lower levels of melatonin.
It is also used for the short-term treatment of jet lag and helps you get accustomed to the timezone of your destination.
There is some evidence that it can treat other forms of insomnia like delayed phase sleep disorder. However, you should not take it for anything else unless you have been told to by a doctor or specialist.
How does Melatonin work?
Melatonin is a hormone produced naturally in the body that induces sleep. It plays a crucial role in your sleep-wake cycle.
Your body has an internal clock. It is one of your circadian rhythms, which are internal processes that run on a 24-hour cycle. These rhythms dictate multiple biological processes and are triggered by environmental factors.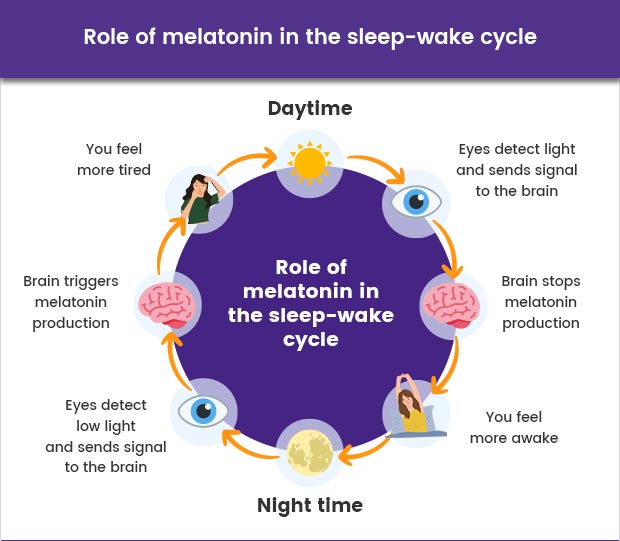 One of these processes is your sleep-wake cycle. It is triggered by light.
When your eyes detect it's dark, it signals the pineal gland in your brain to produce melatonin. This helps you fall asleep. When your eyes detect light, it signals your brain to stop producing melatonin. This makes you feel alert.
What are the benefits of Melatonin tablets?
Prescription Melatonin is an effective short-term sleep aid.
Studies Trusted source PubMed Government Source Database of Biomedical Research Go to source have shown that it increases total sleep time and decreases the time it takes to fall asleep.
It is also a safer drug to take than traditional sleeping pills. There is a low risk of adverse effects like severe drowsiness and addiction.
Which dose should I take?
The dosage of Melatonin you take will depend on the condition you are treating.
The 2mg tablets are prescribed for the treatment of insomnia. They are modified-release tablets, meaning they release melatonin more gradually into the body. You take one 2mg tablet once daily.
The 3mg tablets are prescribed for the treatment of jet lag. They are immediate-release tablets, which means they are more fast-acting. You take one 3mg tablet once daily for up to 5 days.
How do I take Melatonin?
Always follow the advice of your doctor when using any treatment.
Insomnia
For insomnia, take one tablet once daily 1 - 2 hours before bedtime.
If you miss a dose and it's still nighttime, take the dose as soon as possible. Do not take a double dose to make up for a missed dose.
You should not exceed more than one tablet per day. The maximum treatment course is 13 weeks.
If your insomnia hasn't improved after that time, consult your doctor for more options.
Jet lag
For jet lag, take one tablet once daily 1 - 2 hours before bedtime in your destination.
Do not take tablets before 8 pm or after 4 am.
You may increase the dose to 6mg daily. Do not take more than 6mg per day for more than 5 days.
If you still have jet lag symptoms after 5 days, consult your doctor.
What are the possible side effects?
Like all prescription medications, Melatonin can cause side effects. However, most common side effects are mild and go away on their own.
The most commonly reported side effects include:
arthralgia (joint pain)
headaches
increased risk of infection
pain
Serious side effects are rare. If you experience any serious side effects (e.g. chest pain or an allergic reaction) or your side effects don't go away, consult your doctor as soon as possible.
You can find a full list of potential side effects in the patient information leaflet. It is available to download from this webpage or is available in the box with your medication.
Who can take it?
Melatonin is generally well-tolerated by most people. However, some people should ask their doctor before taking it.
This includes if you:
have an intolerance to some sugars
have autoimmune disease
have kidney or liver problems
you are allergic to melatonin or any of the medication's ingredients
If you are pregnant, breastfeeding or thinking about becoming pregnant, please ask your doctor's advice before starting this treatment.
Smoking may also reduce the effects of Melatonin. If you are a heavy smoker, consult your doctor for more information or consider quitting smoking.
Do not take Melatonin if you have ever had an allergic reaction to it or any of the inactive ingredients.
Precautions
Melatonin may cause drowsiness. You should be cautious when driving or operating machinery.
You also must ensure you have a good sleep routine. Avoid taking stimulants like caffeine close to bedtime and eating heavy meals too close to bedtime to see the best effects.
You should also make sure you have an optimal sleep environment. Make sure there are no sleep disturbances (e.g. noise or bright lights).
Does Melatonin interact with other medications?
Melatonin may interact with other medications you take. It may alter the effects of your medication or cause side effects.
You should consult your doctor if you have taken or are taking any of the following:
fluvoxamine (an antidepressant)
psoralens (used to treat psoriasis)
cimetidine (used to treat stomach problems)
carbamazepine (for epilepsy)
hormone replacement therapy (for menopause)
non-steroidal anti-inflammatory medicines (e.g. ibuprofen or naproxen)
certain antibiotics
certain medicines used to treat drug addiction
benzodiazepines (used to treat sleep problems)
medicines that constrict the blood vessels (e.g. blood pressure medicines and nasal decongestants)
certain antidepressants
For a full list of interactions, please refer to the patient information leaflet. If you are not sure whether you take any of these medications, consult your doctor first.
Can I buy Melatonin online?
Prescription melatonin is available online from trusted healthcare providers like HealthExpress.
At HealthExpress, all you have to do is complete a quick online consultation form. This will be reviewed by one of our UK-registered doctors. If approved, a prescription will be issued and it will be delivered as soon as the next day.
Melatonin is not available over-the-counter in the UK. You will need to have a valid prescription to obtain it.