What is Microgynon?
Microgynon (also sold as Microgynon 30) is a combined oral contraceptive that is taken daily to prevent pregnancy. If taken on the first day of your menstrual cycle it provides immediate protection. Each pill contains the two active ingredients; ethinylestradiol and levonorgestrel. These ingredients work to prevent pregnancy in three ways, providing you with reliable contraceptive protection. It is also used to treat endometriosis, premenstrual tension and painful or heavy periods.
What are the additional benefits of Microgynon?
As a combined pill is one of the most reliable contraceptive methods available. It can provide immediate contraceptive protection if taken on the first day of your period, however, it can still be taken two to five days after your period has started, although it may then take seven days for the contraceptive to take effect. Other benefits include:
Prevents the chance of pregnancy after sex by around 99%
Can help to keep your periods regular and lighter
Can reduce the pain you experience before and during menstruation
Some women may also notice that premenstrual symptoms such as mood swings are much less likely to occur
Will it protect me against STIs?
Microgynon pills will not protect you against any sexually transmitted diseases/infections. If you have had unprotected sex and are worried you might have contracted an STI, you should talk to your GP or visit a local sexual health centre.
Alternatively, you can take a look at some of the options available from HealthExpress.
How does Microgynon work?
Microgynon combined pill works in three ways to prevent pregnancy. Firstly, it stops ovulation so that no egg is released. Secondly, it increases the texture of the mucous present in the cervix, which makes it much harder for sperm to enter the womb. The third way in which the contraceptive tablets work is to prevent growth of the lining of the womb, so that it doesn't become thick enough for an egg to settle, in the unlikely event that ovulation does take place.
Without oral contraceptives
With oral contraceptives
Released egg
Fallopian tube
Ovary
Endometrium
(uterus lining)
Cervix
UTERUS
VAGINA
Oestrogen and progestogen can prevent an egg from being released from the ovaries each month most of the time.
Progesterone causes thinning of the endometrium, which prevents implantation of a fertilised egg.
Lastly, progestogen also thickens the mucus in the cervix so sperm is prevented from reaching the egg.
How do I take Microgynon?
For immediate protection, you should start taking your first Microgynon pill on the very first day of your period. However, this is not essential; you will just need to use an additional barrier contraceptive such as condoms for the following seven days before the pill is 99% effective.
Microgynon pills are taken for 21 continual days.
They should be taken at around the same time every day to be fully effective.
This is followed by a seven-day rest period.
You may experience withdrawal bleeding similar to that of your regular period during this time, which is generally lighter and more manageable.
Even though you are not taking your contraceptive during these seven days, you will still be protected.
You can find out more details about using this combined contraceptive in the attached patient information leaflet or by consulting with your doctor.
What should I do about a missed pill?
If you happen to forget to take your Microgynon pill at the usual time then make sure to take is as soon as you can. However, if you have missed it by 24 hours or more, it is recommended to follow these instructions as a guide:
If you have accidentally missed one pill in your blister pack, take it as soon as you can unless it's nearer the time of the next pill. Taking two pills in close proximity is not advised. After this has been done, you can then continue taking the rest of the pack as instructed by your doctor. You will still be 99% effective if you miss only one pill in one month. No barrier contraception is needed.
If you miss two or more pills in one blister pack then you will not be protected against falling pregnant and will need to use protection for the following seven days. Take the last missed pill as soon as you remember unless it's nearer the time of the next pill as stated above for one missed pill.
Use our interactive tool below on what to do if you miss one or multiple pills in one month (menstrual cycle). Simply click to begin.
How many pills have you missed? How late?
One pill

less than


12 hours late
Started a new pill pack

less than

12 hours late
One pill

more than


12 hours late
Started a new pill pack

more than

12 hours late
*Vomiting and diarrhoea experienced within four hours of taking the pill is also classed as a missed pill.
*There are more than seven pills left in the pack. Continue to finish the pack, overlapping the seven-day break. Take your seven-day break and start your new pack as usual.
*There are fewer than seven pills left in the pack. Continue to finish the pack, overlapping the seven-day break. Start the new pack immediately after the old one is finished (missing out the seven-day break completely).
*If you have missed contraceptive pills in the first one to nine days of the pill pack and have had sex without barrier contraception, you could be pregnant. If you have calculated this between one to five days after the unprotected sex, you could use emergency contraception such as the IUD or morning-after pill. If not, continue your contraception until the seven-day break. If you don't have any bleeding, it is advised to take a pregnancy test and/or consult your doctor.
For more information about what to do if you've missed your oral dose for a significant period of time, it's always advised to speak to your doctor or go to the sexual health clinic to speak to a professional. You could also speak to a pharmacist if you're unable to see one of the others.
What dosage is Microgynon 30?
There is one standard dosage for all the pills in the Microgynon blister pack. Each one contains 150 mcg (micrograms) of the progestogen levonorgestrel and 30 mcg of the oestrogen ethinylestradiol. This dosage has been designed specifically to maintain effectiveness, whilst also minimising potential negative reactions.
What is the difference between Microgynon 30 and Microgynon 30 ED?
Whilst both contraceptive pills share the same active ingredients, they do differ in one aspect, and that is the number of pills per strip. A strip for Microgynon 30 ED contains 28 tablets (21 beige and seven white tablets), whilst a strip for Microgynon 30 contains only 21 tablets. The seven white pills in the Microgynon 30 ED strip don't contain any hormones and are used as placebos to help remember the pill.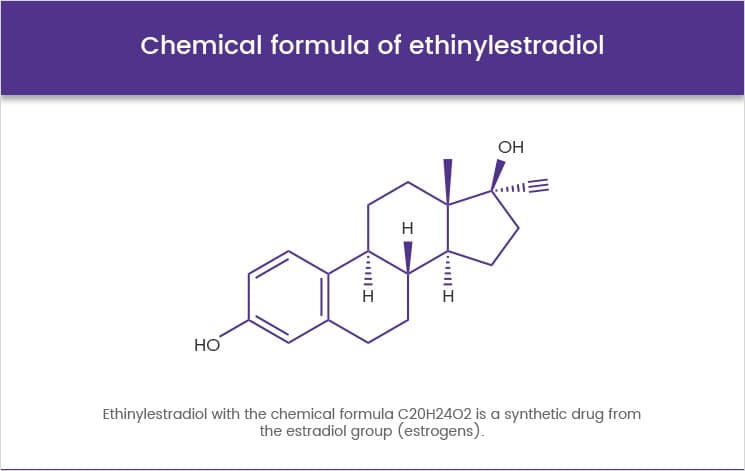 What side effects are associated with Microgynon?
There are side effects associated with combined contraceptive pills, however they tend to be very mild in nature and go away as your body gets used to Microgynon without requiring any specific treatment. The initial trial time for Microgynon is three months.
The most common side effects may include nausea, vomiting, breast tenderness, water retention or change in menstrual bleeding.
Some serious side effects such as circulation issues can occur, but this only affects a very small number of women. It is recommended that you seek medical help if any of the above side effects become bothersome, persistent, or if you experience anything more serious.
Does the pill cause weight gain?
Some pills have high oestrogen content and oestrogen affects body mass, however, reports of weight gain in combined pills such as Microgynon are largely unfounded. Certain contraceptives have also been reported to increase hunger so whilst some pills on their own don't cause you to put on weight, it's important to watch your eating habits as you might not feel full even when you are.
Stopping Microgynon
If you're thinking about coming off this contraceptive pill then it's always advised to speak to your doctor. Some things that you might have initially gone on the pill for to get rid of might come back. These factors include:
Women using Microgynon 30 for the first time may experience side effects such as spotting, breakthrough bleeding or missed periods. You should talk to your doctor if any breakthrough bleeding persists.
You may see a return of acne or bad skin when coming off Microgynon 30.
Some women report a reduction in the size and tenderness of the breasts. Some also report a lessening of sensation in the nipples.
You may see an increased sex drive when coming off this medication.
Mood swings are considered to be fairly common when coming off the pill, however, lots of women don't experience anything at all.
If you are worried about this medications effect on your psychological or mental health, it's always advised to talk to a doctor or other medical professional.
What precautions/interactions should I be aware of with Microgynon?
You can buy Microgynon contraceptive pill online if you are over the age of 18 and if you are looking for a long-term treatment to prevent pregnancy. You should not take this contraception if you are:
Pregnant, think you are pregnant, or if you are breastfeeding
Experiencing unexplained vaginal bleeding
A smoker
Prone to suffering migraines
Have a BMI of more than 35
Struggling with circulation problems, heart problems or stroke
If you are allergic or highly sensitive to synthetic versions of oestrogen and progesterone
During your consultation, you should make sure to mention any medical conditions or illnesses you may have, or have had, to your doctor. Microgynon 30 may not be as effective as you need it to be if taken alongside certain medications, so ensure that you mention any natural, over-the-counter or prescription treatments you are using during your consultation. If you cannot use this treatment, our doctor may prescribe an alternative contraceptive method.
Can I buy Microgynon online?
You can order Microgynon online from HealthExpress after completing an online consultation form. Your answers are used by our doctors to evaluate whether this contraceptive is suitable for you to use. Once approved, your prescription will be sent out to our registered pharmacy and your contraception will be dispatched for overnight delivery.