What is Priligy?
Priligy (dapoxetine hydrochloride) is a prescription medication that has been created for the treatment of premature ejaculation. It belongs to a class of drugs called selective serotonin re-uptake inhibitors (SSRI) and is the only clinically approved PE treatment in the UK. It was originally developed for the treatment of depression, but was re-labelled as a treatment for premature ejaculation when it was discovered that serotonin has a significant impact on the male ejaculatory time.
The active ingredient of Priligy is dapoxetine. This particular ingredient is associated with SSRIs and raises serotonin levels. This in turn raises nerve signal transmissions, which allows the brain to have significantly more control over ejaculation.
Priligy (dapoxetine) is a prescription medication that is easily taken orally when needed. The results of numerous clinical trials have shown that a number of benefits can be experienced from using Priligy tablets. These benefits include:
The success of Priligy can vary from individual to individual, however, the following has been recorded:
Extended sexual performance time of 200-300%
Significant improvement in sexual experience, as more control can be exerted over ejaculation
Greater sense of satisfaction after sexual intercourse
Increase in intra-vaginal ejaculatory latency time
Possible improvement in sexual confidence
Possible improvement in your partner's sexual confidence
Stress and anxiety can be avoided by treating the condition sooner, rather than later
Better long-term sex life
How does Priligy work?
Priligy is part of a family of medicines that are called Selective Serotonin Re-uptake Inhibitors (SSRIs). These selectively inhibit the re-uptake of serotonin in your neural cells. To enable you to ejaculate, a reflex must be passed from your brain to your sympathetic nervous system.
The action of the serotonin re-uptake stops the ejaculatory expulsion reflex from reaching your brain quickly, which would normally cause premature ejaculation to happen. By preventing this action, this medication provides user and increased control over their ejaculation increasing the duration of intercourse anywhere up to 300% more than normal.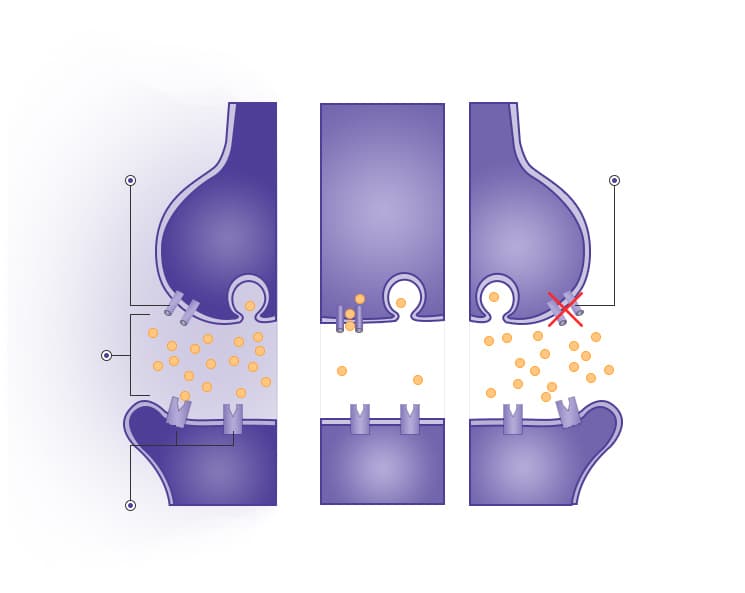 Men without premature ejaculation
Men with premature ejaculation
Men with premature ejaculation treated with Priligy ©
Priligy © blocks the serotonin reuptake and increases synaptic serotonin levels
Pre-synaptic terminal
Post-synaptic terminal
Serotonin receptors (5-HT2c)
Post-synaptic terminal
Synapse
Pre-synaptic terminal
Serotonin reuptake receptors
serotonin
How do I take Priligy?
Priligy capsules are really easy to take, and have proven to be highly effective.
One Priligy capsule is to be taken one to three hours before sex, with or without food.
You should not take more than one capsule per day.
If you do exceed one tablet a day then contact a medical professional as soon as possible whilst keeping an eye on any symptoms that may appear.
What dosages are available?
Priligy dapoxetine pills come in two different strengths of 30mg and 60mg. A doctor will usually prescribe you 30mg as this is the most effective dose with maximum effectiveness and minimum side effects. However, if your condition does not improve after taking this strength dosage, you may be prescribed the stronger dosage of 60mg. You can safely take dapoxetine if you are over the age of 18, but it is not advised that you take Priligy tablets if you are over the age of 64.
What precautions/interactions should I be aware of?
Before you buy Priligy tablets, there are some precautions to be aware of. You should not take Priligy dapoxetine tablets with alcohol, as this may increase the effect that alcohol has on your body. It may also increase your risk of experiencing other side effects. You should always inform your doctor if you are currently taking any medication (prescription or complimentary) before taking Priligy, as this may cause you to have an adverse reaction to the medication.
What are the side effects associated with Priligy?
In clinical tests, most men tolerated dapoxetine extremely well, and any side effects were relatively transient. As a prescription treatment though, Priligy can potentially cause a small number of side effects, which are generally mild to moderate in nature, if they even occur at all.
If you use Priligy tablets for a prolonged period, you may experience:
Headaches
Nausea
Diarrhoea
Dizziness
You should never exceed the recommended dosage of Priligy, in order to avoid any preventable side effects. If side effects persist, it is recommended that you speak to a doctor or your local GP.
Can I buy Priligy online?
HealthExpress provides a free, quick and confidential consultation for Priligy that is essential for our doctor to assess whether you are able to use this treatment with maximum effect. Once you've completed the form online, it will be sent to one of our doctors, who will determine whether Priligy is safe for you to use. You will then receive a notification via email or text and you'll be able to log on and buy Priligy. But why buy online?
Ordering Priligy online has become a popular option for many men as it offers various benefits as well as discretion. These include:
No inconvenient face-to-face appointments
Fast next day delivery
No wait times for appointments and prescriptions
After you've placed your order with us, your prescription will be sent to our UK registered pharmacy, which will dispense and dispatch Priligy for free next day delivery. If you have any questions about this treatment, any of our other treatments, or would like to know more about how we work, you can contact our Customer Service Team anytime.