What is Rabeprazole?
Rabeprazole is a medication that reduces the amount of acid produced in your stomach. It is used as an effective treatment for acid reflux, otherwise known as gastro-oesophagus reflux disease (GORD), and related conditions.
The symptoms of acid reflux can also be combated with Rabeprazole, including heartburn, indigestion and unpleasant tastes and sensations in the throat and mouth.
How does Rabeprazole work?
Rabeprazole belongs to a class of medications called 'proton-pump inhibitors'. As their name suggests, these drugs stop proton-pumps from doing their job. Proton-pumps are sections of stomach cell membranes that control the production of acid.
It is normal for your stomach to produce acid, to aid with digestion. But too much can cause health issues. By inhibiting proton-pumps, Rabeprazole moderates how much acid can build up. With less acid, you will suffer less from symptoms such as heartburn, and there will be more opportunity for your stomach and intestine to recover from damage and infection.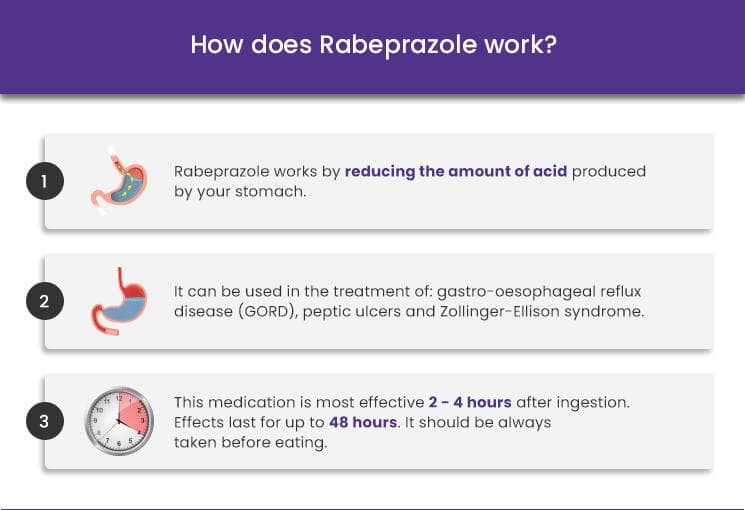 How do I use it?
You should always take medication as advised by your doctor and in the patient leaflet.
Rabeprazole will be prescribed as one of two doses: 10mg or 20mg. Your doctor will decide which of these is most suitable for you, depending on your condition and medical history.
A course will generally last 4-8 weeks, again depending on the condition and your symptoms.
It is possible to take this treatment on a long-term basis, assuming you are not suffering from oesophagitis (inflammation of the oesophagus).
Full instructions will be in your patient leaflet. However, a summary is below:
1 or 2 tablets should be taken daily (according to the doctor's advice)
swallow tablets with water
do not chew, crush or break the tablet
tablets can be taken with food or on an empty stomach
if you forget to take a dose at your usual time, you should take it as soon as you remember (but not if it is near you next dose)
do not take two doses at once to make up for a forgotten dose
What are the possible side effects?
Common side effects of Rabeprazole include:
flatulence
headache
abdomen pain
sore throat
constipation
diarrhea
stomach and intestinal infections
Most people should not experience any side effects while taking this medication. If you find any of the above become serious or long-lasting, you should stop treatment and inform your doctor.
You should also stop treatment, and seek immediate medical help if you suspect that you are suffering an allergic reaction.
What precautions should I take?
This medicine is only available with a valid prescription from your doctor. You must not share it, and it should only be used to treat a diagnosed condition.
It is important to inform your doctor, and ours via the online consultation, of all medications you are taking. This is so that they can ensure there will be no adverse interactions.
Rabeprazole is not advised if you have osteoporosis. It can increase the likelihood of fractures, especially if it is used long-term.
If you are pregnant, planning a pregnancy or a nursing mother, you should consult your doctor before starting this treatment.
You should not take Rabeprazole if you are allergic to any of the ingredients - these can be found listed in the patient leaflet.
How does HealthExpress' service work?
You can buy Rabeprazole online from Healthexpress once you have completed a consultation. This does not take long at all and asks for your medical history. Please note, It is completely confidential. Our doctors will then use this information to determine whether this medication is suitable for your use.
We offer free next-day delivery and nominated-day delivery, so you can choose when and where you want your order delivered.