What is Sumatriptan (Imigran)?
Sumatriptan, often sold under the brand name Imigran, is a medication used to treat acute migraines. You should only take this treatment if you have been diagnosed with migraines by a medical professional. If you have been diagnosed, you are likely to have experienced repeated episodes of the condition over several years.
Sumatriptan helps to alleviate symptoms associated with the headache stage of the condition (also known as the 'main attack stage'), which involves a painful throbbing headache and nausea.
Please note, this medication is not preventative. You should only take it to deal with ongoing symptoms. Do not take it on a regular basis to prevent attacks.
Sumatriptan is available in the form of both tablets and a nasal spray, which both work to effectively combat symptoms.
How does it work?
The precise cause of migraines is unknown. Your brain does not possess pain receptors; rather, it processes pain signals from other areas of the body. However, serotonin (a chemical found in the brain) is believed to play an important role.
Both the tablets and the Imigran nasal spray contain the same active ingredient: Sumatriptan, a serotonin (5-HT1) agonist that works on serotonin receptors in your brain's blood vessels. These types of medications are more commonly known as 'triptans', alongside zolmitriptan, naratriptan and rizatriptan.
Sumatriptan targets the brain's blood vessels as medical research suggests that migraines are caused by these blood vessels widening. The tablets therefore help them to return to their normal size, alleviating symptoms. They also prevent pain signals from reaching your brain.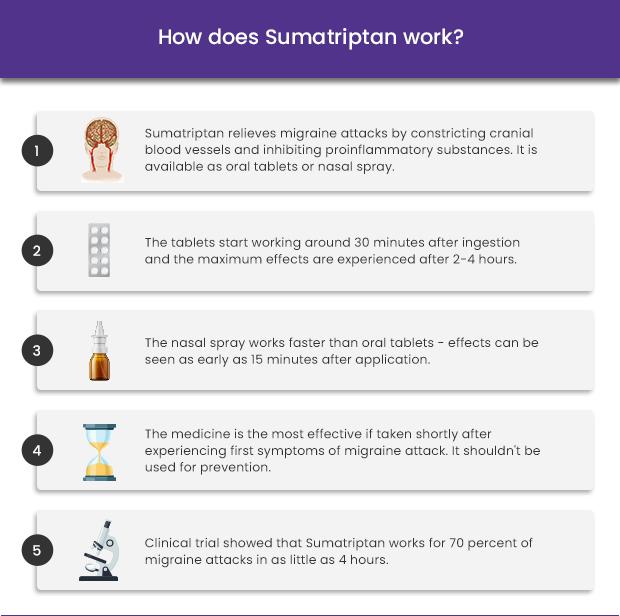 How do I use Sumatriptan?
Do not use Sumatriptan to prevent an attack - only to alleviate migraine symptoms.
When taking any medication, you should follow the advice of your doctor as well as the guidelines listed in the patient information leaflet.
Painkillers are also safe to use alongside Sumatriptan, provided you have not experienced adverse reactions to these in the past.
Tablets
Sumatriptan is available in two doses; 50mg and 100mg. Your doctor will most likely prescribe the 50mg dosage to start with and, depending on how you respond, may increase this to the 100mg dosage.
Instructions for taking Sumatriptan are as follows:
take one tablet as soon as a migraine begins
swallow the tablet whole with a sip of water
tablets can be taken with or without food
do not exceed the maximum dosage of 300mg within 24 hours
avoid taking a second tablet but you can take a second tablet if the migraine returns (after a minimum of two hours)
contact your doctor immediately if you take too many tablets in a single sitting, or exceed the daily recommended dose
Nasal spray
The typical dosage of the Imigran nasal spray is 20mg, sprayed once into one nostril. You should not spray twice nor spray once in both nostrils. If you use more Imigran than you should, you seek immediate medical advice.
Below is a summary of how to use the spray, however a full step-by-step guide with diagrams is available and can be found in the patient information leaflet.
Remove the nasal spray from the blister packaging just before you intend to use it
Get into a comfortable position, either sitting or standing
Blow your nose if you feel like its blocked or you have a cold
Hold the finger grip on the nasal spray gently with your fingers and thumb, do not press the plunger yet
Block one nostril by pressing a finger firmly on the side of our nose, doesn't matter which nostril you choose
Then put the nozzle of the nasal spray into the other nostril as far as it feels comfortable, about 1cm in
Start to breathe in gently through your nose and as you breathe in, press the blue plunger firmly with your thumb
Remove the nozzle and your other finger from your nose then keep your head upright for 10-20 seconds. Make sure to breathe gently into your nose and out through your mouth to make sure the medication stays in your nose.
Safely and hygienically discard the empty nasal spray
Your nose may feel wet and you may have a strange taste in your mouth for a short while after using the spray. This is normal, and should pass soon after administering the spray.
What are the possible side effects?
All prescription medication poses a risk of side effects. Commonly reported side effects of Sumatriptan include:
dizziness
drowsiness
sensory disturbances (such as hypoaesthesia or paraesthesia)
nausea/vomiting
a feeling of heaviness (most often in your chest or throat)
muscle ache (myalgia)
tiredness (fatigue)
hot/cold sensations
Some of these side effects may also be symptoms of the migraine itself.
You should inform your doctor if you experience any of these for a prolonged period. For a comprehensive list of side effects, please consult the patient leaflet.
If you believe you are suffering an allergic reaction, please seek immediate medical attention. Symptoms include difficulty breathing, swelling of the face, throat and tongue and skin reactions.
Rebound headaches
Taking 'triptans' regularly can sometimes cause headaches, a phenomenon known as medication overuse headache (MOH) or rebound headaches. If you take 'triptans' more than 10 days each month, you may be more at risk of rebound headaches and may benefit from specific treatment.
What precautions should I take?
You should have first been prescribed Sumatriptan by your regular doctor, before ordering online. This is so that they can assess your reaction to it, and confirm it has the desired effects.
Women who are pregnant or breastfeeding should consult their doctor before taking Sumatriptan. Traces of Sumatriptan has been found in breast milk, whilst not known to be harmful, you should always consult your doctor just in case.
In addition, if you are aged over 65, you should only use this medication when advised to by a medical professional.
Do not use Sumatriptan if you have:
had a heart attack or stroke
angina or an irregular heartbeat
poor circulation
high blood pressure (uncontrolled)
significant issues with your liver
are allergic to any of the ingredients
If you are prone to any of the following types of migraine, you should also not use Sumatriptan:
ophthalmoplegic migraine
hemiplegic migraine
basilar migraine
Similarly, avoid Sumatriptan or Imigran if you have taken other migraine medications such as zolmitriptan recently.
You should avoid driving or operating heavy machinery if you experience drowsiness as a result of taking Sumatriptan.
Do not take Sumatriptan if you have also had a monoamine oxidase inhibitor medicine (MAOI) within the past two weeks. These might include:
antidepressants (phenelzine, isocarboxazid or tranylcypromine)
antibiotics (linezolid)
medication for Parkinson's disease (selegiline)
In rare cases, Sumatriptan can cause serotonin syndrome when taken alongside medications that increase the activity of serotonin. These include SSRIs, SNRIs, lithium, tramadol, dapoxetine and St John's Wort.
How do I buy Sumatriptan (Imigran) online?
Sumatriptan tablets and Imigran nasal spray are available to purchase online here at HealthExpress, provided you have been formally diagnosed with migraines. All you have to do is complete a medical questionnaire that will be reviewed by one of our registered doctors. Once they find you are suitable for treatment, your medication will be dispensed and dispatched with free next-day delivery.