What is Sumatriptan?
Sumatriptan is a medication used to treat acute migraines. You should only take this treatment if a diagnosis of migraines has first been made by a medical professional. If you have been diagnosed, you are likely to have experienced repeated episodes of the condition over several years.
Sumatriptan helps to alleviate symptoms associated with the headache stage of the condition (also known as the 'attack'), such as a painful throbbing headache, nausea and visual disturbances.
Please note, this medication is not preventative. You should only take it to deal with ongoing symptoms. Do not take it on a regular basis to prevent attacks.
How does it work?
The precise cause of migraines is unknown. Your brain does not possess pain receptors; rather, it processes pain signals from other areas of the body. However, serotonin (a chemical found in the brain) is believed to play an important role.
Sumatriptan is a serotonin (5-HT1) agonist that works on serotonin receptors on your brain's blood vessels.
Medical research suggests that migraines are caused by these blood vessels widening. The tablets help them to return to their normal size, alleviating symptoms. They also prevent pain signals from reaching your brain.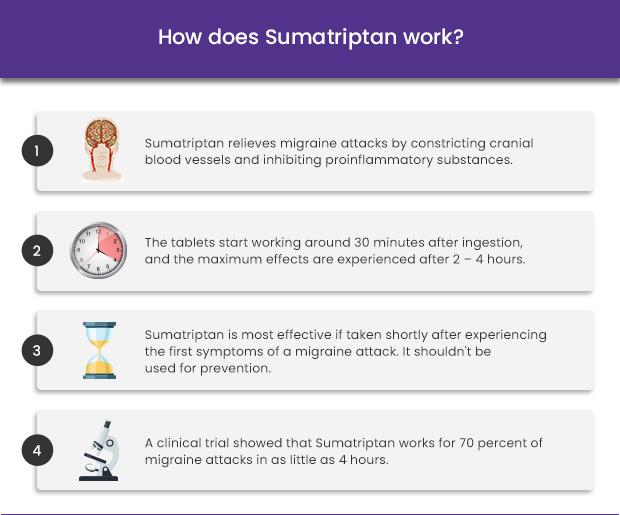 How do I use Sumatriptan?
Do not use Sumatriptan to prevent an attack - only to alleviate migraine symptoms.
When taking any medication, you should follow the advice of your doctor as well as the guidelines listed in the patient leaflet. Instructions for taking Sumatriptan are as follows:
take one tablet as soon as a migraine begins
swallow the tablet whole with a sip of water
tablets can be taken with or without food
50mg is the recommended dose, though you may be prescribed 100mg.
do not exceed the maximum dosage of 300mg within 24 hours
avoid taking a second tablet if the first does not effectively alleviate your migraine
you can take a second tablet if the migraine returns (after a minimum of two hours)
contact your doctor immediately if you take too many tablets in a single sitting, or exceed the daily recommended dose
Painkillers are also safe to use alongside Sumatriptan, provided you have not experienced adverse reactions to these in the past.
If you take more tablets than prescribed, please seek medical attention.
What dosages are available?
Sumatriptan is available in two dosages; 50mg and 100mg. Your doctor will most likely prescribe the 50mg dosage to start and, depending on how you respond, may increase this to the 100mg dosage.
These tablets are generally referred to by the name of their active ingredient. However, some brand medications also contain Sumatriptan in smaller quantities.
What are the possible side effects?
All prescription medication poses a risk of side effects. Commonly reported side effects of Sumatriptan include:
dizziness
drowsiness
sensory disturbances (such as hypoaesthesia or paraesthesia)
nausea/vomiting
a feeling of heaviness (most often in your chest or throat)
myalgia
fatigue
hot/cold sensations
vomiting
You should inform your doctor if you experience any of these for a protracted period. For a detailed list of side effects, please consult the patient leaflet.
If you believe you are suffering an allergic reaction, please seek immediate medical attention. Symptoms include difficulty breathing, swelling of the face, throat and tongue and skin reactions.
What precautions should I take?
You should have first been prescribed Sumatriptan by your regular doctor, before ordering online. This is so that they can assess your reaction to it, and confirm it has the desired effects.
Children, adolescents and pregnant/nursing women should not take Sumatriptan. If you fall into any of these categories, please consult your doctor for different treatment options.
If you are aged over 65, you should only use this medication when advised to by a medical professional.
Do not use Sumatriptan if you have:
had a heart attack or stroke
angina or an irregular heartbeat
poor circulation
high blood pressure (uncontrolled)
significant issues with your liver
are allergic to any of the ingredients
If you are prone to any of the following types of migraine, you should also not use Sumatriptan:
ophthalmoplegic migraine
hemiplegic migraine
basilar migraine
Similarly, avoid these tablets if you have taken other migraine medication or medications containing triptan recently.
You should avoid driving or operating heavy machinery if you experience drowsiness as a result of taking Sumatriptan.
Do not take Sumatriptan if you have also had a monoamine oxidase inhibitor medicine (MAOI) within the past two weeks. These might include:
antidepressants (phenelzine, isocarboxazid or tranylcypromine)
antibiotics (linezolid)
medication for Parkinson's disease (selegiline)
In rare cases, Sumatriptan can cause serotonin syndrome when taken alongside medications that increase the activity of serotonin. These include SSRIs, SNRIs, lithium, tramadol, dapoxetine and St John's wort.
Can I buy Sumatriptan online?
To buy Sumatriptan online, along with all other prescription treatments, you must first complete a medical consultation. This is a legal requirement and gives our doctors the opportunity to review your medical history to determine if the selected treatment is safe for your use.
As mentioned above, you must first have been prescribed this treatment by your regular doctor.
Once our doctors have approved of your order, we will dispatch with free next-day delivery.