What is Trimovate?
Trimovate is a topical medication, available as a cream or ointment, that treats several skin conditions with additional bacterial or fungal infection. It is most commonly prescribed for:*
eczema (atopic, seborrhoeic & contact dermatitis)
nappy rash
intertrigo
impetigo
anogenital pruritus
Currently, HealthExpress only offers a prescription for the treatment of eczema and psoriasis. You should consult your regular doctor if you need treatment for other conditions.
Trimovate is especially effective due to the fact it has three active substances. Its triple-action effect allows it to ease inflammation and fight both fungal and bacterial infections. When used correctly, you will find Trimovate reduces uncomfortable symptoms, like itching and burning sensations, whilst preventing the further spread of infection.
*If you suffer from one of the above conditions but do not have an infection, you should use a different product. Your doctor can recommend one if you are unsure.
How does Trimovate work?
Trimovate contains the active ingredients clobetasone butyrate, calcium oxytetracycline and nystatin. Each of these has a unique effect:
Clobetasone butyrate is a corticosteroid. Corticosteroids are naturally occurring hormones produced in your adrenal glands. They suppress an overactive immune system and reduce inflammation.
Calcium oxytetracycline is an antibiotic. It works by targeting bacterial infections, preventing bacterial cells from reproducing. Your body can then fight off the infection more effectively.
Nystatin is an antifungal. Antifungals work in a similar way to an antibiotic, except that they target fungal and yeast infections. Nystatin forces holes in the cell membrane (walls) of fungus, killing it.
Eczema & psoriasis
An overactive immune system causes both eczema and psoriasis. If you have either of these conditions, your skin becomes inflamed when exposed to irritants and triggers. In the case of psoriasis, the body overproduces skin cells in patches.
On top of this, both conditions can increase the chance of contracting a fungal or bacterial infection. Cracked and damaged skin makes for a perfect entry point for germs.
Trimovate treats both the underlying inflammation as well as the infections that may be making symptoms worse.
How do I use it?
You should always follow the advice of your doctor or pharmacist when taking any medication.
Please see a short summary of how to take Trimovate below (full instructions are in the patient leaflet):
wash and dry your hands before and after applying cream
if someone else is applying the cream, they should wear gloves
apply a thin layer to the affected area(s) and gently rub into the skin until it has all disappeared (consult the graphic below for amounts)
you should apply the cream once or twice a day
avoid wearing tight clothing over areas of skin where you are applying treatment
if you forget a dose, do not apply extra - this will increase the likelihood of side effects
only apply cream to your face if instructed to do so by a doctor - avoid getting it in your eyes
Below is a graphic that describes the correct amount of cream to apply to each body part. One unit of cream is from the tip of your index finger to the first joint. If you are still unsure how much to apply, please consult a healthcare professional.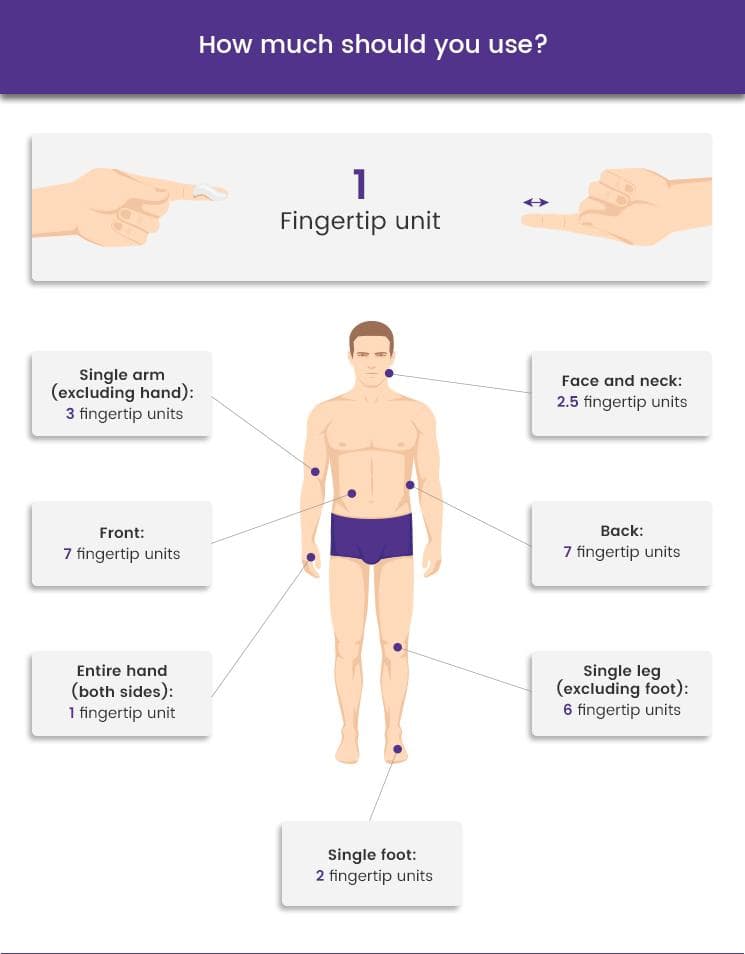 What are the possible side effects of Trimovate?
All medications can cause side effects. You should not be concerned if you experience minor reactions, however, you should report them to your doctor. If you experience anything that is distressing, stop treatment and seek immediate medical attention.
As a topical corticosteroid, the most common side effect of Trimovate is skin reactions, including telangiectasia (spider veins).
If steroid creams are used for a prolonged period (longer than recommended) or under airtight clothing, you may experience the following symptoms:
weight gain
moon face/rounding of the face
skin thinning skin depigmentation
increased body hair (hirsutism)
If your condition does not improve after 7 days of use or worsens, you should stop treatment and contact your doctor.
Who can use it?
Do not use this product if you are allergic to any of its ingredients. A full list can be found in the patient information leaflet that is included with your order (and is available as a PDF on the right of this page).
Not all skin conditions have the same cause. You should only use Trimovate as instructed by your doctor. Do not use it to treat:
Trimovate will not work against all infections and may even aggravate some.
What precautions should I take?
You should tell your doctor if you are taking any other medications before starting treatment with Trimovate. You should also tell them if you suffer from any other health issues. This is so that they can rule out any possible interactions. For example, certain medicines will make Trimovate less effective (e.g. ritonavir and itraconazole).
If you are pregnant, trying for a child or breastfeeding, you should consult with your doctor before starting this treatment.
Do not go near fire or naked flames when using this product. It is very flammable, and the residue can remain on your clothes.
Certain ingredients in Trimovate (e.g. cetostearyl alcohol) may cause local skin reactions. Make sure to read the patient leaflet before use.
If you are applying cream to your face, be careful not to get it in your eyes. If you do, wash out with water.
Please note - this product can cause a sensitivity to sunlight. Wear sunscreen when outside and avoid sunlamps.
Can I buy Trimovate online?
You can buy Trimovate online from HealthExpress. We ask that you first complete an online consultation. You will be asked several questions about the medications you are taking, conditions you suffer from, and current symptoms you are exhibiting. The information you include will not be shared with any third-parties (except your GP when legally and medically required).
One of our doctors will review your consultation. If they are happy with your answers, they will issue a prescription to our in-house pharmacy. Your order will then be dispatched with a next-day-delivery service. If you order before our cut-off time, you can expect to receive your order the following day.
Our service is authorised and regulated by the Care Quality Commission (CQC), and all our doctors and pharmacists are registered with the General Pharmaceutical Council (GPhC). Certificates can be viewed in the footer of this page.