What is Vaniqa?
Vaniqa (eflornithine) is a popular and effective prescription medication that is used as a treatment for reducing excess female facial hair. This treatment comes in the form of a topical cream, which is applied to the affected facial area to effectively reduce the amount of excess hair and minimise the visibility of the facial hair growth. Vaniqa contains the active ingredient eflornithine, and usually shows visible results within four to six weeks.
How does Vaniqa cream work?
The active ingredient contained in Vaniqa, eflornithine, affects an enzyme called ornithine decarboxylase in order to treat facial hirsutism. Ornithine decarboxylase is present in the hair follicles and is necessary for them to grow. By blocking the action of this enzyme, the eflornithine is able to significantly reduce and slow the growth of new hair.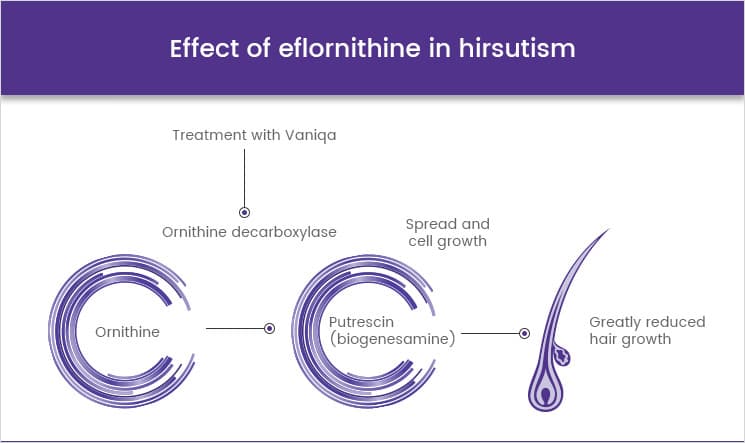 It can take time for the treatment to take effect and it's therefore recommended that you continue using it for at least eight weeks. If you do not see any improvement after four months, you should speak to your doctor. Each tube has enough to last for four to six weeks of treatment.
What are the benefits of Vaniqa?
Vaniqa is clinically proven to reduce the growth of excessive facial hair in women, with results visible within two months. A particular benefit of this hair removal medication is the fact that it comes in the form of a cream, meaning it is very easy to apply it directly to the affected area.
Many women choose this treatment option as it is a far less expensive than a medical procedure such as electrolysis, and is considered to be very safe with a low risk of side effects. The treatment is dispensed in a tube, which contains a four- to six-week supply of the cream.
Vaniqa cream is especially useful for women who menopausal or postmenopausal. As the hormones start to shift during this period, it is more likely that women who are more sensitive to the hormones that promote facial hair growth, will experience an increase in it. It is thus very effective at reducing the appearance of facial hair in women, especially those experiencing menopause.
How do I use Vaniqa cream?
Vaniqa should be applied directly to the affected area on the face, whether on the chin, cheeks, or above the lips, in a thin layer twice per day. You should leave a gap of a minimum of eight hours between applications and make sure the application site is clean and dry. If you notice some irritation at the point of application, such as some mild stinging or burning, you should reduce the number of applications to once per day. If this does lead to improvement, you should contact your doctor for further advice.
It is important to continue taking the cream as indicated in the instructions, and you should see positive results within eight weeks. If you have been using Vaniqa for four months and have not seen an improvement, you should contact your doctor, as they might be able to recommend an alternative form of treatment.
You should wait for at least five minutes before applying sunscreen or makeup to the face. Wash your hands thoroughly after you have applied the cream.
It's also important to remember that this female facial hair reduction cream is only for external use on the face and should not be used on the arms or legs.
What dosages are available with Vaniqa?
At HealthExpress, we provide the standard 11.5% eflornithine Vaniqa cream in a 60g tube. These quantities have been specifically designed by the manufacturer in order to maximise efficacy whilst simultaneously minimising potential side effects as much as possible.
Are there any side effects of Vaniqa cream?
Like any prescription medication, there is a very small chance that the Vaniqa facial hair reduction cream could cause some very mild side effects. These should not cause you any more bother than a mild irritation and should not cause any adverse health complications or last for very long.
The most common side effect is acne, however, you could also experience some irritation on the face, ingrown hairs, dry skin, cold sores and changes in skin pigmentation, among others. If you are concerned about any negative reaction you are experiencing, you should discuss them with your doctor.
| More common | Less common | Rare |
| --- | --- | --- |
| Acne (very common) | Ingrown hair | Skin tightness |
| Dry skin | Swelling | Cysts |
| Itching | Dermatitis | Blistering |
| Rash | Numb lips | Worsening of hair growth |
What are the precautions/interactions to be aware of with Vaniqa?
It is available for use by most women suffering from hirsutism although there are certain limitations that may prevent use. These include:
Women under the age of 18 should not use Vaniqa cream
Women with decreased kidney or liver function
Women who are currently pregnant or breastfeeding
For further information about the side effects, precautions and interactions of the cream, please refer to the patient information leaflet. This can be found included with your medication, as well as available for download at the bottom of this page. Men are not prescribed to use this treatment although it has not be documented to have any negative effects.
How do I buy Vaniqa online safely?
Vaniqa female facial hair reduction cream is available to buy online at HealthExpress. We offer a simple and secure ordering process, which begins with a brief online consultation. This allows one of our doctors to assess whether this medication is suitable for you to use. Once this has been verified, you will be issued with a prescription, which will then be filled and dispensed by our pharmacy. We offer a next day delivery service, so you can ensure you will receive your treatment as soon as possible.