What is Ventolin?
Ventolin, also known as salbutamol or albuterol, is a 'reliever', which means that it is used in instances where an attack has already started or is about to start. Ventolin relaxes the airways and is used for the relief of bronchospasms in conditions such as asthma and chronic obstructive pulmonary disease. Ventolin can be used by both men and women with asthma.
How does Ventolin work?
The Ventolin inhaler is available in two forms, as an Accuhaler and as an Evohaler. Both types of inhaler are extremely effective in providing relief from an attack, although they may do this in slightly different ways. The plastic Accuhaler contains a 60-blister strip, each blister containing a 200mcg combination of microfine salbutamol and lactose. The pressurised Evohaler device delivers 100mcg of salbutamol in a dose, and can act within just five minutes to provide effective relief.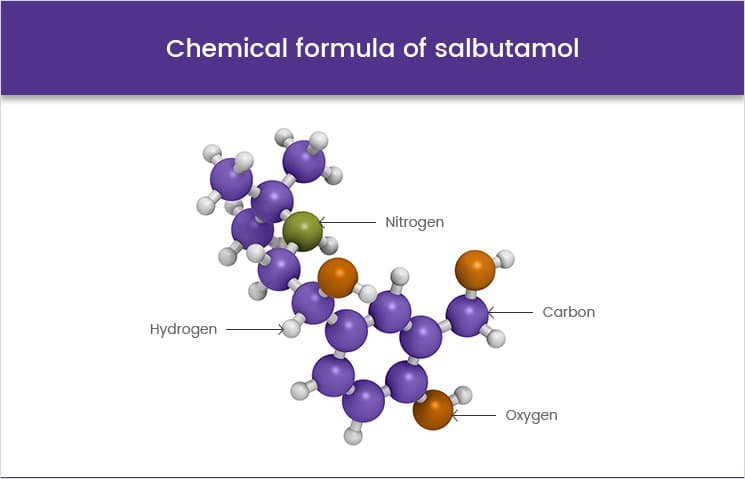 During an asthma attack, the bronchiole becomes obstructed in response to a particular irritant, and this is known as bronchospasm. Ventolin works as a beta-adrenergic receptor agonist, which means that it stimulates beta receptors around the body, in particular, those around the airways. Stimulating beta receptors in this area causes muscles to relax, and allows more air to pass through to ease breathing. Salbutamol also has the ability to help with inflammation of cells prompted by an allergic reaction.
What are the benefits of Ventolin?
Ventolin inhalers come with a number of benefits that you can experience. These include:
This treatment can be used to provide relief from the symptoms of an asthma attack, therefore promoting almost immediate relief from wheezing, tightness and shortness of breath.
In serious cases, Ventolin inhalers can be used alongside preventative treatments to reduce inflammation and mucous production.
Ventolin evohaler contains a propellant called HFA-134a, which means it's less harmful to the environment than older inhalers.
Ventolin inhalers can be used to prevent asthma brought on as a result of exercise (exercise-induced bronchospasm).
Controlling the symptoms of asthma by using Ventolin inhalers can decrease time lost from work or school.
Asthma symptoms can be relieved after just one or two puffs from the inhaler.
Who can use Ventolin?
Most asthmatic people can safely use Ventolin (albuterol), during a reaction or to ward off an impending asthma attack. However, if you are allergic to the active ingredient in the Ventolin inhalers, salbutamol or lactose in the case of the Accuhaler, alternative treatments should be used.
Make sure that you inform your doctor if you have diabetes, heart disease, hyperthyroidism, arrhythmias, if you are pregnant or if you have any other medical condition or are taking any other medications.
Because the way in which you take both the Ventolin Accuhaler and the Evohaler doses, you may prefer one type of inhaler over the other, if you find that you have difficulty using a certain type of inhaler.
How do I use Ventolin?
You can buy Ventolin inhalers on HealthExpress in a dosage of 100mcg and 200mcg. For environmental reasons they are now propelled by HFA making the inhalers safe for use. How you should use your Ventolin inhaler will depend on the severity of your condition, the medications you are currently using and whether you are using it as a preventative treatment or for relief. Generally, as a relief treatment it is recommended that you take two puffs of the Evohaler as and when it is needed to deal with an attack, or one puff of the Accuhaler.
The maximum dose during a 24-hour period is eight puffs. Please ensure that you read through the patient leaflet before using your Ventolin inhaler.
Take the cap off the inhaler mouthpiece and hold the inhaler upright. Shake the inhaler vigorously up and down.
Remove the mouth piece
Breathe out normally as far as you comfortably can
Hold the mouthpiece between your lips.
At the same time as you first start to breathe in, press the top with your finger to spray the medicine.
Remove the inhaler from your mouth and hold your breath for up to 10 seconds and breathe out slowly.
If you need more than one dose, start again from step 3.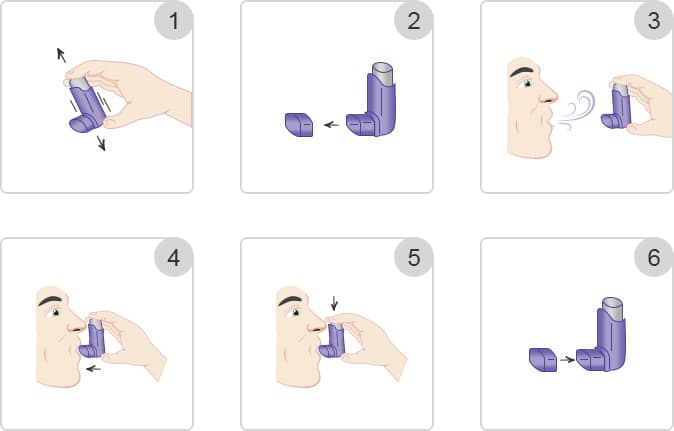 How to use the Ventolin Accuhaler
Step 1. Open

Holding your Accuhaler in one hand (as shown), place the thumb of your other hand on the slider grip.
Open your Accuhaler by pushing the thumb grip right around until it clicks.
The mouthpiece should now be fully visible (see photo in step 2).

Step 2. Slide

You'll also see the lever.
Hold the mouthpiece towards you and push the lever away from you until it stops.
The number in the dose-counter window will be reduced by one.

Step 3. Breathing out

Breathe out as much as possible.

Step 4. Inhale

Put the mouthpiece to your lips.
Breathe in steadily through your Accuhaler (not through your nose).
Remove your Accuhaler and hold your breath for about 10 seconds.
Breathe out slowly.
Rinse your mouth with water after using your Accuhaler.

Step 5. Close

Close your Accuhaler by sliding the thumb grip back to the original position.
This makes your Accuhaler ready to use again next time.
The dose counter on the top of the Accuhaler shows how may doses are left to use.

Step 6. Rinse

After use, rinse mouth with water.
This will reduce the chances of any irritations.
What are the side effects of Ventolin?
Usually Ventolin inhalers aren't likely to cause side effects, but as with most prescription medication there is still a possibility of this occurring. Some of the most common side effects experienced by users aren't likely to be serious and include:
Throat irritation
Palpitations
Tremours
Cough
Muscle pain
If you do experience these symptoms they should clear up with regular use of the medication. If symptoms still persist then ensure you seek further help from your doctor.
What precautions should be taken with Ventolin?
There are a number of precautions that should be carefully considered before using a Ventolin HFA inhaler. These can be found below:
If you are allergic to any of the ingredients found within Ventolin, you should refrain from using it.
Before using Ventolin, you should talk to your doctor if you have a history of heart problems, have high blood pressure, or if you have an over-active thyroid gland.
You should also avoid using Ventolin if you are taking xanthine derivatives (such as theophylline) or steroids to treat asthma. This is also the case if you are using water tablets (diuretics).
When using Ventolin inhalers, you should also speak to a doctor if you are currently taking medicines for an irregular or fast heartbeat, or other medicines for your asthma.
You should talk to a doctor if you are considering using a Ventolin inhaler during pregnancy or whilst breastfeeding.
How can I buy Ventolin online?
It is possible to buy Ventolin inhalers online after completing our free online consultation. Take advantage of the following benefits as a HealthExpress patient:
Fast, free delivery - Have your order approved before 4.30pm and receive your treatment the next day.
Quick process - Easy online consultation with free mobile app and reordeirng process.
Free online consultation service with our doctor.
Only proven and high quality prescription medication is available and approved by the National Pharmacy Association.
All-inclusive confidential service - get your Ventolin delivered to any address with discretion.
Can I buy Ventolin without a prescription?
Ventolin is a prescription only medication, like all asthma treatment. This means you need to have a consultation to ensure Ventolin is safe and effective for you to use. This applies for consultation in-person or when buying Ventolin online.
Is it safe to buy Ventolin online?
Obtaining asthma treatment online can save you time and energy, however, you must ensure the website you are using is credible. At HealthExpress we only supply prescription medications that require a consultation reviewed by a doctor registered in the UK. Our doctor individually reviews every consultation to ensure the medication, quantity, and dosage is safe for you to use. Our Ventolin inhalers are then packaged in our UK based pharmacy. Only your name and address is present on our delivery to ensure secrecy.
To ensure that the online pharmacy you are using is reputable and safe, the relevant and mandatory safety certificates including the Medicines & Healthcare Products Regulatory Agency (MHRA), General Medical Council (GMC) and the General Pharmaceutical Council (GPC) will be present on the site.
Getting Ventolin delivered in the UK
We deliver Ventolin via Royal Mail across the UK. These are both free delivery options.
We also offer a nominated day delivery meaning you're in control of when and where your medication is delivered to you. Lastly, we have UPS pick-up locations across the UK if you'd prefer collecting from our local shop in-person.
For free next-day delivery, your consultation will need to be completed and approved by our doctor by 4.30pm Monday through to Friday. This means we deliver on Saturdays. This service is across the UK.
How do I know if the Ventolin I've purchased is authentic?
Ventolin will come in genuine packaging including the full patient leaflet, which must be thoroughly read regardless of how long you've been using asthma inhalers for. As mentioned, our process includes checks from our doctor and the pharmacy. If you are unsure in any way, you can contact our Customer Service for further validation, or check our safety certificates that can be found on our home page.
Is my personal and medical information safe online?
When buying Ventolin, a consultation reviewed by a UK certified doctor is mandatory whether this is online or in-person. Online healthcare is gaining popularity and this means providing your complete medical history and personal details online. Whilst this seems unnatural, HealthExpress is 100% confidential. We also ensure that all data on the site is fully encrypted via Norton Secured and we will never share your details with third parties.
Do you have any other queries or observations?
If you have any further questions regarding Ventolin that we haven't answered here, you can always contact our Customer Service Team via email, phone or Live Chat available Monday to Friday 8:00-17:00.