What is Ventolin?
Ventolin, a popular alternative to Salbutamol, Albuterol and Salamol, is a treatment for asthma and chronic obstructive pulmonary disease (COPD). Both these conditions cause difficulty breathing, and can have a detrimental impact on daily life.
Sadly asthma cannot be cured, however, symptoms can be managed.
Ventolin is a 'reliever' inhaler, which means that it is used in instances where an attack has already started or is about to start. It relaxes the airways and relieves bronchospasms.
You can buy Ventolin online from HealthExpress as two versions - a dry-powder Accuhaler or a metered-dose, aerosol Evohaler.
Both inhalers contain the active ingredient salbutamol, which belongs to a class of medicines called bronchodilators.
Your regular doctor should already have prescribed one of these versions. If you are uncertain, please contact them for clarification.
How does this treatment work?
Inside your lungs, lots of tubes branch out like a tree. The smaller branches are known as the bronchiole - these connect to tiny sacs of air (alveoli) that supply oxygen to your blood.
During an asthma attack, the bronchiole becomes obstructed in response to irritants (such as pollen, mould spores and dust mites), making it harder for your body to process oxygen - known as a 'bronchospasm'. This lack of oxygen causes you to experience the symptoms of an attack, including wheezing, coughing and breathlessness.
The active ingredient of Ventolin, salbutamol, is a bronchodilator. It relaxes a band of muscles that surround your airways. This allows them to widen, allowing more air to get in, and more oxygen to enrich your blood.
Ventolin is available in two forms, as an Accuhaler and as an Evohaler. Both types of inhaler are extremely effective in providing relief from an attack, although they may do this in slightly different ways:
the Accuhaler contains a 60-blister strip, each blister containing a 200mcg combination of microfine salbutamol and lactose that you inhale in dry-powder form
the Evohaler is an aerosol that delivers 100mcg of salbutamol in a metered-dose
How do I use this treatment?
You can buy Ventolin inhalers online from HealthExpress in dosages of 100mcg and 200mcg.
How you use your inhaler will depend on the severity of your condition, the medications you are currently using and whether you are using it as a preventative treatment or for relief. Your doctor should have provided you with clear instructions on how to use it. If you are uncertain, please contact them for clarification.
Evohaler
When you experience signs of an attack, you should take one or two puffs of the Evohaler.
You should take two puffs before exercise or exposure to irritants.
The maximum dose is eight puffs within a 24-hour period. If you find that is not sufficient, please ask your doctor about other treatments.
The following is a summary of how to administer doses:
take the cap off the inhaler mouthpiece and hold the inhaler upright
shake the inhaler vigorously up and down
remove the mouthpiece
breathe out normally, as much as you comfortably can
hold the mouthpiece between your lips
at the same time as breathing in, press the top with your finger to spray the medicine
remove the inhaler from your mouth, and hold your breath for up to 10 seconds and breathe out slowly
if you need more than one dose, start again from step 3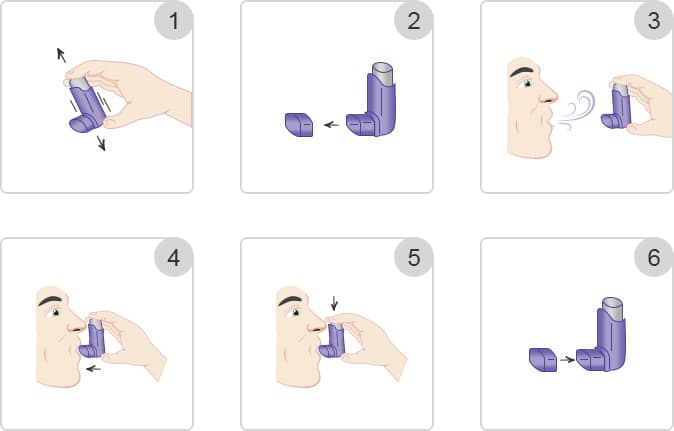 Accuhaler
You should take one puff of the Accuhaler to relieve attacks.
You should take one puff before exercise or exposure to irritants.
Do not exceed four puffs within a 24-hour period.
The following is a summary of how to administer doses:
How to use the Ventolin Accuhaler
Step 1. Open

holding your Accuhaler in one hand (as shown), place the thumb of your other hand on the slider grip
open your Accuhaler by pushing the thumb grip right around until it clicks
the mouthpiece should now be fully visible (see image in step 2)

Step 2. Slide

you will see the lever
hold the mouthpiece towards you and push the lever away from you until it stops
the number in the dose counter window will be reduced by one

Step 3. Exhale

breathe out as much as possible

Step 4. Inhale

put the mouthpiece to your lips
breathe in steadily through your Accuhaler (not through your nose)
remove your Accuhaler and hold your breath for about 10 seconds
exhale slowly

Step 5. Close

close your Accuhaler by sliding the thumb grip back to the original position
the dose counter on the top of the Accuhaler shows how many doses remain

Step 6. Rinse

after use, rinse your mouth with water
What are the possible side effects?
Ventolin is unlikely to cause side effects. However, as with most prescription medication, there is still a possibility of you reacting adversely.
For a full list of reactions, precautions and contraindications, please read the patient information leaflet.
Some of the more commonly experienced side effects include:
arrhythmias
dizziness
headache
hypokalaemia
nausea
palpitations
tremors
If you do experience these symptoms they should clear up with regular use of the medication. However, if symptoms persist or are distressing, then ensure you seek further help from your doctor.
You should also report any unlisted reactions, mild or severe.
Who can use this treatment?
If you have allergies to any of the ingredients of this medication, you should seek other treatment. A full list of ingredients will be detailed in the patient information leaflet (PIL), which can be viewed to the right of this page.
What precautions should I take?
You should always inform your doctor of any medications you are taking and conditions you suffer from. The same applies when completing HealthExpress' online consultation.
Most people can safely use Ventolin (albuterol), during an attack or to ward off an impending attack. However, you should be cautious of your reaction if:
you have high blood pressure
you have hyperthyroidism
you have any heart condition
If you are pregnant or breastfeeding, please consult your doctor before starting this treatment.
Driving and operating machinery
One common side effect of this medication is dizziness. Therefore, it is important first to gauge how you react to it before driving or operating machinery.
If you find you do become dizzy or disoriented, please inform your doctor.
How can I buy Ventolin online?
You can buy Ventolin inhalers online after completing our free online consultation.
A consultation is required as Ventolin is a prescription-only medication. Our doctors need to ensure it is safe and effective for you to use. You should also already have been prescribed it by your GP.
Is it safe to buy Ventolin online?
Our doctors individually review every consultation to ensure the medication, quantity, and dosage are safe for you to use.