What is Almotriptan?
Almotriptan is a medication prescribed for the relief of symptoms of migraine attacks, such as headache, nausea and sensitivity to light and sound. It is also available under the brand names 'Almogran', 'Almotrex' and 'Amignul'.
As an antimigraine agent, Almotriptan lessens cranial inflammation, in turn alleviating the painful symptoms of the condition.
This medication is only available with a prescription, and once a diagnosis of migraines has been made by your doctor.
How does it work?
Although the cause of migraines is not entirely clear, they are thought to occur when blood vessels in the brain widen.
Symptoms vary depending on the stage of the migraine - prodrome, aura, headache, postdrome. Almotriptan is prescribed for the relief of symptoms of the 'headache' stage - these include a throbbing headache, sensitivity to light and sound, nausea and vomiting.
Almotriptan contains the 5HT1 agonist of the same name. It works on serotonin receptors in the brain, mimicking the action of serotonin and narrowing blood vessels. For best results, you should take a dose as soon as your headache starts. However, you can take it at any stage of an attack.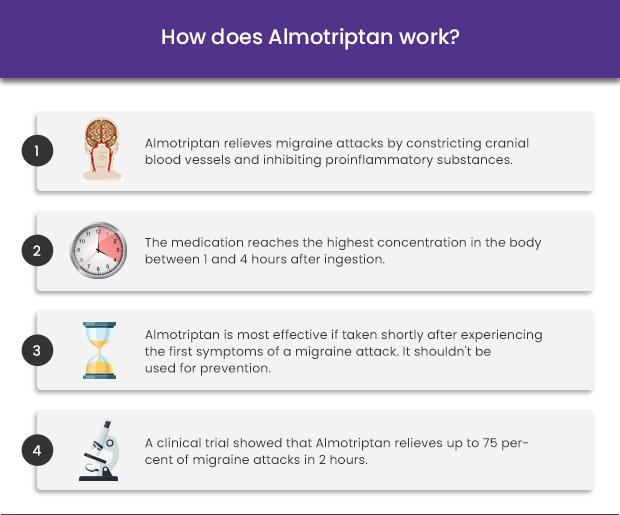 How do I take it?
Please note, you should only use this medication as relief, and only when you experience the first signs of a migraine attack. It should not be used on a regular basis to prevent attacks.
There is only one dosage available from HealthExpress - 12.5mg.
You should always follow the advice of your doctor when taking any new medication. The following is an overview of how to take Almotriptan:
swallow a 12.5mg tablet with a drink of water
take tablets with or without food
if the first dose does not relieve your symptoms, do not take another
if the first dose provides relief but your headache returns, you may take a second dose
however, you should not take a second dose within 2 hours of the first
Do not exceed the maximum dose as it may cause side effects.
For a more comprehensive summary, as well as a detailed list of side effects and precautions, please consult the patient leaflet.
What are the possible side effects?
As with all prescription medications, side effects are a possibility. For a full list of reactions, please consult the patient information leaflet (PIL). You will find this included with your order and to the right of this page.
Commonly reported side effects include:
nausea
vomiting
tiredness
dizziness
Please note, this is by no means a complete list of adverse effects.
If you experience any side effects that concern you, you should stop taking Almotriptan and contact your doctor.
If you experience any chest pain or tightness while taking this treatment, seek immediate medical attention.
What precautions should I take?
You should always inform your doctor about any other medicines you are taking, including over-the-counter treatments and herbal remedies. These could interact with Almotriptan and increase your risk of side effects.
You should not take Almotriptan:
if you are taking any other triptan medicines
within 24 hours of taking ergotamine or its derivatives
if you are under the age of 18
if you have a history of heart conditions
if you have any unexplained chest sensations or pain
if you have any blood circulatory condition
if you have severe liver disease
You should consult your doctor if you are pregnant, breastfeeding or planning to conceive. As Almotriptan can be excreted in breast milk, particular caution should be exercised if breastfeeding. Infant exposure can be minimised by avoiding breastfeeding for 24 hours after use.
Please note, Almotriptan has been known to cause tiredness and dizziness. You should exercise caution when driving or operating machinery. It is also advisable to avoid these activities if you are still experiencing symptoms of a migraine.
Can I buy Almotriptan online?
To buy Almotriptan online from HealthExpress, you must first complete a consultation for review by our doctor. The doctor will carefully consider your answers when deciding if the treatment is safe for you to use.
If they make the decision that it is unsafe, a full explanation will be given and any alternative treatment proposed.
If approved, you will receive your order the very next day to any address across the UK - this delivery service is free of charge.