What is Avamys?
Avamys (27.5mcg) is a highly effective nasal spray designed to treat hay fever (allergic rhinitis) and its associated symptoms. This topical spray is available in a dosage of 27.5mcg and can be used by men and women over the age of 18 who are dealing hay fever.
A significant benefit of using this particular medication is that it can also treat other allergies, such as pet allergies and dust mite allergies. Using this treatment in the long-term can also help to keep nasal inflammation under control.
Parts of Avamys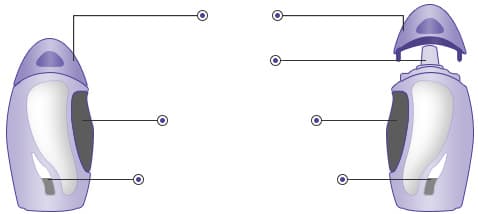 Cap
Nozzle
Mist-Release button
Window (you can check the level of medicine in window)
Front
Back
How does Avamys work?
Avamys (fluticasone furoate) nasal spray belongs to a class of medications known as corticosteroids. Using the active ingredient fluticasone furoate, it works to relieve inflammation in the nasal passages.
When administered in the nasal passages, fluticasone is absorbed in the nasal cells, preventing the release of chemicals from triggering an allergic response to irritants such as pollen. Not only does Avamys prevent an allergic reaction, it also works to reduce nasal inflammation and relieves associated symptoms.
What are the benefits of using Avamys spray?
Avamys (fluticasone furoate) hayfever spray is administered for the effective relief of seasonal or perennial rhinitis, due to its clinical nature, and having undergone various tests, it provides some impressive benefits such as:
Relief of runny or itchy nose
Relief of blocked nose, sneezing and sinus difficulties
Starts to work between 8-24 hours
How to use Avamys nasal spray?
Avamys (fluticasone furoate) is currently available to buy from HealthExpress in a dosage of 27.5mcg and is to be used daily. This treatment should only be used by adults, when looking to use Avamys spray for the first time, the following guidelines should be followed:
Preparing the Nasal Spray
You must prepare the nasal spray:
Before you use it for the first time
If you have left the cap off for over 3 days.
Preparing the nasal spray helps to make sure you always get the full dose of medicine. Follow these steps: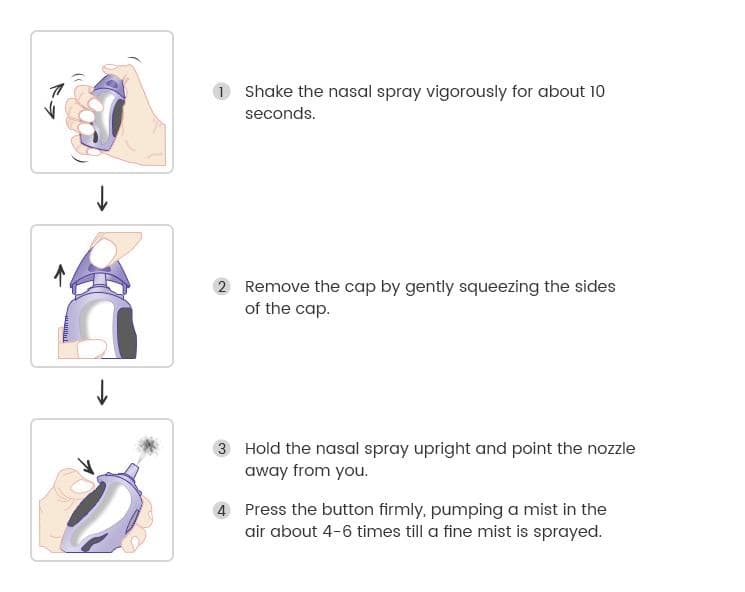 Using Nasal spray: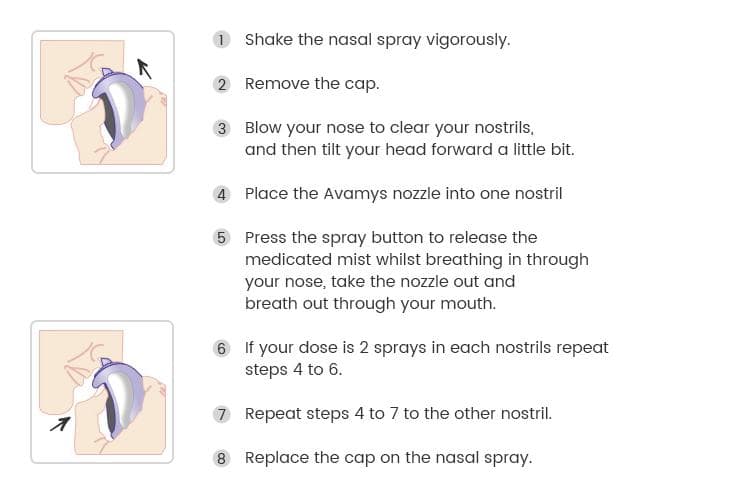 If symptoms appear to be under control, this application can be reduced to just one spray into each nostril once per day. If you forget to take this nasal spray at the usual time, it is recommended that you leave out the missed dose. Try to keep the mist solution away from the eyes. If you do get some into the eyes, ensure you rinse it out carefully with clean water.
Ensure you use the treatment as recommended by the doctor, don't use more than the recommended dosage more often than required as this could increase the chances of adverse side effects.
If you are using Avamys (fluticasone furoate) for hay fever, it is recommended that you start using it a couple of weeks before the pollen season begins.
Who can use Avamys?
Avamys can be used by most individuals (male and female) over 18 years old and dealing with hay fever. Before using the Avamys nasal spray, there are a number of precautions that should be considered to ensure your safety whilst using this treatment.
Avamys should not be used if you are allergic to any of the ingredients found in this medication.
If you have a history of liver disease, glaucoma, cataracts, or have had an infection in the nasal passages, nasal surgery or tuberculosis, then you should not take this medication.
Extensive use of the treatment can have an effect on the eyes with possible cases of glaucoma reported
Take care to avoid spraying this medicine in your eyes
Should not be used by patients currently using ritonavir
Avamys should be used with caution if you intend to use it during pregnancy or whilst breastfeeding
It is advised that you speak to a qualified doctor if you are unsure if this medication is suitable for you as there may be a more suitable alternative for long term treatment of allergic rhinitis (hay fever).
What are the side effects of Avamys?
Like all prescription medications, Avamys may cause some side effects, however not everyone using this medication will experience them. The most common potential side effects associated are:
nosebleeds
headaches
irritation in the nasal passage
fever
sore throat
More rare side effects include swelling of the lips, tongue and throat, an itchy rash and anaphylactic shock. These should subside if they do occur as the body becomes accustomed to the medication.
If you do experience any lasting adverse effects then it is essential that you speak to your doctor as soon as possible.
What precautions should be taken when using Avamys?
Avamys once daily spray is for use by adults over the age of 18 and is not available for purchase or use by children. This fluticasone furoate spray should not be used by:
those allergic to fluticasone furoate
a child, as the corticosteroid may cause growth impairment
those with existing infections as the corticosteroids can make them worse
those with liver or kidney problems
women who are pregnant or breastfeeding
The treatment may also interact with other anti-fungal medication such as ketoconzole, itraconazole, voriconazole or ritonavire. It is important that you inform the doctor when filling out the medical consultation of any other medication you may be using when taking Avamys spray.
How can I buy Avamys nasal spray online safely?
Avamys nasal spray is available to order online from HealthExpress. Simply complete our quick, no obligation online consultation. This will then be checked by one of our doctors. If this treatment is approved for you, you'll be able to select this medication and complete the order. Your treatment will then be dispatched from our pharmacy for free delivery straight to your door via our next day delivery service.