What is Cerazette?
Cerazette (desogestrel) is an oral contraceptive tablet, which is also known as the 'mini pill'. Cerazette provides immediate protection against pregnancy, when taken on the first day of your period. It's different from the standard combined contraceptive pill because it has only one active ingredient, artificial progestogen.
Like most low dose oral contraceptives, Cerazette is an effective method of protection and has proved to be more than 99% effective in clinical trials . It's also proven to be helpful in reducing the occurrence of uncomfortable and painful periods. Taking this oral contraceptive provides you with flexibility, because unlike most other progestogen only contraceptives, you can take your pill up to 12 hours later than your regular time.
What are the additional benefits of Cerazette?
Cerazette comes with a number of benefits when taken successfully. These include:
This mini birth control pill provides you with instant contraception if you take it on the first day of your period
As it only contains progestogen, it's suitable to use if you can't, or prefer not to, use an oral contraceptive with oestrogen
The absence of oestrogen in this mini birth control pill makes it safer to use when you are breastfeeding
Women using Cerazette for contraceptive purposes may also notice that their periods are less painful than usual
Cerazette can be taken by women who are breastfeeding, and by those who are over 35 and smoking, which is a restriction of dual oral contraceptives
In clinical trials 94 % of women suffering from dysmenorrhea (severely painful periods) experienced a significant improvement
How does Cerazette work?
Cerazette's primary function is to prevent ovulation. It does this by convincing the body that ovulation has already occurred, so that the ovaries don't release an egg to be fertilised. This is made possible through the use of an artificial version of hormone progestogen, a hormone that is produced by the body. It also prevents the womb lining from thickening, and increases the thickness of cervical fluid, which makes it impossible for sperm to enter the womb, preventing pregnancy from occurring.
How do I take Cerazette?
The only available dosage for Cerazette is a 75mcg mini pill. Like other mini birth control pills, these tablets should be taken orally and continuously for the full 28 days of your cycle. This makes it less likely that you will forget to take it, unlike the combined pill with a seven-day pill free period.
Take it at the same time every day for 28 days; each blister pack has the days to keep track.
Continue with your next blister pack without any breaks.
Some women experience a bleed similar to a period and some don't.
It can be taken up to 12 hours late if you forget to take it at your usual time and be fully effective.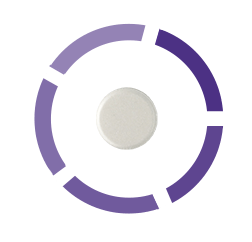 If not taken on the first day of your period, use condoms for the following seven days.
Take each pill around the same time every day for maximum effectiveness. Many women set an alarm to remember their next dose.
Each Cerazette pill can be easily swallowed with or without drink and food.
Store away from direct sunlight and under the temperature of 25°C.
Double check the expiry date and patient leaflet regarding use and missed pill if unsure.
What if I miss a Cerazette pill?
Missing a Cerazette pill can happen and as it is a mini pill, it depends on the timeframe that you have missed a pill. This form of POP pill is a 12-hour mini pill in comparison to the three-hour mini pill, meaning you can take your forgotten pill up to 12 hours after with no reduction in effectiveness.
Less than 12 hours late - take the late pill as soon as you remember, carry on the pack as normal. You will still be protected and do not need additional protection, just like the combined contraceptive.
More than 12 hours late - take the late pill as soon as you remember and finish the pack as normal. You won't be protected to the same efficiency so use additional barrier contraception (condoms) for the following seven days, or refrain from having sex.
This does include whether you experience diarrhoea or vomit when taking the mini pill, and further information on that can be found on our mini pill information page.
If you have had sex and have missed a pill by more than 12 hours, don't panic; you can get emergency contraception in tablet form.
Use our interactive tool below on what to do if you miss one or multiple pills in one month (menstrual cycle). Simply click to begin.
How many pills have you missed? How late?
One pill

less than


12 hours late
Started a new pill pack

less than

12 hours late
One pill

more than


12 hours late
Started a new pill pack

more than

12 hours late
*If you have missed contraceptive pills in the first one to seven days of the pill pack and have had sex without barrier contraception, you could be pregnant. If you have calculated this between one to five days after the unprotected sex, you could use emergency contraception such as the IUD or morning-after pill. If not, continue your contraception until the seven-day break. If you don't have any bleeding, it is advised to take a pregnancy test and/or consult your doctor.
What is the dosage of Cerazette?
Cerazette is a mini pill and therefore is only available in one dosage. This is 75mcg of the synthetic progesterone hormone desogestrel.
What are the possible side effects of Cerazette?
Cerazette is a prescription contraceptive treatment, which means that there is a slight risk of developing side effects. In clinical trials, Cerazette was very well tolerated by participants, and some minor side effects such as:
Mood changes, decreased sexual drive (libido), headaches, nausea, acne, breast pain, irregular periods and weight gain
Studies show these occur in less than one out of ten women. These side effects should subside as the body becomes accustomed to the mini pill, but if they do happen to occur and persist, you should contact a doctor to discuss your condition.
What precautions should I take with Cerazette?
There are a number of precautions that should be considered before using Cerazette. These are:
Cerazette shouldn't be used if you are allergic to any of the ingredients found within the pill
The pill shouldn't be taken if you have ever had breast cancer, liver cancer, or thrombosis
This medication shouldn't be taken if you are currently dealing with diabetes, epilepsy, tuberculosis, or high blood pressure
If a sustained hypertension develops when using Cerazette, or if your blood pressure significantly increases, the discontinuation of Cerazette should be considered
Cerazette shouldn't be taken with hormonal contraceptives, as it can lead to breakthrough bleeding or contraceptive failure
You can buy Cerazette online if you are 18 years or older. We strictly advise against using this contraceptive if you are allergic to the artificial progestogen (desogestrel) present in Cerazette. It's also not recommended to use if you are pregnant, have thrombosis, breast cancer, liver cancer, unexplained vaginal bleeding or have had jaundice. Please observe the precautions for Cerazette in the patient information leaflet provided.
Can I buy Cerazette online?
You can buy Cerazette mini pill online from HealthExpress. We've been providing this service for thousands of women around the country for over 10 years and our premium next day delivery service means that you can start taking your pill, even in an emergency.
Can I buy Cerazette without a prescription?
All hormonal contraception such as Cerazette require a review of your medical details by a doctor. you'll then be issued with a prescription suitable for any pharmacy. This includes buying online or in-person.
Due to the ingredients in mini pills, this can cause side effects in a minority of women and a review your medical history minimises the chances of experiencing these.
Is it safe to buy Cerazette online?
Buying contraceptives online can save you a lot of time and energy, however, you want to ensure your health is never compromised.
When you buy Cerazette online from HealthExpress, your consultation is first reviewed by our doctor based here in the UK, your prescription is then sent to the pharmacy for a further check before they prepare your contraception.
Our service at HealthExpress has all the relevant and mandatory safety certificates including the Medicines & Healthcare Products Regulatory Agency (MHRA), General Medical Council (GMC) and the General Pharmaceutical Council (GPC).
Getting Cerazette delivered in the UK
All of our treatments are delivered via Royal Mail or private courier, and Cerazette is no exception. Our next-day delivery is free and will arrive at your chosen address the next day. This is on all orders completed and approved by our doctor by 4.30pm Monday through to Friday. This means we deliver on Saturdays. This service is across the UK.
If you're after discretion, our package will have only your name and address on there so you can get your contraception delivered to your workplace or shared accommodation.
We also offer a nominated day delivery meaning you're in control of when and where your medication is sent. Lastly, there is the UPS pick-up if you'd prefer collecting from a local shop in-person.
How do you pay for Cerazette?
At HealthExpress, you can pay using any major credit cards including VISA and MasterCard. When selecting this in the checkout, we will send our details.
At this time, we do not offer the options of payment via cash on delivery or American Express.
How do I know if the Cerazette I have is authentic?
Cerazette will come in genuine packaging including blister packs for the tablets. Every medication will come complete with the patient leaflet, which must be thoroughly read before use. At HealthExpress, our process includes checks from our doctor as well as the UK registered pharmacy to ensure the authenticity.
If you are unsure in any way, you can contact our Customer Service for further validation, or check our safety certificate present on the home page on this website.
Is my personal and medical information safe online?
When completing a consultation, this will include your medical history and personal details. All data on this website is encrypted via Norton Secured to keep your details safe. Nothing will not be shared with third parties.
Do you have any other queries or observations?
If you have any further questions regarding Cerazette that we haven't answered here, you can always contact our Customer Service Team via email, phone or Live Chat available Monday to Friday 8:00-17:00.