What is Champix?
This smoking cessation treatment is clinically proven to be the most effective prescription medication at helping you stop smoking for good. It is easy to take and has the highest success rate compared to other smoking cessation treatments. In clinical studies, users were twice as likely to give up than with no help at all, making it the most effective quit smoking treatment above nicotine gum and patches, therapy and e-cigarettes.
Continuous abstinence, %
50
40
30
20
10
0
Weeks 9-12
Weeks 9-24
Weeks 9-52
Varenicline (n = 344)
Placebo (n = 341)
Weeks 9-12: last 4 weeks of treatment
Weeks 9-24: 12 weeks of treatment
plus 12 weeks of non-treatment follow-up.
Weeks 9-52:12 weeks of treatment
plus 40 weeks of non-treatment follow-up
In a clinical trial funded by the NHS, researchers found that within 12 weeks of treatment, 45% of trial participants treated with Champix had stopped smoking compared to only 22% of bupropion users and 11% of those who were given a placebo.
As well as the high success rate in comparison to other quitting methods, there are many other advantages that make this particular course of treatment a much better option:
Subdues nicotine cravings
Reduces feelings of irritability and stress
Alleviates headaches
Reduces the occurence of sleeping problems/ insomnia
Treatment can be combined with other methods to increase success rate
Medication is highly tolerable
Gradually eliminates the reliance on nicotine
Formulaic and steady progress
Can stop you smoking in two weeks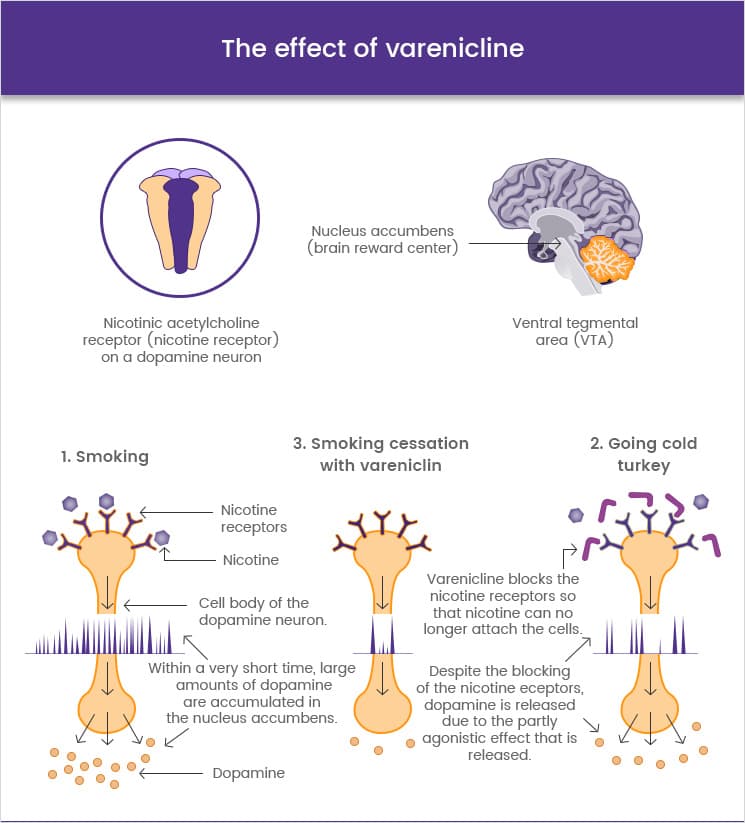 Any medical professional will confirm that quitting smoking is the crucial first step on the way to a healthier lifestyle. Whilst Champix can help you towards quitting in just 14 days, it is always advised to complete the course of treatment fully. Patients should also consider making use of other resources to support their treatment and exchange experiences. These include:
NHS online resources
your local GP
people who have quit successfully (e.g. through online forums)
friends and family
Champix contains the active ingredient varenicline which replicates the effects of nicotine without containing the highly addictive substance itself. Champix is available in 0.5mg and 1mg tablets.
Compared to bupropion (Zyban)
Champix is proven to be the most successful treatment available with the majority of patients quitting smoking with two courses of the tablets, just under half with one. Champix has also been proven to be more effective than its closest competitor Zyban, which uses the active ingredient bupropion. Zyban was initially formulated as an antidepressant, but has been found to support patients in giving up cigarettes. The mechanisms of the medication's effect on the brain are not entirely clear.
Whilst most smoking cessation treatments contain nicotine, both Champix and Zyban are nicotine-free. This makes both options popular, Champix is however often preferred over Zyban due to its higher success rate: Only 23% of patients successfully manage to quit smoking with the help of Zyban. Its relapse figures over a long period of time have also been found to be higher.
How does Champix work?
Champix is the only smoking cessation treatment of its kind, working in several unique ways to help you give up smoking for good. Unlike other methods such as vaping and nicotine replacement therapy (NRT), Champix is free from nicotine and relies exclusively on the effect its active ingredient varenicline has on the nervous system. Varenicline works in several ways:
Reduces the level of nicotine reliance your body has grown accustomed to
Offers the feeling of nicotine without exposing your body to the harmful substance
Helps to eliminate cravings and withdrawal symptoms associated with nicotine addiction
Begins to reduce any pleasant sensations you associate with the habit
Varenicline bonds directly to the nicotine receptors in the brain, where it alleviates cravings and withdrawal symptoms at the same time as reducing the rewarding effects of nicotine. This means that even if you give in to the temptation, you will not enjoy the habit. These combined effects can facilitate smoke cessation.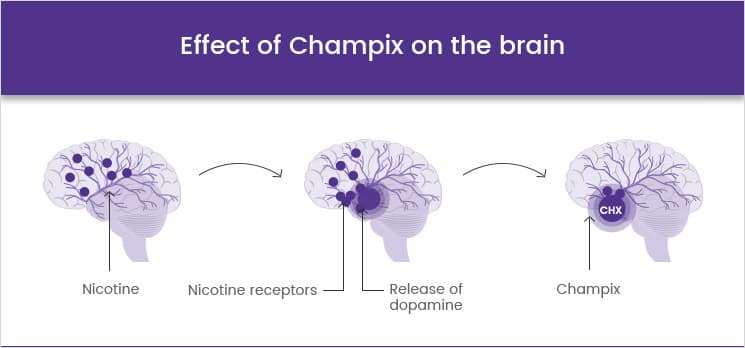 Although the standard course of treatment with Champix lasts for at least 12 weeks, you may find that you stop smoking within the first two weeks. However, it is always advised to complete the full course. If the first course of treatment was unsuccessful or the patient experiences a relapse, a second 12-week course further increase the chances of quitting for good from 50% to 70%.
As with other treatments focused on habits and addiction, you must be in the right frame of mind before you commence your treatment. If you are determined to quit smoking, the likelihood of doing so will in turn be increased. This also means that combining Champix with other stop smoking treatments can be beneficial to your cause. The NHS provides a number of resources to help patients quit smoking and NRT methods such as gums and patches can be a welcome relief in difficult periods during treatment.
How to take Champix
This treatment comes in the form of a hard capsule, which is easy to take. As it comes packaged with the correct dosages labelled for each day of the treatment, this makes it easy to know which tablet to take and when. You can take varenicline with or without food, ideally with a full glass of water. In terms of when and how to take the medication, this requires a small level of planning:
Choosing the quit date
The most common method is to take Champix (varenicline) 1 week before your planned quit date to allow the medication to have a building block.
Alternatively, you can start taking Champix (varenicline) straight away and choose a quit date within the following 8-35 days.
You can ask your GP which method will work best for you, otherwise our doctors may advise you on the preferred method after you have completed your online consultation.
How to take it
Champix tablets are clearly marked with the dosage they contain. The time and dosage of each tablet changes throughout the course of treatment. Initially, you start taking one pill per day of the 0.5mg dosage before increasing the number of tablets and dosage down the line. Adhering to the correct dosage enhances the medication's effect.
| Week | Dose |
| --- | --- |
| Day 1 - 3 | From day 1 to day 3, you should take one white CHAMPIX 0.5mg film-coated tablet daily. |
| Day 4 - 7 | From day 4 to day 7, you should take one white CHAMPIX 0.5 mg film-coated tablet twice daily, once in the morning and once in the evening, at about the same time each day. |
| Day 8 - 14 | From day 8 to day 14, you should take one light blue CHAMPIX 1 mg film-coated tablet twice daily, once in the morning and once in the evening, at about the same time each day. |
| Day 15 - end of treatment | From day 15 until the end of treatment, you should take one light blue CHAMPIX 1 mg film-coated tablet twice daily, once in the morning and once in the evening, at about the same time each day. |
The total length of the treatment is 12 weeks after which you may continue for longer if you wish to further increase your chance of quitting completely.
All prescription medication should be taken for the full course as described. All of our medication comes complete with the patient leaflet that should be read fully before starting the treatment. You can find the patient leaflet attached at the bottom of this page.
What if I miss a dose?
Take the missed pill as soon as you remember.
If you miss a dose close to your next dose, miss it completely and continue as normal.
Never take two pills at once.
In the event of an accidental overdose, seek medical assistance immediately.
What dosages are available for Champix?
Medication dosages are clinically monitored and tested before being fully approved in the UK meaning they are as effective as possible whilst posing minimal risk of side effects or to your health. In this case, the dosages are so small as the medication is highly concentrated for optimal effectiveness.
Champix is available in both a 0.5mg and 1mg dose that is issued together, rather than depending on the severity of your condition like most other tablets. One 0.5mg pill is typically taken for the first 3 days before increasing to two per day, then finishing with the higher Champix 1mg dosage near the end of your course. Dosages should be taken at the same time for the medication to be most successful and your pill pack is clearly labelled to help you remember.

What are the side effects of Champix?
When looking to buy this stop smoking treatment, you should be aware of the possible adverse reactions. Side effects can occur when taking prescription medication, however this is not always the case. Due to the nature of smoking, there is a chance of experiencing certain side effects on the road to quitting smoking.
Common side effects of Champix include:
Nausea, constipation, sleeping problems or unusual dreams
Dizziness, dry mouth, abdominal pain
Other side effects, that require medical attention quickly, include shortness of breath, numbness, chest pain, skin rash, fever, swelling, sudden strong headache, slurred speech or seizure. If any of these occur or you experience symptoms associated with an allergic reaction, then you should also stop using varenicline immediately and contact your doctor.
Mood changes and psychological effects
Champix has been linked to feelings of depression, anxiety and suicidal thoughts, however there is very limited knowledge regarding the correlation of its psychological effects. These side effects can only be observed on a minority of patients. If you do experience any feelings of anxiety or depression whilst taking Champix, you should contact your GP who can access whether you can continue the treatment or advise any alternative.
If you suffer from or have suffered from mental health issues in the past, Champix should be used with due caution. For more information on Champix and mental illness, please refer to our precautions section below.
What precautions should be taken when using Champix?
When considering a smoking cessation treatment such as Champix, it is important to also be mentally prepared to do so. In the same way that weight loss requires will power to achieve your goal, you can only succeed to stop smking if you are serious about this decision, otherwise the treatment will be less effective.
If you are pregnant, or think you are pregnant, smoking cessation tablets are not advised and will not be offered to you. If you are trying to fall pregnant, it is sensible to quit smoking to avoid the harmful effects for your baby and other options are available to you from the NHS services such as customer service, NRT options and herbal remedies. The same applies to new mothers who are breastfeeding as research has shown a possibility of varenicline passing through breast milk.[2]
For alcohol consumption, caution is highly advised and excessive intake is not recommended as the active ingredient, varenicline, can enhance the effects of alcohol. Smoking cessation tablets are not suitable for anyone under the age of 18 years as they have not been proven effective on children.
As mentioned under side effects, there have been occasional claims linked to mental illness including depressive thoughts. Because of this, people with a history of psychological illness, in particular depression, schizophrenia and bipolar disorder, should use with caution.
As with all prescription medication, you should always disclose your current medicines and medical history in case any ingredients interact with each other and induce side effects. Insulin, warfarin and certain asthma medicines can all negatively affect the efficacy of varenicline. For the full list of drug interactions please check the patient leaflet below and mention any medication you take during your consultation.
How can I buy Champix online?
You can order your course of Champix online. All prescription medication in the UK requires a consultation before obtaining the treatment and Champix is no different. This will take a couple of minutes and our doctor will confirm it is safe for you to use before sending it to the pharmacy to dispatch for next-day delivery.
Can I buy Champix without a prescription?
Champix is a prescription-only medication and the only of its kind for quitting smoking as it doesn't contain nicotine. Bearing this in mind, it must be approved for you to ensure your health isn't jeopardized. This includes buying Champix online or in-person, and involves a consultation that is approved by a doctor. Once approved, you will receive a prescription confirming that Champix is safe for you to use.
Is it safe to buy Champix online?
All online healthcare companies supplying prescription medications such as Champix should have the relevant certificates to ensure they can advise and distribute safely.
Our doctor individually reviews every consultation to ensure the medication, quantity, and dosage are safe for you to use. Champix is prepared by our UK-based pharmacy where it is checked again before being securely dispatched.
Getting Champix delivered in the UK
Champix will be delivered by Royal Mail across the UK. Our next-day delivery is free and will arrive at your chosen address the next day. This is on all orders completed and approved by our doctor by 4.30pm Monday through to Friday meaning we deliver on Saturdays.
We also offer a nominated day delivery meaning you're in control of when and where your medication is sent, and UPS pick-up points if you'd prefer to collect from a local shop in person.
How do I know if the medication I receive is authentic Champix?
When buying Champix online, you will need to complete a consultation verified by a medical professional before the medication can be dispatched by our pharmacy. Champix will also come complete with the patient leaflet, which must be thoroughly read before use. If you are unsure in any way, you can contact our Customer Service for further validation, or check our safety certificate present on the home page on this website.
Are my personal and medical information protected?
Providing your complete medical history and personal details in an online consultation is a quick and easy option to get medication delivered to you but you want to ensure that this information is secure. All data on HealthExpress is encrypted and will not be shared with third parties.
Do you have any other queries or observations?
If you have any further questions regarding Champix that we haven't answered here, you can always contact our Customer Service Team via email, phone or Live Chat available Monday to Friday 8:00-17:00.