What is Clenil Modulite?
Clenil Modulite (beclomethasone dipropionate) is an inhaled asthma treatment that acts to alleviate inflammation in the airways to aid easier breathing. It's mostly used to prevent asthma symptoms and asthma attacks and is therefore taken on a daily basis to help keep your condition under control. Asthma symptoms should normally get better within a week of starting treatment with Clenil Modulite.
Be aware that Clenil Modulite does not work as a reliever inhaler, if you require such, you would need to obtain a inhaler such as Ventolin or Salamol CFC Free in possession in case of sudden breathing problems and to generally keep any asthma attacks at bay.
How does Clenil Modulite work?
When you use a Clenil Modulite inhaler (beclometasone dipropionate) it goes to work directly in the lungs to prevent the release of certain chemicals which cause inflammation. These are usually released as a natural bodily response to asthma triggers or invasive objects and are what cause inflammation in the airways, as well as the production of mucous. To ensure that you get continuous benefit from your treatment, it's important that it be used on a regular basis.
Clenil modulite needs to be used on a regular basis to work effectively at preventing asthma symptoms and reduce the risk of an asthma attack. Even when you feel better, it is essential that you continue to use this inhaler as it can improve the quality of life for many of those suffering with asthma.
What are the benefits of Clenil Modulite inhalers?
Using Clenil Modulite on a regular basis can make asthma symptoms much less likely to occur, because of the way the preventer helps to reduce the inflammation of airways in the lungs- the main cause of asthma symptoms. This preventative inhaler can also provide relief from asthma symptoms within a couple of days of starting treatment, although it should not be used as a reliever inhaler.
As this treatment is an inhaled treatment, it's less likely to cause side effects when compared to oral steroid treatments for asthma.
How do I use Clenil Modulite inhalers?
It's very important to only use Clenil Modulite as a preventer inhaler and not to provide quick relief in the event that you experience symptoms. The correct inhalation of this treatment is essential to get the most of the medicine. To use the Clenil Modulite evohaler properly, follow the steps below:
Take the cap off the inhaler mouthpiece and hold the inhaler upright. Shake the inhaler vigorously up and down.
Remove the mouth piece
Breathe out normally as far as you comfortably can
Hold the mouthpiece between your lips.
At the same time as you first start to breathe in, press the top with your finger to spray the medicine.
Remove the inhaler from your mouth and hold your breath for up to 10 seconds and breathe out slowly.
If you need more than one dose, start again from step 3.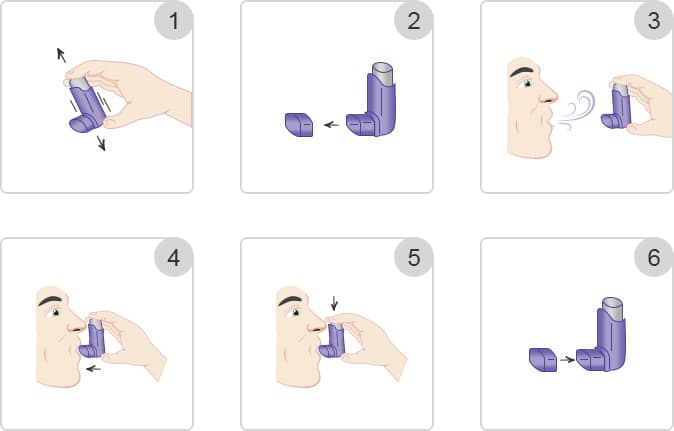 What dosages are available for Clenil Modulite?
| | |
| --- | --- |
| Clenil Modulite 50 | Clenil Modulite 100 |
| Clenil Modulite 200 | Clenil Modulite 250 |
Clenil is available in four different doses and your doctor will have recommended the most appropriate dose for you to use. Generally it's recommended that adults inhale four puffs of Clenil Modulite a day of the 50mcg dose, two puffs of the 100mcg dose, one of the 200mcg dose, and two puffs of the 250mcg dose. These doses can however be increased to up to 2000mcg a day in severe cases, but only after first consulting a doctor.
It's important that you seek help if you are using Clenil Modulite and find that your asthma symptoms are getting worse. Your dosage will be altered should you experience side effects from the original one you're prescribed.
What are the side effects when using Clenil Modulite?
Side effects with this treatment aren't common, but they can affect some people. Side effects that have been reported are more likely to affect those that take higher daily doses of Clenil Modulite and may include:
Oral thrush
Sore throat, mouth or tongue
Headaches
Nausea
Skin rashes
Anxiety or insomnia
If your asthma symptoms become worse while using this inhaler, you should stop using it and use your reliever inhaler instead, and seek assistance from a medical professional.
There is also a possibility that this treatment can cause changes to bodily steroid production, however this is more the case with people who use it at high doses over a considerable period of time. Generally most people with asthma should have no problem with the medication. If you do find yourself reacting negatively to the treatment, then it is essential that you seek medical help as soon as possible.
What precautions/interactions should I be aware of with Clenil Modulite?
Clenil Modulite can be used by most asthmatic people to help keep their symptoms under control. However, there may be a few instances where it's not entirely safe to use. In particular, if:
You are allergic to the active ingredient (beclometasone).
You are being treated, or ever have been treated for tuberculosis.
You have liver disease, alcoholism, epilepsy, brain injury or brain disease
You are pregnant or breastfeeding
It is also essential that you make aware whilst taking the online consultation, any other medication you may currently be using.
How can I buy Clenil Modulite inhalers online safely?
It's not always convenient to go to your doctor for a repeat prescription, which is why HealthExpress offer patients a safe and confidential way to buy Clenil Modulite online. Your online consultation will be checked by one of our doctors to ensure that this treatment is the most suitable one for you. Once your order is complete, a prescription will be passed to our pharmacy where your preventer inhaler treatment will be dispensed and shipped via next day delivery. If you have any questions, please don't hesitate to speak to our helpful customer service team.