What is Elocon?
Elocon is a topical corticosteroid that is prescribed to treat severe forms of the skin conditions psoriasis and eczema (e.g. contact dermatitis).
These skin conditions have the potential to be very unpleasant. Common symptoms include itchiness, burning sensations, pain and redness. Psoriasis, in particular, can affect your mental health and daily life.
Elocon works to reduce inflammation, which in turn alleviates symptoms.
This treatment is classified as a "potent corticosteroid". If this is the first treatment you are using for your skin condition, you should seek medical advice from your doctor first. A milder steroid may be more suited to you.
This product is available as a cream or ointment. Elocon cream is better if you have to apply treatment to large areas of skin, as it is water-based. Elocon ointment is better if you have dry skin.
How does Elocon work?
Corticosteroids are naturally occurring hormones produced in your adrenal glands (these are located above your kidneys) - they work to calm your immune system. They are especially effective at treating eczema and psoriasis as both of these conditions result from an overactive immune response.
When your skin comes into contact with irritants*, for example, soaps and detergents, your body will intercept them as threats. Eczema sufferers will find their skin flares-up in different forms of rashes, whereas psoriasis sufferers will find their skin builds-up in scaly patches.
When applied to the skin, Elocon reduces inflammation. It contains the active ingredient mometasone furoate, a steroid. The result is a significant improvement in your symptoms.
*Triggers can be diverse, including genetics, the weather and foods. You should contact a dermatologist to find out more about your specific triggers.
How do I use it?
You should always consult the patient information leaflet before using any treatment. This will be included with your order and can also be found in PDF form on the right of this page. If you are unsure about any instructions, ask a healthcare professional to clarify.
Elocon cream and ointment comes in a 30g tube. One fingertip unit is sufficient for an area the size of the palm of your hand.
The following is a summary:
apply a thin layer of Elocon once a day to the affected area*
do not apply to the face for more than 5 days straight
do not exceed 2 weeks of continuous use on any body part
apply until completely absorbed by the affected skin
if you forget a dose, do not apply extra. Instead, continue as normal
contact your doctor if you find there is no change to your symptoms after use
stop using treatment if symptoms worsen after use - inform your doctor
*a diagram of how much to apply can be found below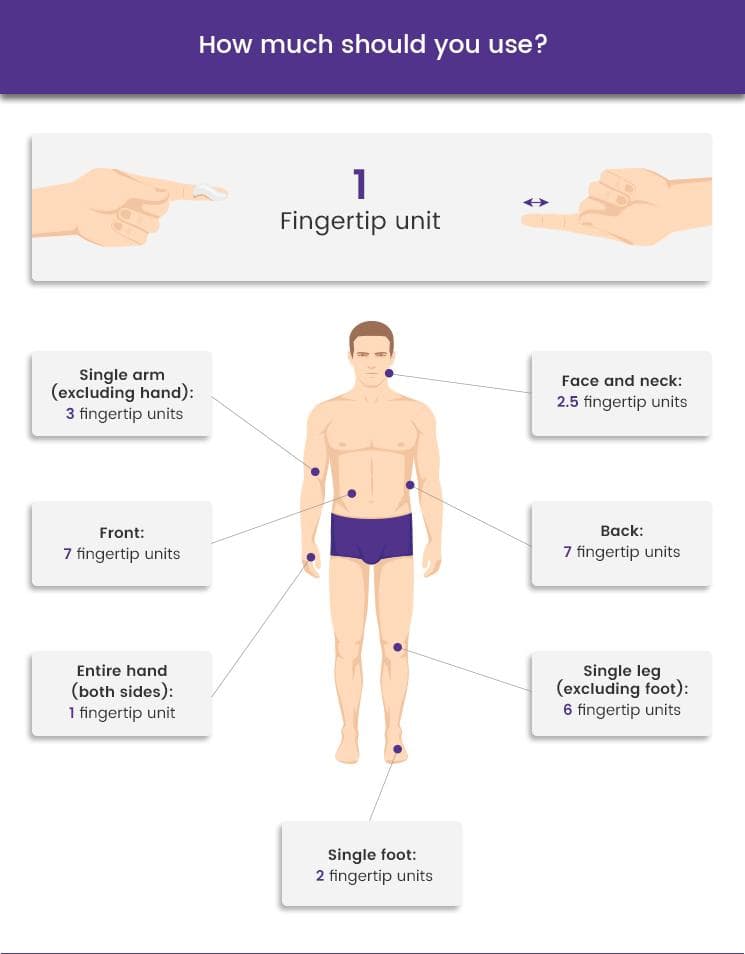 What are the possible side effects?
Elocon is a topical steroid. Complications can occur with prolonged use (e.g. thinning of the skin). For that reason, always follow the treatment plan set out by the doctor. The most common side effects of Elocon include:
skin reactions
telangiectasia (spider veins)
If you notice the condition of your skin worsens after use, contact your doctor. You should also avoid applying treatment under tight-fitting clothes or bandages - this will increase the risk of side effects.
Less common reactions include:
adrenal suppression
hypertrichosis
skin depigmentation
If you experience any of the above or any unlisted side effects, stop treatment and seek immediate medical attention.
If you suffer an allergic reaction, seek medical attention ASAP. Symptoms include skin reactions, swelling in the face and neck, and breathing difficulties.
Who can use it?
A full list of warnings and drug interactions are detailed in the patient information leaflet.
You should always use prescription medication as advised by your doctor. When misused, Elocon has the potential to be harmful. You should not use this medication:
if you are allergic to the active ingredient, mometasone furoate, or any other ingredients
to treat rosacea, chickenpox, shingles or cold sores
to treat any other skin problems (unless instructed by a doctor)
on open wounds
on other skin infections
on the face (unless advised by a doctor)
if you have previously had bad reactions to corticosteroids
What precautions should I take?
When completing your online consultation, you should list all the medications you are taking and all the medical conditions you have. This is important and is so that our doctors can ensure the product is safe for you to use.
If you find your condition worsens when using Elocon, stop using it and contact your doctor immediately.
Do not smoke while using this product as it is flammable. Avoid close proximity to naked flames.
Do not exceed the recommended course (2 weeks). The overuse of this product will not make it more effective.
If you experience blurred vision or changes to your sight, seek immediate medical attention.
Can I buy Elocon online?
You can buy Elocon online from HealthExpress once you have completed a quick, online form. Here, you will be asked to detail medical information like symptoms and current and past conditions. It is completely confidential, and your details will not be shared with anyone (except your GP where medically necessary).
We have a staff of doctors and pharmacists. The doctors will review your answers and then decide if the selected treatment is suitable for you to use. If they decline your order, you will not be charged.
What are the delivery options?
Once your order has been approved by one of our doctors, our pharmacy will dispense. If you are based in mainland UK, we have several options available. All orders include complimentary next-day, nominated-day and UPS Access Point delivery.
Your order will be packaged in a discreet container. Only your name and address will show. Orders can be delivered to either a home or work address.