What is Finasteride?
Finasteride is the generic version of the well-known hair loss treatment Propecia. Named after its active ingredient 'finasteride', it has the exact same application and characteristics as Propecia and is just as effective.
Propecia was the first prescription medication to become fully approved for the treatment of male pattern baldness. Today it is widely regarded as the most effective after several clinical trials confirmed its efficacy. Since 1997, it has been repeatedly researched and tested, with finasteride having been proven to prevent further hair loss in over 90% of the men treated, while two-thirds of those also experienced regrowth.
How does Finasteride work?
Most cases of male pattern baldness are caused by the production of the testosterone by-product dihydrotestosterone (DHT). DHT causes follicles to shrink over time, and with each growth cycle the shaft of the hair also shrinks. Finasteride treatment inhibits DHT, allowing the body to eventually stop the process of hair loss and in many cases reverse it.


Treatment usually leads to visible improvements within 3 to 6 months, although it might take up to a year for the full effects to be experienced. Clinical studies have shown that the concurrent use of anti-inflammatory shampoo can improve the results of the treatment. The same can be said for a healthy lifestyle, including a balanced diet with a solid amount of protein and iron.
Finasteride has been proven to be an effective treatment for hair loss in up to 90% of the patients. A clinical trial running for five years measured the hair count of men with mild to moderate hair loss and recorded the following results:
After 12 months more than 4 in 5 men no longer experienced hair loss
75% of men treated with a placebo had further visible hair loss after 5 years, compared to less than 10% of men using Finasteride.
After 5 years, 48% of men treated with Propecia demonstrated an increase in hair growth, 42% displayed no further hair loss and 10% lost hair.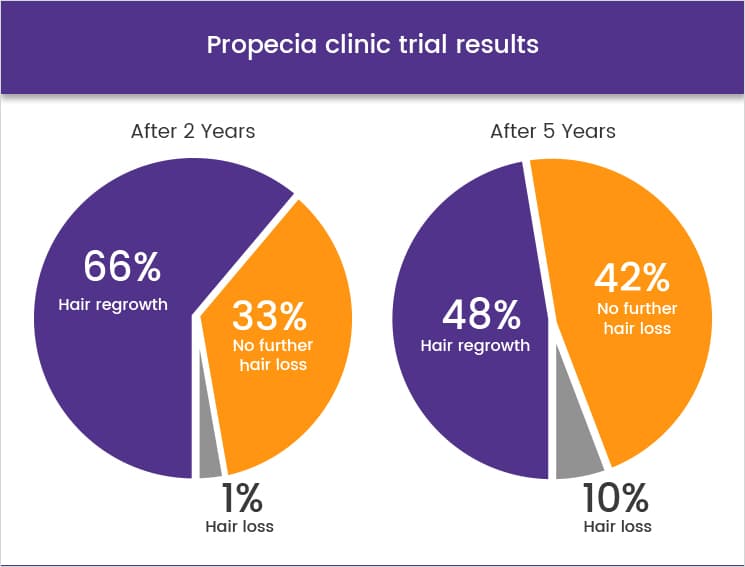 What are the dosage and usage instructions for Finasteride?
Finasteride is available in 1mg pills and comes in packages for one or several months. Our doctors recommend a therapy length of at least 6 months in order to gauge the full effect of the treatment.
One tablet is taken whole with a small amount of water daily. It does not have to be taken with meals, but should ideally be taken at the same time each day. Should you forget to take a dose of Finasteride, there is no need to replace that dose with an additional tablet, you can simply continue with the next dose the following day. Should you miss more than one dose, please refer to the detailed patient leaflet or speak directly with your doctor.
Taking a double dose to make up for a missed one is highly discouraged due to potential side effects. Taking more than the prescribed dosage does not improve the efficacy of the medication and can lead to dangerous health problems. The treatment has to be kept up continuously for three to six months for full effects; long-term usage is advised for maximum benefits. After discontinuing the therapy, further hair loss might be experienced within 6 to 12 months.
What precautions & interactions should I be aware of with Finasteride?
Certain health conditions prohibit the use of Finasteride. The medication must not be used by women or children under any circumstances. Pregnant and breastfeeding women should also avoid touching the pill when broken or crushed as it can negatively affect the child. Further complications include:
male breast cancer
liver damage
high-grade prostate cancer
Finasteride is also not advised for patients who suffer from alcoholism. Should you have a blood test for prostate cancer, speak to your GP about the use of Finasteride.
What are the side effects associated with Finasteride?
As with any medication, Finasteride can cause side effects throughout the duration of treatment. In the case of an allergic reaction, seek immediate medical attention. Symptoms of an allergic reaction might include one or more of the following:
cold sweats, chills
confusion and dizziness
faintness and lightheadedness
bloating and swelling of the face and extremities, itchy or red skin and rashes
quick and unusual weight gain or loss
enlarged breasts
Among the more common known side effects of Finasteride are erectile dysfunction (impotence) and decreased libido. Less common side effects include; runny nose, sleepiness or drowsiness, sneezing and a stuffy nose. Rare side effects may include abdominal and back pain, headaches and diarrhoea.
If any of the listed side effects persist for a long time or are unusually strong, it is recommended to discontinue the treatment and seek medical advice from your GP.
Depression, anxiety and suicidal thoughts have also been observed in patients using this treatment. If you suspect you are experiencing any of these, you should stop therapy and contact a medical proffesional.