What is Finasteride?
Finasteride is a versatile medication. Finasteride has several uses, but is predominantly prescribed to treat male pattern baldness and for diffuse thinning, a temporary condition where the hair thins evenly across the scalp. However, it is also used to treat benign prostatic hyperplasia (enlarged prostate) and is used as part of hormone therapy for transgender women.
Finasteride is the generic version of the hair loss treatment Propecia. A generic has the same active ingredient as a branded version and is used in the same way. The only difference is the price and manufacturer. The generic Finasteride is equally as effective, with over 80% of men Trusted source ScienceDirect Peer-reviewed Journals Multidisciplinary Research Go to source experiencing scalp hair growth.
HealthExpress currently only sells Finasteride as a hair loss treatment. If you require it for another condition, you should contact your regular doctor. They will assess your suitability and be able to prescribe it themselves.
How does Finasteride work for hair loss?
Changes in hormone levels cause the majority of cases of male pattern hair loss. Hormone levels change as you age. This form of hair loss is commonly referred to as male pattern baldness or androgenetic alopecia.
When your body produces testosterone, a small amount is converted to the androgen dihydrotestosterone (DHT). This is a completely natural process. However, over time, DHT causes hair follicles to shrink. With each growth cycle, the shaft of the hair also shrinks. This is what causes a receding hairline and potentially eventually complete baldness in men.
Finasteride belongs to a class of medication called 5α-reductase inhibitors (5-alpha reductase inhibitors) which specifically target the enzyme 5-alpha reductase. These medicines stop the enzymes from converting testosterone into DHT. With less DHT and more testosterone being produced, you will stop losing your hair and, in many cases, experience hair regrowth.
How does it work for prostate enlargement (BPH)?
As mentioned above, your body's production of testosterone results in a by-product, dihydrotestosterone (DHT). Another effect of DHT is that it causes your prostate gland to grow in size, which causes benign prostate enlargement (BPH).
An enlarged prostate can block the flow of urine from the bladder, resulting in the unpleasant symptoms of the condition including difficulty urinating, incontinence and a frequent need to urinate.
By preventing the conversion of DHT, Finasteride stops your prostate from increasing in size, which specifically has reductive effects on prostate-specific antigens (PSA). This eases symptoms and allows other medications to reduce the size of the gland effectively.
Finasteride for BPH is sold under the brand name Proscar. At HealthExpress, we prescribe a similar drug called Dutasteride which also treats BPH.
How quickly will I see results?
Finasteride works differently for everyone. However, treatment usually leads to visible improvements within 3 to 6 months, although it might take up to a year before you notice any changes. Everyone will experience treatment differently. If you find that finasteride is not working for you after 12 months, you should speak with your healthcare provider.
Clinical studies have also shown that the simultaneous use of anti-inflammatory shampoo can help improve the results of the treatment. The same can be said for a healthy lifestyle, including a balanced diet with sufficient protein, iron and vitamins.
A clinical trial Trusted source PubMed Government Source Database of Biomedical Research Go to source running for 2 years investigated finasteride effectiveness. They compared the hair counts of men taking finasteride compared to men who took a placebo (an inactive drug).
They found that after 2 years:
83% of men who took finasteride experienced no further hair loss compared to 28% of men on the placebo
66% of men on finasteride also saw hair regrowth whilst only 7% did who took the placebo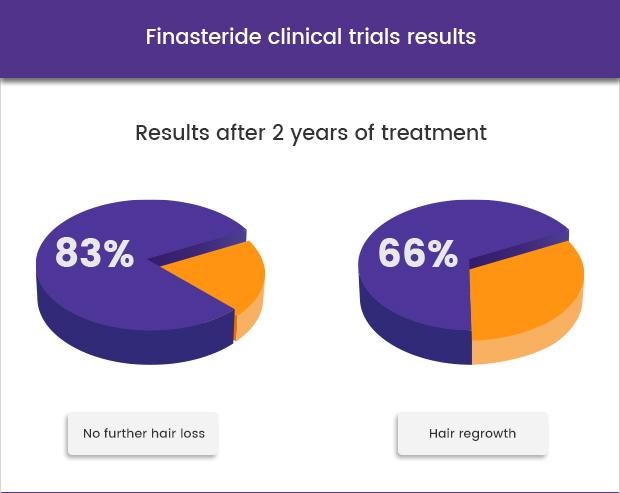 How do I take Finasteride?
A 1mg dose of Finasteride tablets is available for treating hair loss.
Our doctors recommend this Finasteride dosage to be taken for at least 6 months to see the treatment's full effects but long-term usage is advised for maximum benefits.
You should take one 1mg tablet once a day. You should take the tablet whole with or without food.
What happens if you forget to take Finasteride?
If you forget to take a dose, simply skip the missed dose and continue the course from your next dose. Do not take a double dose to make up for it. Taking more than one Finasteride a day will not improve its effectiveness, and you should consult a healthcare professional if you take more Finasteride than you should.
What happens if you stop taking Finasteride?
If you stop taking Finasteride, it's likely that you will experience further hair loss within 9 -12 months of stopping the medication. Some men also experience PFS (post-finasteride syndrome) which involves sexual side effects and other adverse effects such as:
erectile dysfunction
fatigue
loss of libido
ejaculation disorders
penile curvature or size change
memory, cognition and mood changes
According to the PFS foundation, the incidence of the condition is low, only occurring in 1.2% of men aged between 16 - 42 years old Trusted source PeerJ Peer-reviewed Journals Biological, Medical, and Environmental Sciences Go to source . However, it's still very important to follow your doctor's instructions and continue taking finasteride unless told otherwise.
For more information, please consult the patient information leaflet or speak to a healthcare professional.
What are the possible side effects of Finasteride?
As with any prescription medication, Finasteride can cause some side effects. The most common side effects, however, are still relatively uncommon.
The most common Finasteride side effects include:
low sex-drive (libido)
difficulty getting or maintaining an erection (erectile dysfunction)
ejaculation differences
mood alterations and depression
If you experience any symptoms whilst taking finasteride such as a skin rash; swelling of the lips, face, tongue and throat; difficulty swallowing; hives and/or breathing difficulties, it is most likely an allergic reaction. You should stop taking Finasteride and seek medical advice.
There also have been rare cases of finasteride causing eye problems such as dry eyes and visual impairment. If you're concerned, consult an optometrist.
If you're worried about any of these side effects or experience any adverse events whilst taking it, please speak to a healthcare professional.
Who can take Finasteride?
Women and children should not use or handle Finasteride. This is especially true of breastfeeding and pregnant women. If Finasteride is ingested or absorbed into the skin (through a damaged or crushed tablet), it harms the child in the womb or via breastfeeding. If this does occur, consult your doctor immediately.
You should also not take this medication if you are:
below the age of 18
allergic to Finasteride or any of the other ingredients
already taking any other 5α-reductase inhibitors for BPH or hair loss
Whilst there are no known drug interactions between Finasteride and Minoxidil, a hair loss treatment applied directly to the head, you should always let your prescriber know what medications you take so they can make sure.
If you have any preexisting conditions such as any cardiovascular (heart), metabolic or liver disease you should always mention it to the prescriber even if Finasteride is safe for you to take.
What precautions should I take?
Please note, Finasteride contains lactose. If you have lactose intolerance, please consult your doctor for an alternative.
It can also have an effect on prostate specific antigen (PSA) levels, a protein your prostate produces, which can affect the results of prostate blood tests. You should inform your doctor about the use of this medication if you are screened or diagnosed with prostate cancer.
Long-term use of Finasteride can affect fertility when the user has other risk factors. If you have existing infertility concerns, consult your doctor before using this treatment.
In rare cases, this treatment can cause mood changes and depression. If you experience extreme changes in your mood, you should stop taking it and seek immediate medical attention.
You should also seek immediate medical attention if you notice any changes to your breast tissue, as there are rare cases of breast cancer caused by the drug.
Can I buy Finasteride online?
You can buy Finasteride 1mg tablets online from HealthExpress. First, you must complete an online consultation - but do not worry, this does not take long. However, you must answer all questions honestly and in detail. Our UK registered doctors will then review your consultation to decide if it is safe to prescribe you the medication or not. Once they approve, they will issue a prescription to our pharmacy. The pharmacy will then package and dispatch your order with free next-day delivery.