What is Finasteride?
Finasteride is a versatile medication commonly prescribed to treat male pattern baldness and benign prostatic hyperplasia(enlarged prostate)*. It is also used as part of hormone therapy for transgender women.
Finasteride is the generic version of the hair loss treatment Propecia. A generic has the same characteristics as a branded version and is used in the same way. The only difference is the price and manufacturer.
HealthExpress currently only sells Finasteride as a hair loss treatment. If you require it for another condition, you should contact your regular doctor. They will assess your suitability and be able to prescribe it themselves.
As a hair loss treatment, this medication is very effective, with over 80% of men enjoying positive results.
*HealthExpress sells the medication Dutasteride for this condition.
How does it work?
Hair loss
Changes in hormone levels cause the majority of cases of male balding. Hormone levels change as you age. This form of hair loss is commonly referred to as male pattern baldness or androgenetic alopecia.
When your body produces testosterone, a small amount is converted to the androgen dihydrotestosterone (DHT). This is a completely natural process. However, over time, DHT causes follicles to shrink. With each growth cycle, the shaft of the hair also shrinks.
Finasteride belongs to a class of medication called 5α-reductase inhibitors. These medicines stop the conversion of DHT. With less DHT produced, you will stop losing hair and, in many cases, regrow it.
What do the results show?
Treatment usually leads to visible improvements within 3 to 6 months, although it might take up to a year for the full effects to be experienced.
Clinical studies have shown that the simultaneous use of anti-inflammatory shampoo can improve the results of the treatment. The same can be said for a healthy lifestyle, including a balanced diet with sufficient protein, iron and vitamins.
A clinical trial running for five years measured the hair count of men with mild to moderate hair loss and recorded the following results:
after 12 months, more than 4 in 5 men no longer experienced hair loss
75% of men treated with a placebo had further visible hair loss after 5 years, compared to less than 10% of men using Finasteride
after 5 years, 48% of men treated with Finasteride demonstrated an increase in hair growth, 42% displayed no further hair loss and 10% lost hair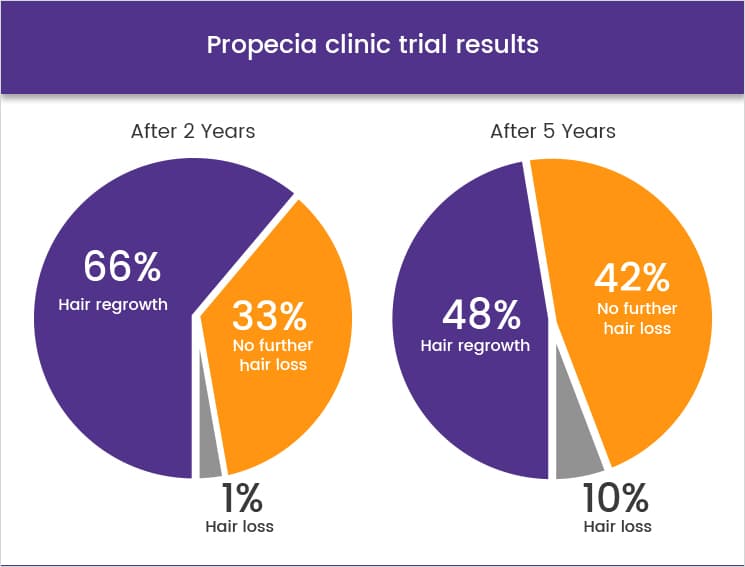 Prostate enlargement (BPH)
As mentioned above, your body's production of testosterone results in a by-product, dihydrotestosterone (DHT). Another effect of DHT is that it causes your prostate gland to grow in size.
An enlarged prostate can block the flow of urine from the bladder, resulting in the unpleasant symptoms of the condition – e.g. difficulty urinating, incontinence, frequent need to urinate.
By preventing the conversion of DHT, Finasteride stops your prostate from increasing in size. This eases symptoms and allows other medications to reduce the size of the gland effectively.
How do I take it?
Finasteride is available in 1mg tablets for hair loss and 5mg tablets for prostate enlargement. You can purchase packs for one or several months.
For hair loss, our doctors recommend a course of at least 6 months to see the treatment's full effects - long-term usage is advised for maximum benefits. After stopping treatment, further hair loss might be experienced within 6 to 12 months.
For prostate enlargement, you should consult with your regular doctor. You should also see them for regular check-ups so that they can assess your reaction to the medication.
Instructions (for all conditions):
one tablet is taken whole with a small amount of water daily
tablets can be taken with or without meals
take tablets around the same time daily
do not break, crush or split tablets
If you forget to take a dose, there is no need to replace it with an additional tablet. You can continue with the next dose the following day.
Should you miss more than one dose, please refer to the patient information leaflet (PIL) or speak with a healthcare professional.
Do not take a double dose to make up for a missed dose - this will increase the risk of side effects. Taking more than the prescribed dosage does not improve the efficacy of the medication and can lead to serious health problems.
What are the possible side effects?
As with any prescription medication, Finasteride can cause some adverse effects.
In the case of an allergic reaction, seek immediate medical attention. Symptoms of an allergic reaction might include one or more of the following:
difficulty breathing faintness and lightheadedness bloating and swelling of the face and extremities itchy or red skin and rashes
Finasteride's most common side effects are erectile dysfunction (impotence) and a decreased libido (sex drive).
Less common side effects include breast abnormalities and skin reactions.
If you discover any changes to your breast tissue, you should inform your doctor as soon as possible. Changes do not always mean breast cancer – however, it is very important you are checked.
If you experience serious side effects, or any of the other listed side effects last for a long time, you should stop treatment and seek medical advice.
A rare side of Finasteride is depression. If you have depressive thoughts, you should stop treatment and immediately contact a medical professional.
Who can take it?
Certain health conditions and lifestyle factors prohibit the use of this medication.
Women and children should not use or handle Finasteride. If pregnant and breastfeeding women touch the medication, it can be absorbed by the skin and damage the child. If you are a woman or child and touch or ingest this medication, please consult your doctor.
Finasteride is also not advised for patients who drink to excess or have substance abuse issues.
You should not take this medication if you have allergies to any of its ingredients - ingredients are listed in the patient information leaflet (PIL). The PIL is included with all orders and is available as a PDF to the right of this page.
There are alternatives to Finasteride - please speak to your doctor for more information.
What precautions should I take?
Please note, this medication contains lactose.
Finasteride can affect the results of prostate blood tests. You should inform your doctor about the use of this medication if you are screened or diagnosed with prostate cancer.
Long-term use of Finasteride can affect fertility when the user has other risk factors. If you have existing fertility concerns, consult your doctor before using this treatment.
In rare cases, this treatment can cause mood changes and depression. If this occurs, you should stop taking it and seek immediate medical attention.
You should also seek immediate medical attention if you notice any changes to your breast tissue.
Can I buy Finasteride online?
You can buy Finasteride online from HealthExpress. First, you must complete an online consultation - but do not worry, this does not take long. However, you must answer all questions honestly and in detail.
Our doctors will review your answer to decide if it is safe to prescribe you the medication or not. If they do not approve, you will NOT be charged.
If they approve, they will issue a prescription to our pharmacy. The pharmacy will then package and dispatch your order with complimentary next-day delivery.
Is the service safe?
Completely. We are authorised by the Medicines and Healthcare products Regulatory Agency (MHRA) and the Care Quality Commission (CQC). These are government bodies that ensure all medication sold is genuine.
All of our doctors who review your consultation are UK-based and registered with the General Pharmaceutical Council (GPhC). Our dispensing pharmacists are also UK-based and registered with the CPhC.
All certificates can be viewed through the links at the very bottom of this page - under the 'Safety & partnership' section.