What is Propecia?
Propecia was the first prescription treatment approved for male pattern baldness and is widely regarded as the most effective hair loss treatment because of its performance in clinical trials. Since 1997, it has undergone extensive testing which has shown that Propecia has stopped further hair loss in over 90% of men with two-thirds of men in the studies actually experiencing natural hair regrowth.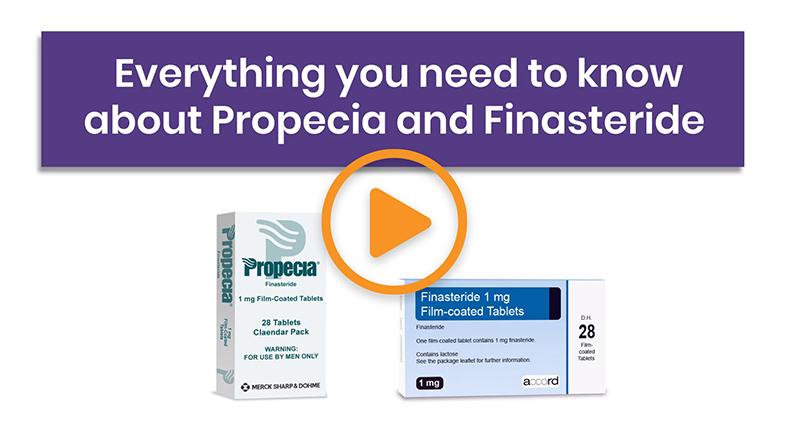 Most men will notice the results within three to six months of use, with hair loss being reduced and, in certain cases, hair may grow back. By month nine, they should be able to maintain the hair they have, and sometimes partially regrow the hair they've lost.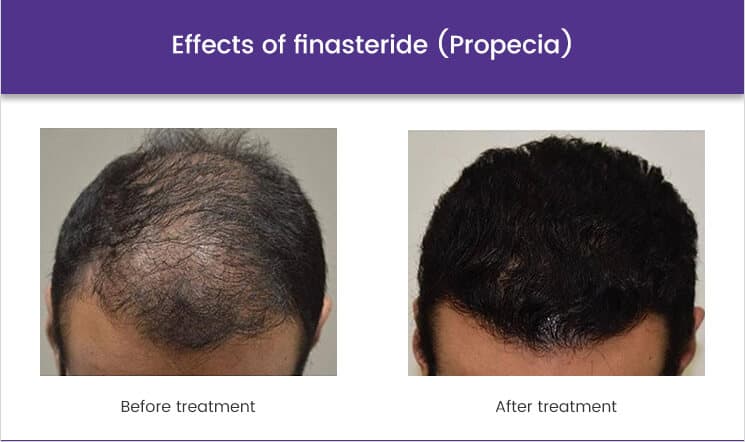 Male pattern baldness, particularly at a younger age, can have devastating effects on self-esteem. The immediate benefit of taking prescription Propecia (finasteride) tablets is to aid in the slowing down of hair loss, and hopefully, restore partial if not full regrowth of hair from in the affected areas.
Slow your male pattern baldness within just 3 months of beginning treatment
Enjoy the possibility of hair regrowth within a year
Single daily tablet, no inconvenient creams or lotions
Initial benefits (cessation of hair loss) are usually seen within 3-6 months of use, although it may need to be used for up to a year until notable improvements are experienced. Clinical studies have also shown that men who used an anti-inflammatory shampoo in conjunction with Propecia experienced the best results. Besides this, diets including high levels of protein and iron from foods such as vegetables, fish, eggs and beans have been known to also promote hair growth and quality of hair.
A clinical trial Trusted source PubMed Government Source Database of Biomedical Research Go to source running for 2 years investigated finasteride effectiveness. They compared the hair counts of men taking finasteride compared to men who took a placebo (an inactive drug).
They found that after 2 years:
83% of men who took finasteride experienced no further hair loss compared to 28% of men on the placebo
66% of men on finasteride also saw hair regrowth whilst only 7% did who took the placebo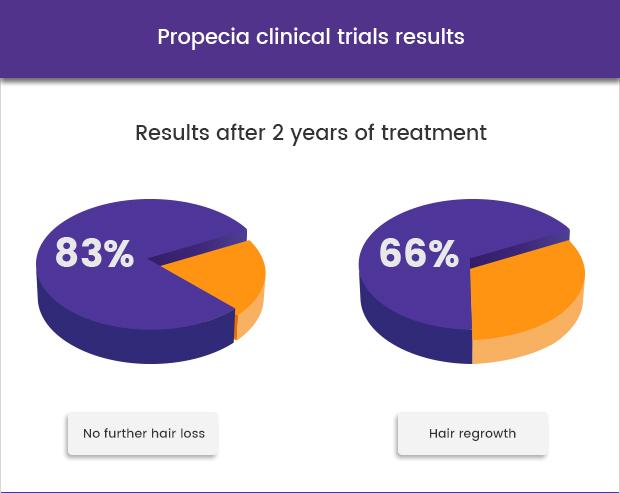 Propecia and prostate cancer
The active ingredient, finasteride is also said to provide some benefits in combating benign prostate enlargement in men. However, it has also been successful in minimising a man's chance of developing prostate cancer. It is not, however, prescribed for these purposes.
How does Propecia work?
Some men are susceptible to the negative effects of a testosterone by-product known as (DHT), and this sensitivity is the major contributing factor in male pattern baldness.
The active ingredient in Propecia tablets - finasteride, works by preventing the conversion of testosterone to dihydrotestosterone (DHT) in the body. Whilst the breakdown of testosterone is a natural process, some men are overly-sensitive to DHT, in this case, the DHT attacks the hair follicles eventually causing hair to slowly fall out. This treatment works by getting to the root of the problem, by eliminating the compounds that cause alopecia, thereby stopping or sometimes reversing the process which could lead to better, healthier hair growth.
How DHT affects hair follicles

How Propecia affects DHT

PROPECIA
How do I take Propecia (finasteride)?
One tablet should be taken daily, orally. It can be taken at any time, with or without food. If you forget to take your daily dose of Propecia, you do not need to take an extra tablet, just continue as normal. Do not take a double dose to make up for the one you have missed.
If you miss more than one tablet, please refer to the patient leaflet found below, or speak to your doctor.
Also, it's important to note that taking more than your specified dosage does not make Propecia work any faster. You will need to take the tablets for three or more consecutive months before you see the most positive results. Long-term usage is advised in order gain the maximum benefits. Once you've stopped taking your treatment, balding may resume within 6 to 12 months.
What Propecia dosages are available?
Propecia only comes in the 1mg dosage and is available in 1, 3, 6 and 9 month courses. All UK prescription medicines are tested to ensure that the dose you receive is the most effective with the least amount of side effects. The Propecia 1mg dose makes it a very convenient treatment, as it is simply taken once daily.
What Propecia precautions/interactions should I be aware of?
Propecia is also not prescribed for used by women or children and although it is prescribed for use by men with hair loss, there are certain conditions that may prevent the use of this treatment. These may include:
Pregnant women, who should avoid handling crushed or broken tablets
Those with an alcohol problem
Those with prostate cancer
Please speak to your GP if you're going to have a blood test for prostate cancer.
There are various NHS resources available with additional information.
What are the possible side effects associated with Propecia?
Side effects from taking finasteride are not very common. However, a small number of men may experience certain side effects such as:
Loss of libido
Ejaculatory issues
Rarer side effects of this treatment include:
Depression
Breast growth
Pain in the testicles
If you do experience any of these side effects and they persist, then stop using the treatment and speak with your GP as soon as you can.
Can I buy Propecia online?
It is safe to buy Propecia (finasteride) online here at HealthExpress as we ensure your safety is paramount above all. We ask that you first fill out the quick medical consultation before ordering so that one of the reviewing doctors can ensure it is safe for your use. When approved, you can then receive your hair loss treatment the very next day.