What is Nitrofurantoin?
Nitrofurantoin is the active ingredient and generic brand name used in an antibiotic that fights bacteria in the body and is used to treat UTIs, specifically cystitis. It is available as a generic or in a branded version which is sold under different names such as Macrobid. Nitrofurantoin generics have the same dosages and effectiveness as Macrobid and are available as capsules and tablets.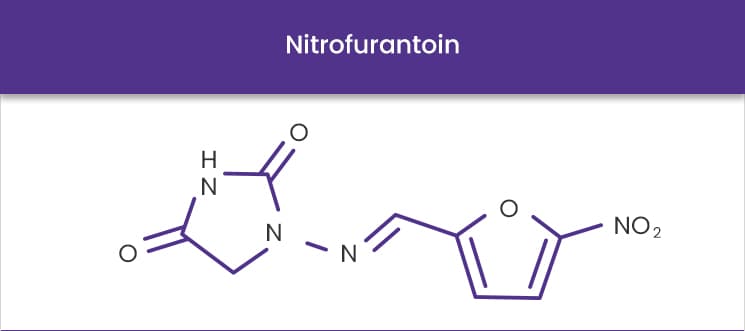 How does Nitrofurantoin work?
Once you've taken a capsule of Nitrofurantoin, the active agent is absorbed by the body and eventually concentrates in your urine which is why it is especially effective to treat bacterial infections in that region. The antibiotic works through damaging the DNA of the bacterial cells so they are unable to repair or reproduce themselves and eventually die, which clears up the infection. Nitrofurantoin is an efficient treatment for cystitis and UTIs and works quickly with the short course of treatment lasting between 3 and 7 days.
What Nitrofurantoin dosages are there and how is it taken?
Nitrofurantoin is usually taken as 100 mg (modified release) once in the morning and once in the evening. The tablets should be taken with food to help the body absorb the medication and avoid feeling nauseous. To ensure your infection is cleared completely, you should finish your course of treatment, even if you do start to feel better before the full time of treatment. The antibiotic has different treatment lengths for men and women.
Nitrofurantoin to treat UTI for women
Women should take 100mg (modified release) of Nitrofurantoin twice a day, for 3 days, to kill the bacterial infection. Alternatively, take 50mg (standard) of Nitrofurantoin 4 times a day for 3 days. However, if symptoms persist after 3 days you can continue to take the medication until the symptoms settle for as long as 7 days. If the symptoms persist after 7 days please seek immediate medical advice. Nitrofurantoin is taken orally in the form of a tablet with food.
Nitrofurantoin to treat UTI for men
Most UTIs affect the bladder and the urethra, which is the tube that drains urine from the bladder. UTIs are one of the most common infections in women and is very rare in men. When a man develops a UTI, it is usually considered complicated and more likely to spread to the kidneys. Nitrofurantoin will kill the existing bacteria and prevent the infection from spreading to the kidneys or the upper urinary tract. Men should take 100 mg (modified release) of Nitrofurantoin twice a day for 7 days in order to clear the infection. Alternatively, take 50mg (standard) of Nitrofurantoin 4 times a day for 7 days. If the symptoms persist after 7 days of treatment, please seek immediate medical advice.
What are the precautions and interactions I should be aware of?
You are required to have a prescription in order to purchase Nitrofurantoin. There are some precautionary measures you need to take into consideration before using Nitrofurantoin for the first time. Before using this medication you should consult your doctor about any allergies or medical conditions as well as your medical history.
It is particularly important to tell your doctor if you have any:
Blood disorders
Kidney problems
Liver problems
Lung disease
Nerve problems (peripheral neuropathy)
Eye disease (optic neuritis)
Do not have the Typhoid vaccination whilst using this medicine unless you are advised to by your doctor. Nitrofurantoin can cause bacterial vaccines to not work as well as they should.
Nitrofurantoin and pregnancy
Nitrofurantoin should only be used when clearly needed in pregnancy. Do not take this medication if you are in weeks 38-42 of pregnancy, near or at the time of delivery as this could cause potential harm to the baby, such as a certain blood problem (haemolytic anaemia). It is best to discuss the risks and benefits with your doctor before taking Nitrofurantoin.
Alcohol consumption whilst taking Nitrofurantoin
Alcohol will not reduce the effect of Nitrofurantoin so it won't cause a problem with the treatment if you drink in moderation while taking it. However, it is advised to avoid drinking alcohol whilst you have a bladder infection. Drinking water is best to help flush the bacteria out. If you are going to be consuming alcohol throughout the course of your treatment it is best to speak to your Doctor who can advise you further on this.
What are the potential side effects of Nitrofurantoin?
It is best to take this medication with food to help minimise feelings of nausea. Nitrofurantoin might cause urine to turn dark yellow or brown in colour but don't worry, this is normal and will disappear when the treatment has finished. Other common side effects include:
Vomitting
Loss of appetite
Stomach pain
Diarrhoea
Headache
Nitrofurantoin may rarely cause serious side effects such as:
Lung inflammation
Liver problems
Nerve damage
Hemolysis (red blood cell damage)
How can I buy Nitrofurantoin to treat UTI/cystitis online?
Nitrofurantoin can be bought online through HealthExpress. To purchase Nitrofurantoin you need to fill out our short medical questionnaire which our team of registered doctors will check and approve if the treatment is right for you. Our doctors will then issue a prescription allowing the treatment to be sent to you via our free next day delivery service.