What is Omeprazole?
Omeprazole is a proton-pump inhibitor most often used (either on its own or in combination with other medications) to treat acid reflux.
It can also treat Zollinger-Ellison syndrome, frequent heartburn and stomach and intestinal ulcers.
This medication generally comes in the form of delayed-release capsules or tablets. However, dissolvable powders and granules are also available. 10mg, 20mg and 40mg doses can be purchased online here at HealthExpress without the need for a GP's prescription.
How does Omeprazole work?
Acid reflux causes stomach acid to flow back up the oesophagus, resulting in heartburn and, in more severe cases, tissue damage.
Proton pumps are attached to cells in the stomach lining and produce acid. As a proton pump inhibitor, Omeprazole manages how much acid is released.
In turn, this provides quick relief from the uncomfortable symptoms of heartburn and indigestion. Long-term use can also enable injured digestive tract to heal.
Reducing the amount of acid in your stomach is also effective for the treatment of peptic ulcers.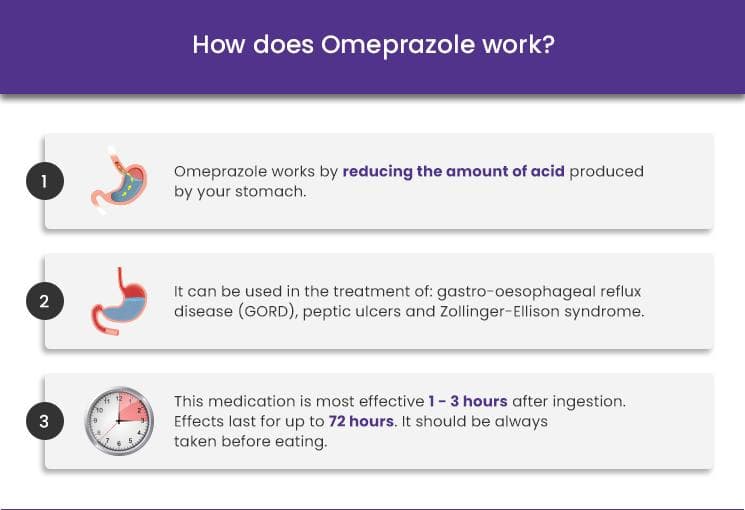 How do I use Omeprazole?
Your doctor may choose to recommend a course lasting anywhere from a few weeks up to several months depending on your symptoms.
When taking any medication, you should follow the advice laid out by the doctor as well as what is detailed in the patient leaflet.
A summary of how to take Omeprazole in its various forms is below:
Both gastro-resistant capsules and tablets should be swallowed whole with water, 1 hour before a meal
Do not crush, break or chew tablets
For Omeprazole, the recommended dosage is generally one or two 10mg tablets to be taken once daily (preferably 1 hour before breakfast) for approximately two weeks, or until symptoms go away (whichever occurs sooner)
Please note, your doctor may recommend a higher dosage and frequency of administration
Reduce to one tablet per day as your symptoms begin to ease
Should your heartburn or indigestion symptoms persist for longer than two weeks, consult with your doctor before continuing self-treatment
If you miss a dose, take it as soon as you remember (unless it's almost time for the next dose, in which case you should skip the missed dose and take the following as usual)
Do not take two doses to compensate for a missed dose
If you believe you have taken too much Omeprazole, or are experiencing side effects that concern you, contact your doctor immediately
Store this medication in the container provided, tightly sealed and in a location not affected by excess heat, moisture or light
Always follow the instructions regarding safe disposal and do not flush this medication down the toilet
What dosages are available for Omeprazole?
Omeprazole is available from HealthExpress in two strengths: 10mg and 20mg. These numbers refer to how much of the active ingredient, omeprazole sodium, is in each pill.
Omeprazole is also available in a 40mg dose. You need a prescription from your doctor to get the 40mg dose, but in some cases, your doctor may prescribe the 10mg dose instead.
This medication normally comes in the form of capsules that are gastro-resistant (hard and regular). However, it also exists as tablets and powder.
What are the side effects of Omeprazole?
Omeprazole is a relatively safe medication, but medicines can affect people differently. For a full list of adverse effects, please consult the patient leaflet.
Side effects which have been commonly reported include:
headaches
nausea
vomiting
constipation
flatulence
You should stop treatment and inform your doctor if you find any of the above become long-lasting or severe. You should also stop treatment and tell your doctor if you suffer any serious side effects not listed.
If taken for a protracted period, Omeprazole could also cause your stomach lining to weaken.
Taking Omeprazole at the same time as other proton pump inhibitors (such as Lansoprazole) can increase the risk of bone fractures. This risk tends to increase for people prescribed high doses for more than one year.
What precautions should I take with Omeprazole?
You should inform your doctor or pharmacist about all the medications you are currently taking (both prescription and over-the-counter or herbal remedies), as these can affect how Omeprazole works.
You should avoid this medication if you have an allergy to any of its ingredients.
It is also advised to avoid Omeprazole if you have already been prescribed rilpivirine.
Your doctor is likely to recommend you take a reduced dosage if you have/are:
liver-related health issues
vitamin D/B12 deficiency
osteoporosis (or, are at a heightened risk of developing this condition)
been prescribed a long-term course of corticosteroids
postmenopausal
Other key risk factors include old age, having a low level of magnesium, or being of Asian descent. If you are aged 50+, speak to your doctor before taking Omeprazole as you may stand a higher chance of developing brittle bones or a severe form of diarrhoea.
Omeprazole is not known to affect your ability to drive or operate heavy machinery. However, avoid such activities if you experience side effects such as dizziness or drowsiness.
You should consult your doctor before taking this medication if you are pregnant or breastfeeding. If you become pregnant while taking this medication, you should contact your doctor immediately.
How do I buy medications online?
Before you buy prescription medication from HealthExpress, you have to fill out an online medical consultation. Your information will be kept private so our doctors can make sure the medication you select is safe for you. If it is not safe, we may provide other options.
We provide free delivery the next day or on a day that you choose. You can pick when and where you want your order delivered.