What is Lansoprazole?
Lansoprazole is a prescription-only medication, classified as a proton pump inhibitor. It works to reduce the volume of acid in the stomach.
It is an effective treatment for a wide variety of conditions. However, it is most often used to treat the symptoms of persistent heartburn, indigestion, NSAID-associated duodenal or gastric ulcers.
Your doctor may also prescribe Lanasoprazole for gastro-oesophageal reflux disease, reflux oesophagitis, Zollinger-Ellison syndrome, gastrin-secreting tumours and certain bacterial infections.
How does Lansoprazole work?
As a proton pump inhibitor, the active ingredient in Lansoprazole prevents the cells (known as 'proton pumps') in your stomach lining that produce acid from acting.
Reducing the amount of acid produced can help provide short-term relief from heartburn and indigestion by minimising acid reflux (the process by which acid enters your oesophagus).
When taken over a longer period, Lansoprazole can also provide a beneficial environment for tissue damaged by acid reflux to repair itself, helping to prevent digestive issues from returning.
Certain stomach infections can also be treated if you take antibiotics concurrently.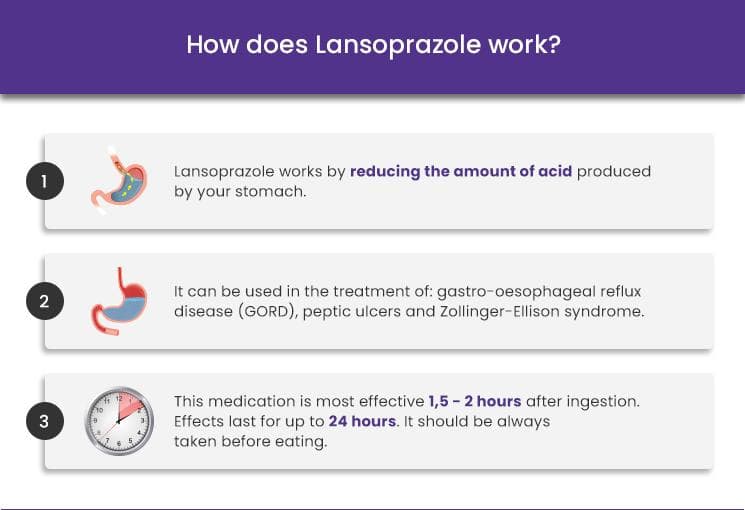 How do I use Lansoprazole?
Your doctor will decide on the most suitable treatment programme based on your diagnosis.
Each capsule contains 15mg of the active ingredient lansoprazole. The capsules are available in blister packs in a variety of sizes.
In most cases, you should take one capsule in the morning for the duration of treatment.
Always follow your doctor's instructions, as well as the advice laid out in the patient leaflet.
The following is a summary of how to take this medication:
capsules should be swallowed with water
do not chew or break capsules
take capsules 30-60 minutes before a meal
if you have been prescribed one capsule daily, take it before breakfast
if you have been advised to take two capsules daily, take one before breakfast and one before your evening meal
avoid other indigestion medicines for the duration of treatment
if you miss a dose, take a capsule as soon as you remember, unless it's almost time for your next dose. In this case, take a single capsule as normal
never take two capsules to make up for missing a dose
If you think you have taken too many capsules, or are experiencing severe side effects, contact your doctor immediately.
What are the possible side effects of Lansoprazole?
Side effects which have been commonly reported include:
headaches
dizziness
fatigue
rashes
hives
dry mouth or throat
digestive issues (diarrhoea, constipation, vomiting, cramps, etc.)
susceptibility to bone fractures
If you are concerned about any side effects, speak to your doctor or pharmacist.
What precautions should I be aware of?
Always consult your doctor about other medications you may be taking as interactions can impact Lansoprazole efficacy and increase the likelihood of side effects occurring.
Lansoprazole can also reduce the absorption of other medications, making them less effective.
Do not use this medication if you are allergic to the active ingredient, or any of its other ingredients.
This medication is not suitable for patients with phenylketonuria, as the capsules could contain aspartame.
You should exercise caution if you have liver problems, osteoporosis or a vitamin B12 deficiency. Inform your doctor, as they may recommend a reduced dosage or additional monitoring.
Antacids, sucralfate and herbal remedies such as St John's wort and ginkgo biloba should not be taken during treatment.
Lansoprazole can also reduce your magnesium levels, resulting in additional side effects. This risk increases if you are taking any other medication that also causes magnesium levels to decline. For example, diuretics (e.g. furosemide or bendroflumethiazide), tacrolimus and digoxin.
This medicine is generally not considered suitable for use by children or pregnant or breastfeeding women, unless advised by a doctor.
Can I buy Lansoprazole online?
Yes, you can order this medication from HealthExpress, assuming it has been approved for your use by one of our doctors. You must first complete a confidential consultation, which will ask you about any current and past medical conditions, as well as any treatments you are taking. This is to reduce the risk of complications occurring.
We offer free next-day delivery and nominated-day delivery, so you can choose when and where you want your order delivered.