What is Ovranette?
Ovranette is a long-term low dose oral contraceptive that can provide comprehensive protection against pregnancy. Ovranette is also known as levonorgestrel, and is one of the most prescribed oral contraceptives available. Ovranette pills are almost 100% effective if taken correctly . If you are one of the many women who have to deal with long painful periods, this medication can help to minimise your discomfort. Some people also find that Ovranette pills can reduce the occurrence of symptoms associated with premenstrual tension.
What are the additional benefits of Ovranette?
Ovranette is a combination contraceptive that can provide you with immediate contraceptive cover, providing it is taken on the first day of your period. This contraceptive provides you with convenient contraceptive cover, so that you don't have to worry about any additional contraceptive measures before you have sex.
Ovranette pills can help you regulate your menstrual cycle so that you know when you can expect your period. As you do not ovulate when you use the pill, many women do not have their periods, but instead, what you will experience is minor withdrawal bleeding. The lack of an actual period means that the associated cramps will be less severe, or not present at all.
Ovranette is also a lower dosage of hormones than some other similar oral contraceptive tablets, so side effects are often reduced.
Does Ovranette protect me against sexually transmitted infections?
Ovranette pills do not protect against STIs (sexually transmitted infections), it is advised to wear a condom if you want to be protected from sexual infections. If you've had unprotected sex and feel you may have an STI please speak to your GP or visit your local sexual health clinic.
How does Ovranette work?
Each Ovranette pill contains two artificial hormones, ethinylestradiol and levonorgestrel. Combination contraceptives such as Ovranette stop ovulation from happening, which minimises the odds of an egg that is ready for fertilisation from being released. In the unlikely instance that an egg does get released, Ovranette thins the womb lining, thus preventing the egg from planting itself. Ovranette also changes the viscosity of the mucous in the cervix so that it is too thick for sperm to move through.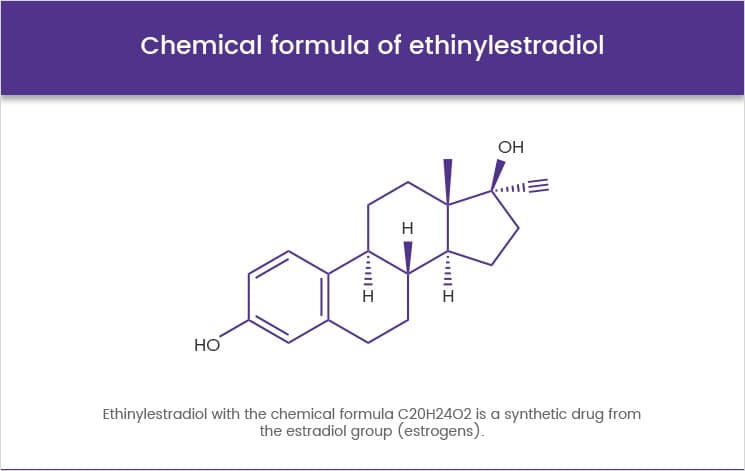 How do I take Ovranette?
For immediate protection, you should start taking your first Ovranette pill on the very first day of your period. You can find out more details about using this combined contraceptive in the attached patient information leaflet or by consulting with your doctor.
Ovranette pills are taken for 21 continual days.
They should be taken at around the same time every day to be fully effective.
This is followed by a seven-day rest period.
You may experience withdrawal bleeding similar to a regular period.
You will still be protected during the pill-free week.
What should I do about a missed Ovranette pill?
If you happen to forget to take your pill or more than one pill in one blister pack at the usual time, follow the below protocol:
If you have missed one Ovranette pill, then take it as soon as possible unless it is close to the time of your next pill. If it is nearer to the next pill than the previous time, miss it out completely and continue with the blister pack as normal. Missing one pill in one blister pack will not affect the effectiveness and you will not need further barrier protection.
If you miss two or more pills in one blister pack, then you will not be protected at maximum effect. However, take the last missed pill as soon as you remember unless it is close to the time of your next pill. Do not take two pills in close proximity - this will not combat the mistake - and skip the missed pills. It is advised to use condoms or refrain from sex for the next seven days.
Use our interactive tool below on what to do if you miss one or multiple pills in one month (menstrual cycle). Simply click to begin.
How many pills have you missed? How late?
One pill

less than


12 hours late
Started a new pill pack

less than

12 hours late
One pill

more than


12 hours late
Started a new pill pack

more than

12 hours late
*Vomiting and diarrhoea experienced within four hours of taking the pill is also classed as a missed pill.
*There are more than seven pills left in the pack. Continue to finish the pack, overlapping the seven-day break. Take your seven-day break and start your new pack as usual.
*There are fewer than seven pills left in the pack. Continue to finish the pack, overlapping the seven-day break. Start the new pack immediately after the old one is finished (missing out the seven-day break completely).
*If you have missed contraceptive pills in the first one to nine days of the pill pack and have had sex without barrier contraception, you could be pregnant. If you have calculated this between one to five days after the unprotected sex, you could use emergency contraception such as the IUD or morning-after pill. If not, continue your contraception until the seven-day break. If you don't have any bleeding, it is advised to take a pregnancy test and/or consult your doctor.
For more information about what to do if you've missed your Ovranette pill for a long period of time, speak to your doctor or sexual health specialist, in the mean time, use barrier contraceptives such as a condom to stay protected
What dosage is Ovranette?
Ovranette pills come in a standard dosage, with each one containing 150mcg of levonorgestrel and 30mcg of ethinylestradiol. This dosage has been formulated to maintain effectiveness whilst simultaneously minimising possible side effects.
What side effects are associated with Ovranette?
There is a very small risk of developing side effects when taking Ovranette pills. The effects are usually mild and pass as soon as your body has become accustomed to the treatment. Some of the most common side effects:
Headaches, nausea, reduced sex drive and weight gain.
Ovranette and breakthrough bleeding
Women using Ovranette pills for the first time may experience side effects such as spotting, breakthrough bleeding or missed periods. You should talk to your doctor if any breakthrough bleeding persists.
Stopping Ovranette
If you're thinking about coming off Ovranette, then it's always advised to speak to your doctor. Some things that you might have initially gone on the pill for to get rid of might come back. These include:
Acne - The Ovranette pill can often keep spots under control, so once you're no longer taking contraceptives, your acne may return.
Breasts - You may notice your breasts becoming smaller. They might also become less tender to the touch, and this often extends to nipples also.
Libido - It's quite common for women to find that their sex drive increases after coming off Ovranette or similar medications.
Mood - Mood-swings and considered to be somewhat common, however lots of women don't experience anything at all in this area. If you are worried about Ovranette and depression or other mental health side effects, it's always recommended to talk to a qualified professional.
What Ovranette precautions/interactions should I be aware of?
You can safely buy Ovranette contraceptive pills online if you are 18 years or older. Women who are pregnant, breastfeeding, have heart or liver problems or issues with circulation should not use this medicine. There are certain types of medications such as Vitamin C or St John's Wort that cannot be taken with an Ovranette pill. Also, if Ovranette is taken with the weight loss medicine Orlistat, it can increase the risk of developing diarrhoea. It is important that you list any treatments you are taking, prescription or over-the-counter, in your online consultation.
For more information about Ovranette and the interactions it may have with other medicines, plus any further information about side effects, please refer to the patient leaflet. This is included with your medication, and is also available for download towards the bottom of this page.
Can I buy Ovranette online?
You can order the Ovranette pill online after completing an online consultation form. This will include some questions about your personal information and medical history so that our doctors can decide whether Ovranette pills are the right contraceptive treatment for you. Once your medication is approved, we will forward your prescription to our pharmacy, who will ensure that your medication is delivered via next day delivery.