What is Qvar
Qvar Aerosol inhalers, Autohaler and Easi-Breathe inhalers are all used as treatments to control the occurrence of asthma symptoms. These treatments contain the active ingredient beclometasone dipropionate, which is a type of artificial corticosteroid. Corticosteroids in the body work to combat inflammation and are therefore extremely helpful in preventing inflammation of the airways that can cause uncomfortable asthma symptoms.
How does Qvar work?
All the treatments in the Qvar inhaler range available contain beclometasone dipropionate, which works within the airways to reduce inflammation. If it is delivered directly where it's required, this compound helps to prevent the release of chemicals inside the body that trigger an immune responses, which causes inflammation in the airways, making it difficult for you to breathe. If the release of these chemicals is suppressed, it's less likely that you'll experience symptoms if you come in contact with a trigger, allowing you more freedom and comfort.
What are the benefits of using Qvar inhalers?
All three inhalers can be used to prevent symptoms occurring in people with mild to severe asthma. If used daily it can allow you the freedom to come in contact with asthma triggers, without it affecting you as severely as it normally would.
Although this medication should only be used as a preventative measure, it can provide gradual relief from asthma symptoms the longer you use it.
How do I use a Qvar inhaler?
The Qvar inhaler comes in three different types, so below is a breakdown of how each one operates and the technique to use them. Further instructions will come in the patient leaflet included with your medication, and they are also available for download at the bottom of this page.
How do the Qvar Autohaler, Aerosol and Easi-breathe inhalers differ?
Although all three Qvar asthma treatments contain the same active ingredient, they are all delivered in a different way, to ensure that they provide you with the most effective treatment. Ensure you are seated or standing upright when using any of the inhaler types.
Qvar Aerosol:
The Qvar Aerosol inhaler delivers beclometasone dipropionate deep within the lungs where it's needed most. It should be used daily, so while it can't provide immediate relief in the instance of symptoms, it builds up over time. The active ingredient is compressed within an aerosol container and is then dispersed by pressing down on the canister as you inhale. To use this inhaler medication:
Take the cap off the inhaler mouthpiece.
Hold the inhaler upright and shake the inhaler vigorously up and down.
Breathe out normally as far as you comfortably can, then hold the mouthpiece between your lips.
At the same time as you first start to breathe in, press the top with your finger to spray the medicine.
Remove the inhaler from your mouth and hold your breath for as long as you can and then breathe out slowly.
If you need more than one dose, start again from step 2.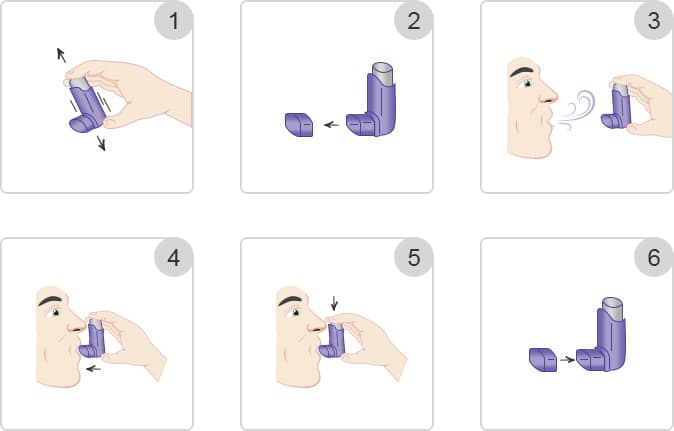 Qvar Autohaler:
The Qvar Autohaler also delivers medicine directly to the lungs, however using it doesn't require you to push down on a canister as you inhale, making it very easy to use for most people, to use this medicine effectively:
Remove the mouthpiece cap of the autohaler
With the lever down, shake the autohaler well
The hold the device upright and push the lever up as shown
Ensuring your hands are not blocking air vents at the bottom of the autohaler, breathe out and the place the device in your mouth, forming a firm seal with your lips
Breathe in through the mouthpiece not your nose until your lungs are filled, then hold your breath for 10 seconds
Push the lever down after use (unless additional puffs have been prescribed) and place the mouthpiece cover when you are not using it.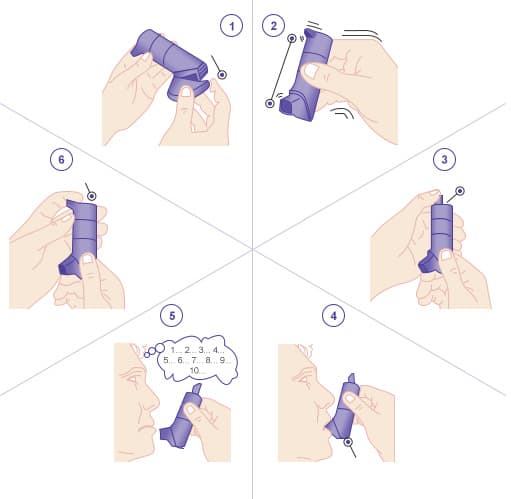 Lever Down
Lever Up
Air Vents
Lever Down
Ensure you clean the Qvar autohaler in clean, lukewarm water when necessary, shaking out any excess water and leaving it to dry in a warm and clean environment, do not use a cloth to clean inside the mouthpiece. If this inhaler does not seem to work as effectively as it should, then contact your doctor for assistance and a possible alternative.
Qvar Easi-Breathe:
The Qvar Easi-Breathe Inhaler works almost just like the Autohaler, although the air vent, that enables you to use the inhaler, is opened once the cap is removed from the mouthpiece. To use this inhaler type:
Holding the inhaler upright, shake the device well
Remove the mouthpiece cap of the easi-breathe inhaler
Breathe out fully
Place the mouthpiece in your mouth forming a tight seal with your lips. Do not block the air vents at the top of the inhaler
Breathe in steadily through the mouthpiece even when the inhaler puffs until your lungs are filled
Remove the easi-breathe inhaler and hold your breath for around 10 seconds and then breathe out gently.
Remember to place the mouthpiece cover back on the device and keep it safe. If another dose is required, ensure you wait for about 30 seconds before repeating the steps above again. As some people may find it difficult to work the switch on the Autohaler, the Qvar Easi-Breathe version is sometimes preferred.
What dosages are available with Qvar?
There are various dosages available, and the one you choose will depend on your current condition, as well as your personal preference. All treatments are available to buy in either a 50mcg dose or 100mcg dose. They can be administered as follows to prevent asthma symptoms:
50mcg Qvar Aerosol, Qvar Autohaler or Qvar Easi-Breathe:
Mild asthma - One to two puffs twice a day
Moderate asthma - Two to four puffs twice a day
Severe asthma - Four to eight puffs twice a day (speak to your doctor if you are at this stage so as to find a better method of managing the condition)
100mcg Qvar Aerosol, Qvar Autohaler or Qvar Easi-Breathe:
Mild to moderate asthma - One to two puffs twice a day
Severe asthma - Two to four puffs twice a day (speak to your doctor if you are at this stage so as to find a better method of managing the condition)
Are there any side effects when using Qvar ?
As Qvar asthma inhalers are inhaled, they are much less likely to cause side effects than oral steroid treatments for asthma, but they are still a possibility. Luckily, the most common effects experienced by those using this treatment are quite mild and tend to go away after a while. These effects may include:
More common:
Headaches
Hoarseness
Changes in taste
Easy bruising
Feeling dizzy or faint
Rare:
Anxiety and/or depression
Changes in behaviour - such as hyperactivity, aggression or irritability (these are more common in children)
Some of these side effects are more common than others, but if any of these persist or are worrying you, or if you experience anything serious, you should seek medical help immediately.
What are the precautions/interactions of Qvar?
Most people can use these treatments to help keep asthma or COPD symptoms under control, although there might be some exceptions, these include:
Those allergic to the active ingredients
People with a history of lung or chest infection
Those who need to avoid alcohol (this is because Qvar contains a small amount of ethanol)
You should also mention in your consultation if you have diabetes, thyroid or liver disease and if you are taking any other medications, as they may influence how well your Qvar inhaler treatment works.
Further information about the side effects, precautions, and interactions of Qvar can be found in the patient information leaflet. You are also advised to speak to a doctor or pharmacist before taking this medicine for the first time
.
How can I buy Qvar inhalers online safely?
All three Qvar inhalers are available to buy online from HealthExpress. To make sure that you can use these treatments, we ask you to complete a quick online consultation, which will help our doctors evaluate whether this treatment is right for you. Once your consultation is approved, you'll be able to order the inhaler of your choice and we'll forward your prescription to our pharmacy, from where your treatment will be shipped straight to you.
Please note that you should only order these medications if they have been recommended to you by your doctor as an asthma treatment.