What is Seretide?
The Seretide Evohaler and Accuhaler is a two in one asthma medication containing a combination of fluticasone (steroid) and salmeterol (long acting bronchodilator). They work to help relax the airways and to ease breathing, as well as to reduce the inflammation associated with asthma symptoms.
This inhaler is naturally used as a preventative form, but can also provide relief from asthma attacks when necessary. Seretide is used on a daily basis, and can be used by both men and women, over the age of 18, with asthma.
Difference between the Seretide Evohaler and Accuhaler?
There isn't any difference between the active ingredients in these treatments or how they work inside the body to help prevent asthma symptoms, although the method in which they deliver this active ingredient differs slightly.
Seretide Evohaler
The Seretide Evohaler contains the active ingredients in a compressed canister, which should be pressed down as you inhale to release a puff of the medication directly into the airways. It is a metered dose inhaler (sometimes referred to as an MDI or aerosol inhaler) that delivers the medicine as a fine spray or mist.
Seretide Accuhaler
The Seretide Accuhaler is a dry powder inhaler, that doesn't require you to depress the canister while you inhale. All you need to do is slide the container open on the one side to reveal the mouthpiece, pull the lever to release the powdered medication and bring it to your mouth to inhale. With the Accuhaler, you can keep track of how many doses you have left, as it has an indicator that counts down every time you use it.
How does Seretide work?
Seretide comes in two different variants, both of which contain two active ingredients to provide effective and comprehensive asthma management. Salmeterol can help to reduce mucus, as it speeds up the movements of tiny cilia in the lungs.
One of the active ingredients fluticasone is a steroid known as a corticosteroid. It works to stop inflammation in the airways by preventing the release of chemicals that cause inflammation that makes airways more sensitive.

The other active ingredient salmeterol xinafoate works to relax the muscle in the airways and lungs and keep asthma symptoms controlled for up to 12 hours. This helps to keep the airways open in the long term and can help to prevent sudden asthma attacks.
It is important to note that Seretide inhaler should only be used to prevent asthma symptoms and you should still carry a quick relief inhaler, such as Ventolin with you in the event of a sudden onset of symptoms.
What are the benefits of using Seretide?
A number of benefits can be received when using Seretide successfully. These benefits include:
Seretide uses a combination of two active ingredients to help open the airways and lasts for up to 12 hours, also helping to reduce swelling within the airways.
It contains salmeterol, which is a long-acting bronchodilator, and fluticasone, which is a steroid that counteracts inflammation in the bronchi.
The use of Seretide should minimise the potential need for oral steroids.
Seretide will mean 24-hour control of your asthma, improved breathing, reduced wheezing and a reduced need to rely on your 'blue' reliever inhaler.
Individuals using Seretide inhalers should experience the benefits of improved breathing from the very first day of treatment.
How do I use Seretide?
The dose you'll be recommended by one of our doctors, will largely depend on your current health, the severity of your symptoms and your tolerance of the active ingredients in this medication. Below is a general guideline of how the different doses should be taken for the treatment of asthma.
Seretide Evohaler
The 25 mcg (salmeterol) / 50 mcg (fluticasone propionate), 25 mcg / 125 mcg and 25 mcg / 250 mcg doses should all be administered only twice a day.
This evohaler works as a standard inhaler and is effective when used correctly. This inhaler requires co-ordination whilst pressing down on the cannister. To use this inhaler type:
Take the cap off the inhaler mouthpiece and hold the inhaler upright. Shake the inhaler vigorously up and down.
Remove the mouth piece
Breathe out normally as far as you comfortably can
Hold the mouthpiece between your lips.
At the same time as you first start to breathe in, press the top with your finger to spray the medicine.
Remove the inhaler from your mouth and hold your breath for up to 10 seconds and breathe out slowly.
If you need more than one dose, start again from step 3.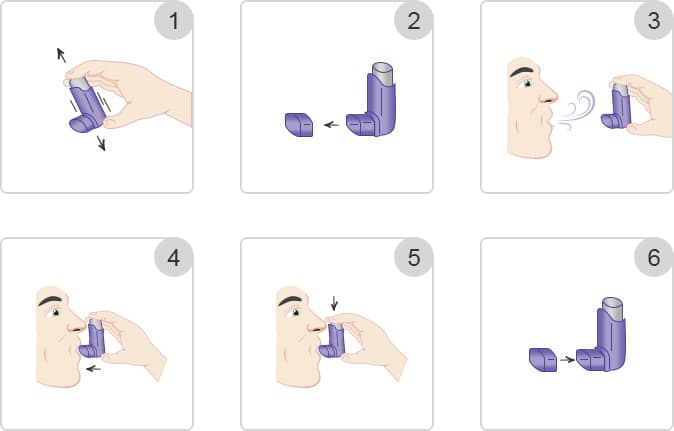 After you finish using the inhaler, ensure you always replace the mouthpiece cover to prevent any fluff or dust from entering.
Seretide Accuhaler
This inhaler type is most suitable for those who don't need to use a spacer with their inhaler. It also provides breath activated alternative and provides a dose counter so that the user can keep track of how many doses remain in the device.
The accuhaler is provided in three different doses - 50 mcg (salmeterol) / 100 mcg (fluticasone propionate), 50mcg / 250 mcg and 50 mcg / 500 mcg doses which should be taken twice a day. Depending on the severity of the symptoms, it is best to understand what dosage works best for your individual needs.
This accuhaler is very simple to use, as detailed below:
Step 1. Open

Holding your Accuhaler in one hand. as shown. place the thumb of your other hand.
Open your Accuhaler by pushing the thumb grip right around until it clicks.
The mouthpiece should now be fully visible (see photo in step 2).

Step 2. Slide

You'll also see the lever.
Hold the mouthpiece towards you and push the lever away from you until it stops.
The number in the dose-counter window will be reduced by one.

Step 3. breathing out

Breathe out as much as possible.

Step 4. Inhale

Put the mouthpiece to your lips.
Breathe in steadily through your Accuhaler (not through your nose).
Remove your Accuhaler and hold your breath for about 10 seconds.
Breathe out slowly.
Rinse your mouth with water after using your Accuhaler.

Step 5. Close

Close your Accuhaler by sliding the thumb grip back to the original position.
This makes your Accuhaler ready to use again next time.
The dose counter on the top of the Accuhaler show how may doses are left to use.

Step 6. Rinse

After use, rinse mouth with water.
This will reduce the chances of any irritations.
You should not increase your dosage without consulting with your doctor, as the medication won't take effect for a few days. If you happen to forget to take a dose, just take your next dose when it is due. Never take a double dose to make up for a missed dose.
What are the side effects of Seretide?
Side effects are a possibility when using Seretide asthma inhaler, although they are very rare and won't affect every person that uses the treatment. The most common side effects reported include:
Headaches
Aching joints
Sore throat
Oral thrush.
Side effects, such as oral thrush, can be avoided by ensuring that you rinse your mouth after every time you use this medication.
Should you experience anything more serious or bothersome, it's important that you get medical help as soon as possible.
What precautions should I take with Seretide?
Seretide treatments are usually well tolerated by young people and adults, although it is only available on prescription here for those over the age of 18.
It is also not advised to buy Seretide if you are:
allergic to any of the active ingredients (salmeterol and fluticasone), lactose monohydrate (Accuhaler) or norflurane (Evohaler).
pregnant, breastfeeding, have heart disease, an overactive thyroid gland, high blood pressure or diabetes
You may still be able to take this treatment if you suffer from low blood potassium levels or have ever been treated for tuberculosis, but it'll have to be under the strict supervision of your doctor.
It is important that you understand the precautions for Seretide inhalers before deciding to buy one, before using them. These precautions include:
Don't use Seretide if you are allergic to salmeterol xinafoate, fluticasone propionate, or the other ingredient; lactose monohydrate
You should consult with a doctor if you are intending to use a Seretide inhaler during pregnancy, or while breastfeeding
Use Seretide inhaler with caution if you have a history of tuberculosis (infection in the lungs) are currently dealing with heart disease, irregular heartbeats (arrhythmias), high blood pressure (hypertension), overactive thyroid gland, or diabetes
Seretide isn't recommended for children under four years old
You should inform your doctor if you are using Seretide whilst taking medications, such as beta-blockers, antiviral and antifungal medicines, and corticosteroids
How can I buy a Seretide inhaler online safely?
Seretide inhalers can be ordered quickly online from HealthExpress by completing a quick and easy online consultation. We understand the urgency sometimes required with medication such as inhalers which is why you could receive your asthma medication the next day after filling out our online consultation and receiving approval from one of our doctors.