What is Uniroid HC?
Uniroid HC is available in both an ointment and suppositories to help reduce the swelling, itching and soreness of internal and external piles. It also presents a low risk of side effects.
How does Uniroid haemorrhoids treatment work?
Uniroid-HC suppositories and ointment contain cinchocaine hydrochloride and hydrocortisone. Cinchocaine in these treatments works to temporarily numb the area of application by stopping nerve impulses from relaying pain messages. But while cinchocaine helps deal with immediate discomfort, hydrocortisone aims to target inflammation, which is the main cause of symptoms. Hydrocortisone is what is known as a corticosteroid, which is a natural steroid and is able to influence the release of chemicals that cause inflammation.
What are the benefits of Uniroid HC?
This treatment is usually recommended if you are experiencing the painful symptoms of haemorrhoids that won't go away, even after you've made changes to your diet and/or increased your fluid intake. It's designed to aid recovery, but can also help alleviate discomfort caused by piles almost straight after application.
Uniroid HC can help alleviate symptoms such as:
Itching
Inflammation
Discharge
Bleeding
How do I use Uniroid HC ointment and suppositories?
Uniroid HC is a short-term treatment that should not be used for more than seven days to avoid increasing your risk of developing serious side effects. Whether you purchase the cream or suppository, you should always wash your hands before using Uniroid, and you should ensure that the anus area is clean.
Ensure the area and your hands have been cleaned thoroughly with water
Dry the area completely by patting so as not to aggravate the piles further
For external haemorrhoids - the area around the anus
Squeeze a pea size amount onto your finger
Spread gently over the skin and leave
Do not rub the ointment in
For internal haemorrhoids - to be used inside the anus
Place the nozzle onto the top of the tube
Fill the nozzle with the ointment
This is the correct dosage for one application
Insert the nozzle into the anus slowly
The whole nozzle should be inside
Squeezing the tube gently, withdraw the nozzle
Wash nozzle thoroughly ready for next use
As a general rule of thumb, the Uniroid HC ointment needs to be applied twice daily and then once a day when symptoms have cleared up.
If your symptoms are very severe, you could use the ointment 3-4 times on the first day.
Using suppositories
Some people prefer to use the suppository format of this haemorrhoids treatment either due to the inabailability of the ointment or for a direct coverage from the core of the piles. Instructions on how to use a suppository is below: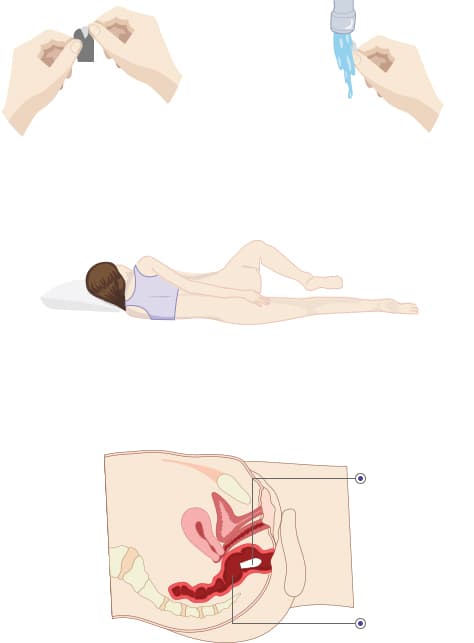 Remove foil wrapper.
Moisten the suppository with water or water-based lubricating jelly.
Lie on your left side and bend your right knee up toward your chest. Gently push the suppository into your rectum so it is deep enough not to come out.
Suppository
Rectum
This treatment should be for short-term use only; however further instructions on how to apply Uniroid will be included in the information leaflet provided.
What dosages are available with Uniroid HC?
Uniroid comes in both ointment and suppository forms, and you can get either one or the other, or both.
The suppository is available to in a 5mg quantity
The ointment is available to in a 30g quantity
The quantities in each treatment have been formulated by the manufacturer, in order to maximise potency, whilst minimising any possible side effects.
Are there any side effects when taking Uniroid HC?
Side effects are not common with Uniroid HC ointment or suppositories but as they are prescription treatments there is a chance that you may experience certain mild side-effects. These may include:
Rashes or irritation of the area of application
If you do experience anything serious or bothersome, or experience an allergic reaction to the medication, then it is important to see your doctor as soon as possible.
What precautions/interactions should I be aware of with Uniroid HC?
Most adults with piles can use this treatment although there may be certain cases where the treatment may be unsuitable. These include:
Allergies to the active ingredients
Those with viral, bacterial or fungal infections.
Pregnant or breast feeding women
For more information about side effects, interactions or precautions, please refer to the patient information leaflet, which is included with your medication and is also available for download at in this page.
Can I buy Uniroid HC online safely?
Uniroid HC ointment and suppositories are available to order safely online at HealthExpress. You just to complete an online consultation form, which will be checked by our doctors, so that we can see if this haemorrhoid treatment is suitable for you. Once approved, your Uniroid will be shipped from our pharmacy directly to you for next day delivery, at no additional charge.
If you live within London, you can receive your treatment today if you purchase before 4pm. If you have any queries, please don't hesitate to contact our friendly customer service team.