What are the additional benefits of using Elleste?
Both Elleste Solo and Duet are intended to provide relief from some of the most common symptoms of menopause, including hot flushes, night sweats, vaginal dryness or itching and loss of bone mass.
Elleste Solo doesn't contain progestogen, meaning that it should be taken with clinical progestogen in women who have a uterus, but may be more suitable to take on its own if it's taken to treat menopause in women who have had their womb surgically removed (hysterectomy).
How does Elleste work?
Elleste Duet or Solo mainly works by improving oestrogen levels to counteract the effects of menopause that can cause a number of uncomfortable symptoms. These treatments simply work by supplementing the body with oestrogen to compensate for the body's reduced capability to produce this hormone after menopause.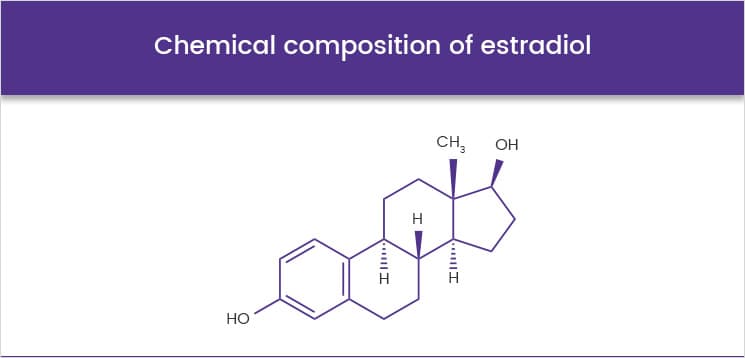 Oestrogen has a number of functions in the body, and while it's helpful, it can cause the womb lining to grow uninhibited, increasing the risk of endometrial cancer. This is because progestogen levels are also influenced by hormonal changes during menopause. Progestogen helps control growth of the uterine lining, reducing the risk of cancer, which is why Estelle Duet should be taken by women who still have a uterus. Elleste Solo should be combined with clinical progestogen.
Who can take Elleste?
Elleste Duet or Solo should only be ordered from HealthExpress if your regular doctor has recommended you take it. You may not have been recommended this treatment if you have certain conditions, including oestrogen-dependent cancers, liver disease, issues with blood clotting and if you have a history of breast cancer.
What doses are available?
Elleste Solo, which contains just estradiol, is available in a 1mg and 2mg dose, but you are likely to be started on the smallest dose first.
Elleste Duet is available in a 1mg and 2mg dose. The 1mg dose packs contains 16 white 1mg estradiol tablets and then 12 green tablets which is a combination of 1mg norethisterone (progestogen) and 1mg estradiol. The 2mg pack has a combination of 16 orange 2mg estradiol tablets and a grey combination tablet with 2mg estradiol and 1mg norethisterone acetate.
Elleste Duet Conti is also a combination treatment like Elleste Duet, although it contains 28 grey tablets which consist of 1mg norethisterone acetate and 2mg estradiol.
How do you take Elleste?
Elleste Solo should simply be taken once daily for 28 days, without a break between pill packs. You may use a clinical progestogen for 12 to 14 days while you are taking this treatment.
Elleste Duet simply needs to be taken once a day for 28 days without any break between pill packs. It's available in a 1mg and 2mg dose with each pill strip containing 16 oestrogen tablets and 12 progestogen tablets. You'll have to take a different tablet depending on your cycle, but this will be indicated by the pill strip to help you keep track. Similarly, Elleste Duet Conti should be taken for 28 days, although the same pill is taken through the entire period.
Are there any side effects?
Not everyone on HRT will experience side effects, but using medications containing hormones can carry an increased risk of certain cancers and blood clotting, which is why your doctor will recommend that you come for regular check-ups. However, if you are using the right medication, side effects shouldn't be a worry. Common effects may include:
Nausea, headaches, indigestion, leg cramps, acne or fluid retention.
Is Elleste available online?
You can order both these treatments from HealthExpress if they've been recommended to you by your doctor and you are already using either of these treatments. If you would like to order treatment and get a repeat prescription, complete a consultation online for approval by our doctor. After completing your consultation, our doctor will review your information and you will be contacted to complete your order so that your treatment can be shipped via next day delivery from our pharmacy.