What is Elleste?
Elleste Solo is a hormone replacement therapy (HRT). It is prescribed to postmenopausal women to offer relief from the unpleasant symptoms of menopause. Symptoms vary between women but generally include hot flushes, night sweats, vaginal dryness or itching and loss of bone mass.
Please note, to use this treatment it must have been at least six months since your last natural period. To order online, you should also have been first prescribed by your doctor.
HealthExpress also offers the treatment Zumenon. Zumenon is an alternative to Elleste that contains the same ingredients in the same dosage and has identical effects, side effects and precautions.
What dosages are available?
Elleste Solo doesn't contain progestogen, meaning that it should be taken with synthetic progesterone in women who have a uterus, but for those who have a hysterectomy, it may be taken on its own. It is available in a 1mg and 2mg dose, though you are likely to be started on the lower dose first.
Elleste Duet (and Conti) contain both synthetic estrogen and progesterone.
Elleste Duet is available in a 1mg and 2mg dose. The 1mg dose packs contain 16 white 1mg estradiol (oestrogen) tablets and 12 green tablets which is a combination of 1mg norethisterone (progestogen) and 1mg estradiol.
The 2mg pack is a combination of 16 orange 2mg estradiol tablets and a grey combination tablet with 2mg estradiol and 1mg norethisterone acetate.
Elleste Duet Conti is also a combination treatment similar to Elleste Duet. However, packs contain 28 grey tablets which consist of 1mg norethisterone acetate and 2mg estradiol.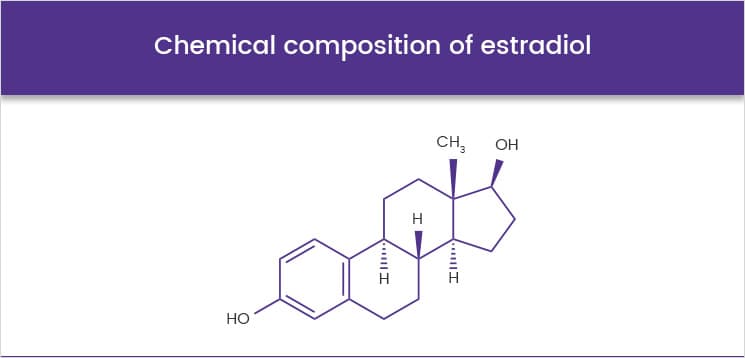 How does it work?
Elleste works by increasing oestrogen levels to counteract the effects of menopause.
All versions of the treatment supplement the body with oestrogen to compensate for its reduced capability to produce this hormone after menopause.
Oestrogen has a number of functions in the body, and while it is beneficial overall, too much can cause the womb lining to grow dangerously, increasing the risk of endometrial cancer.
Progesterone helps control the growth of the uterine lining, reducing the risk of cancer, which is why Estelle Duet (and Conti) should be taken by women who still have a uterus.
For those who have had a hysterectomy, Elleste Solo can be taken alone or should be combined with a synthetic progestogen for those who have not.
How do you take it?
You should always follow the advice of your doctor when taking any prescription medication. Comprehensive instructions are listed in the patient information leaflet - it will be included with orders.
take one tablet around the same time every day
take tablets whole, with water
follow the direction of the arrows on the strip until all pills are taken
do not take a break between packs
Elleste Solo
If you have a uterus, you may use a synthetic progestogen for 12 to 14 days while you are taking this treatment.
Elleste Duet
The 1mg pack contains 16 white tablets and 12 pale green tablets. You should start with the white tablets. The 2mg pack contains 16 orange tablets and 12 grey tablets. You should start with the orange tablets.
The pills to take will be indicated by the strip to help you keep track.
Elleste Duet Conti
The same pill should be taken for 28 days straight. There is no need to take additional pills or progestogen.
What are the possible side effects?
Not everyone on HRT will experience side effects. However, as it is a hormonal medication, reactions will vary between patients.
You should report any distressing or unlisted side effects to your doctor. A full list will be detailed in the patient information leaflet - this will be contained with your order.
The most commonly occurring side effects include:
nausea
stomach cramps
headache
growth of fibroids in the womb
breakthrough bleeding
weight fluctuation
breast tenderness
mood swings
changes in libido
oedema
Please note, if you have a uterus and are taking only an oestrogen HRT, your risk of developing endometrial cancer is slightly increased. You should talk to your doctor about combined oestrogen and progestogen alternatives.
What precautions should I take?
There are a number of conditions that preclude the use of HRT. You should seek alternative treatment if any of the following apply to you:
a history of breast cancer
a history of endometrial cancer
unexplained vaginal bleeding
a history of blood clots
a blood clotting disorder
a history of heart attack, angina or stroke
a liver condition
if you are allergic to any of the ingredients
During the consultation phase of ordering, you should answer all questions honestly and list all medications you are taking.
HRT can increase the chance of you suffering blood clots. You should be aware of the symptoms (cramping and throbbing in the limbs, breathlessness, coughing and coughing blood) and should inform your doctor if you have any operations or long trips planned.
Please note, all HRT treatments slightly increase the risk of breast cancer. That risk is higher for medications containing oestrogen and progestogen. However, oestrogen-only medications still pose a risk. Due to this, you should regularly examine your breasts for abnormalities. If you discover any, report this to your doctor immediately.
Can I buy Elleste online?
Yes you can buy Elleste online from HealthExpress. However, you must first have been prescribed this treatment by your regular doctor.
If you would like to order treatment and get a repeat prescription, complete a consultation online for approval by our doctor. After completing your consultation, our doctor will review your information, and you will be contacted to complete your order.
To start the process, simply click 'Express Checkout'.